Shawls are a great winter fashion accessory for the women! Shawls with crazy modern styles and contemporary tastes can win many hearts for a woman so they should always be kept in the wardrobes! Shawls can be a part of everyday women wear and they can even be paired with a fitted shirt or with a romantic winter dress and can also be around your shoulders while wearing the causal jeans for awesome style statements! For each fashion loving lady or style loving girl, we have shared this collection of 10 free crochet shawl patterns, each of these pattern comes with a keen sense of style to match the professional standards! You can grab the free patterns for each uniquely original shawl by hitting the respective link given just blow of the picture!
While taking a tour of this collection of free crochet shawl patterns you are going to admire the art of crocheting more as you will see a lot of praiseworthy variations! Some listed patterns have been revised to be more winning and stylish and some comes with knock out use of crochet stitches to be uniquely original!
There are the lacy shawls that are so airy and flattering that every style conscious girl will love have them around her shoulder in spring mornings! There are also the ruffled shawls that wrap around all your upper body for instant warmth in a style and also comes with a little hood that keep it continue to make you look cute! There are the damn stylish lizard shawls, the skylark in wonderland rainbow shawls and also the hawaiin floral shawls that will create a celebrity look of you!

The special triangular shawls will also redefine your winter special look and can be worn in different ways like as shoulder warmer or as a neckwarmer! Crochet these shawls and keep on using them for all the season for bigger fashion statements!
More 93 Free Crochet Patterns:
Crochet Pineapple Peacock Shawl: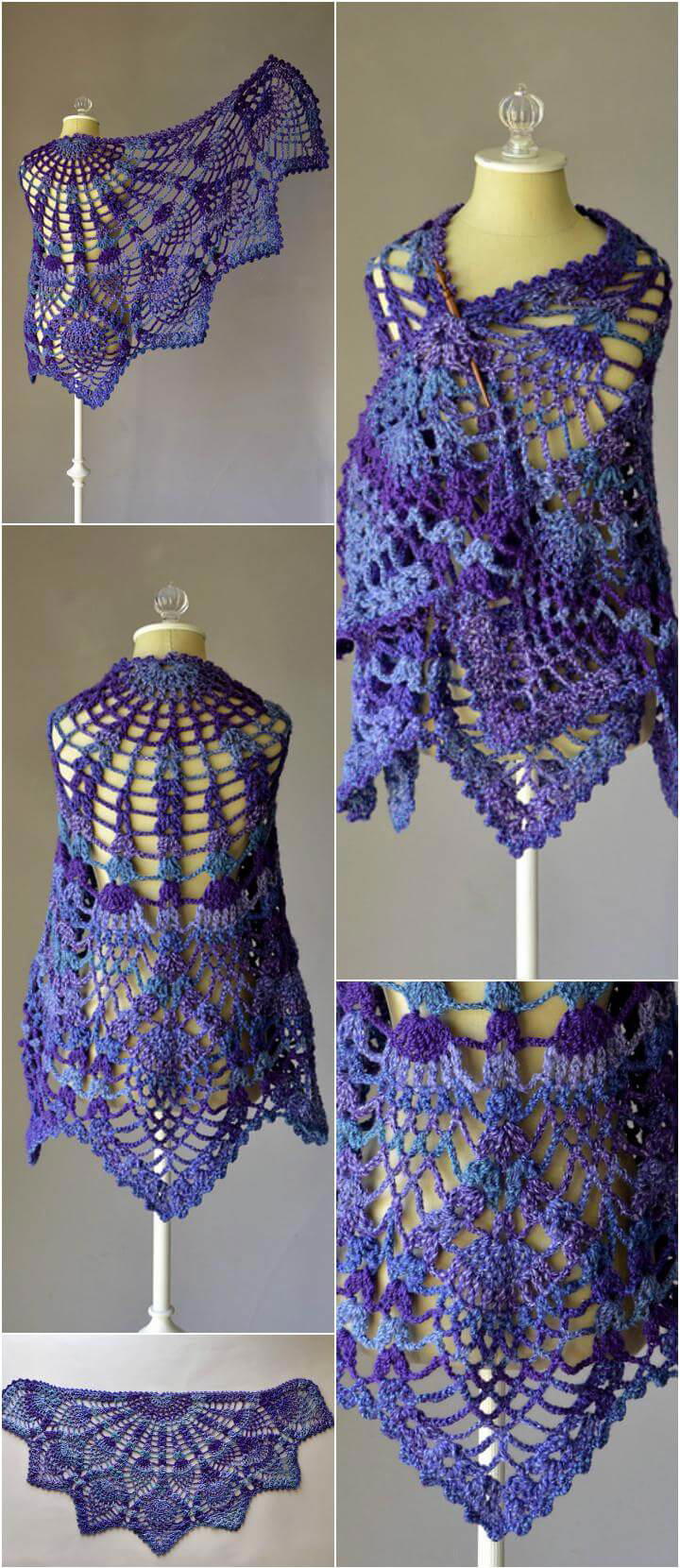 Double up your style with this special pineapple and peacock shawl! The design is super breathy but still flattering, so is sure to be perfect for all season! This shawl is going to give a new damn fashionable way to keep warm your shoulders ladies! Full free pattern for this shawl is here Amy Gunderson on Ravelry
Crochet Hawaiin Flower Shawl: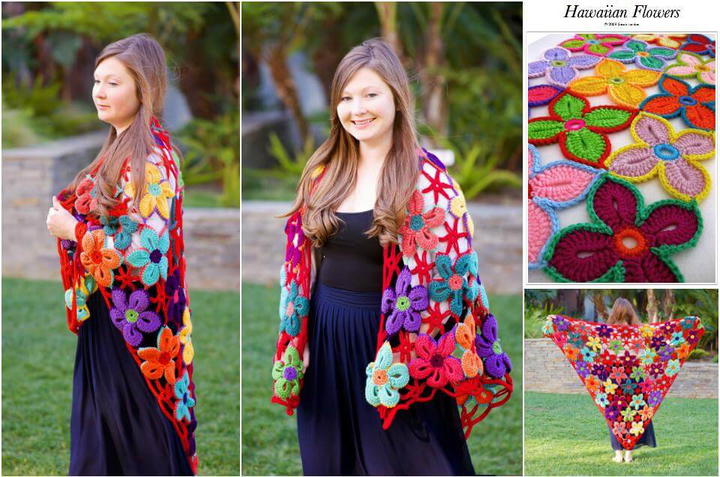 The addition of colorful crochet flowers, makes this floral shawl special to spring season! Look like a blooming flower with this triangular hawaiin flower shawl, it is only seeking the style loving girls! Image Credit to monstercrochet, Free Pattern Credit to sarahlondon
Crochet Ruffled Shawl: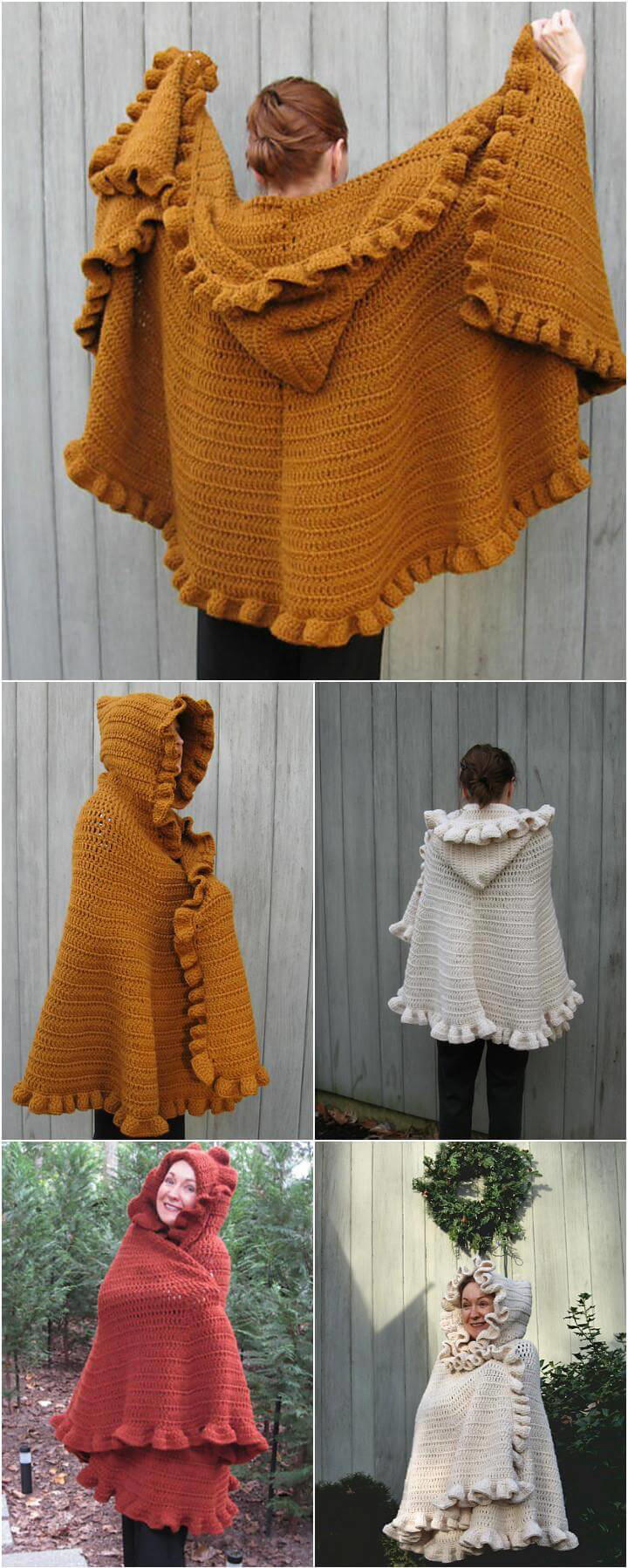 Here is a super cuddle winter shawl that will can be wrapped around you for instant comfort and warmth in killing cold days! The ruffled edges makes this shawl a bit more cool and visually pleasing! Moreover, this is also a hood to wrap around your head and ears! Full pattern for this shawl is here Linda Kaye Smith on Ravelry
Crochet Skylark in Wonderland Shawl: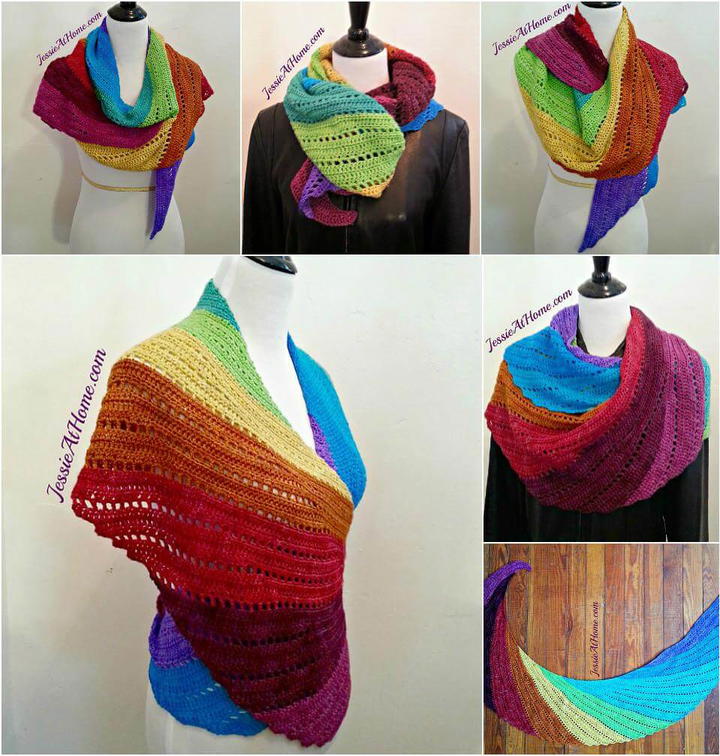 We are going to call this inspiring crochet shawl a rainbow crochet shawl! The multi color visual is really flattering and eye-catching and this is also what that makes it a super cool winter fashion accessory for style loving teens and women! Get full free pattern from here Jessie Rayot on Ravelry
Stylish Crochet Lizard Shawl: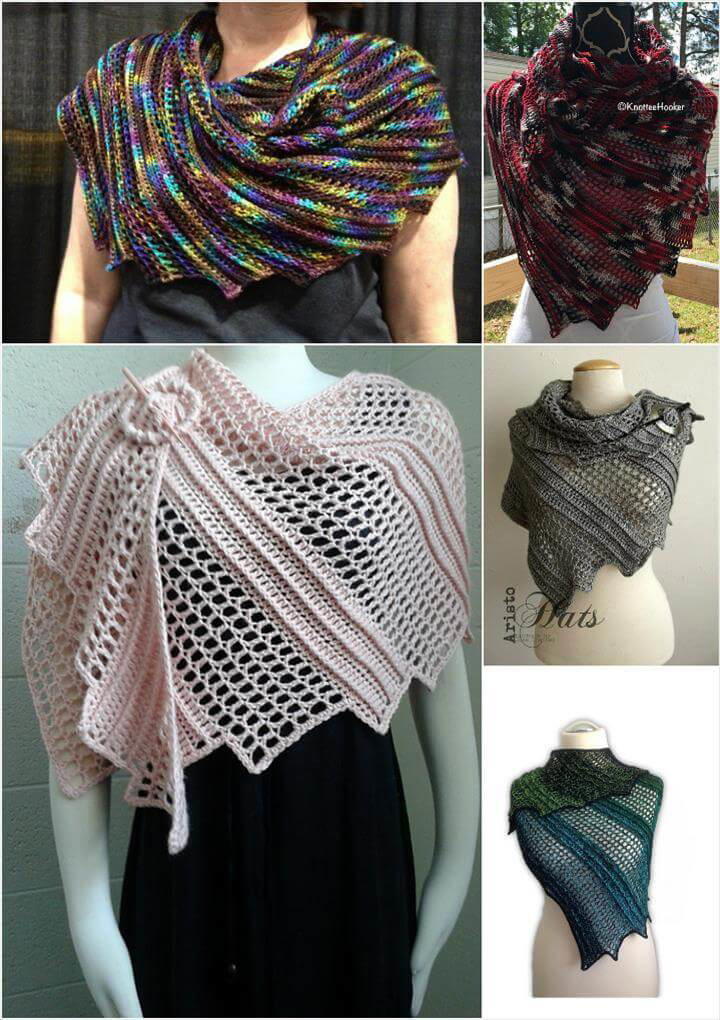 Warm your shoulders in a style by wrapping this shawl around them, inspired of a lizard! Perfect for a spring or fall season! You crochet it thick or with a custom spacing, this will also depend on the weather conditions! Full free pattern is here Jasmin Räsänen on Ravelry
Crochet Magnificent Mantle Triangle Scarf:

Another fashion-forward crochet shawl or scarf inspiration! The breathy triangular scarf that can also be around your neck as a neckwarmer! This scarf is sure to make you win more fashion points! Full free pattern is here Crochet Kitten on Ravelry
Crochet Be-Ruffled Shawl: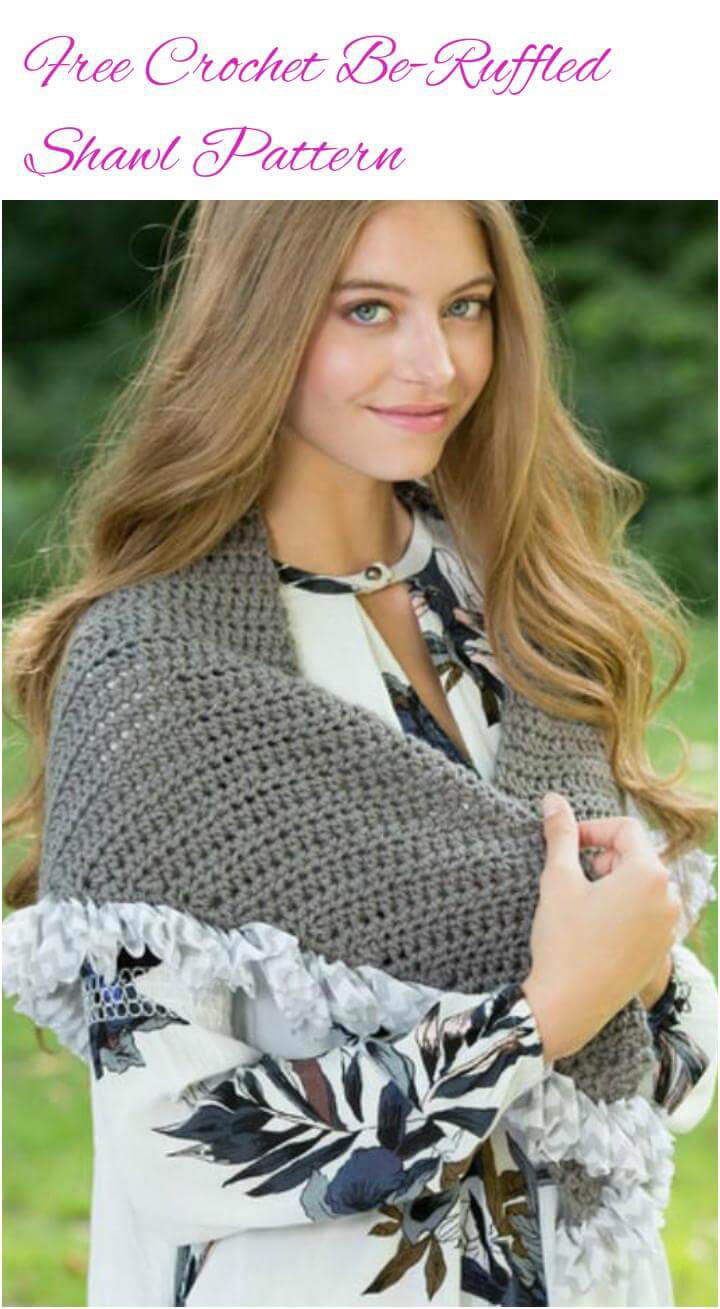 Feel the perfect warm sensation around your shoulders with this be-ruffled crochet shawl! A winter accessory that should be present in wardrobe of all fashion loving girls! Free crochet pattern is here redheart
Crochet Spring Bloom Flower Lace Shawl:

Cover your shoulders warm in the chilly evenings or in the trembling mornings with this lacy shawl! The fashion loving girls will also find it ideal for a ceremony or party celebrations! Make it yours by crocheting this free pattern allfreediyweddings
Crochet Schal Quiraing Popcorn Stitch Shawl: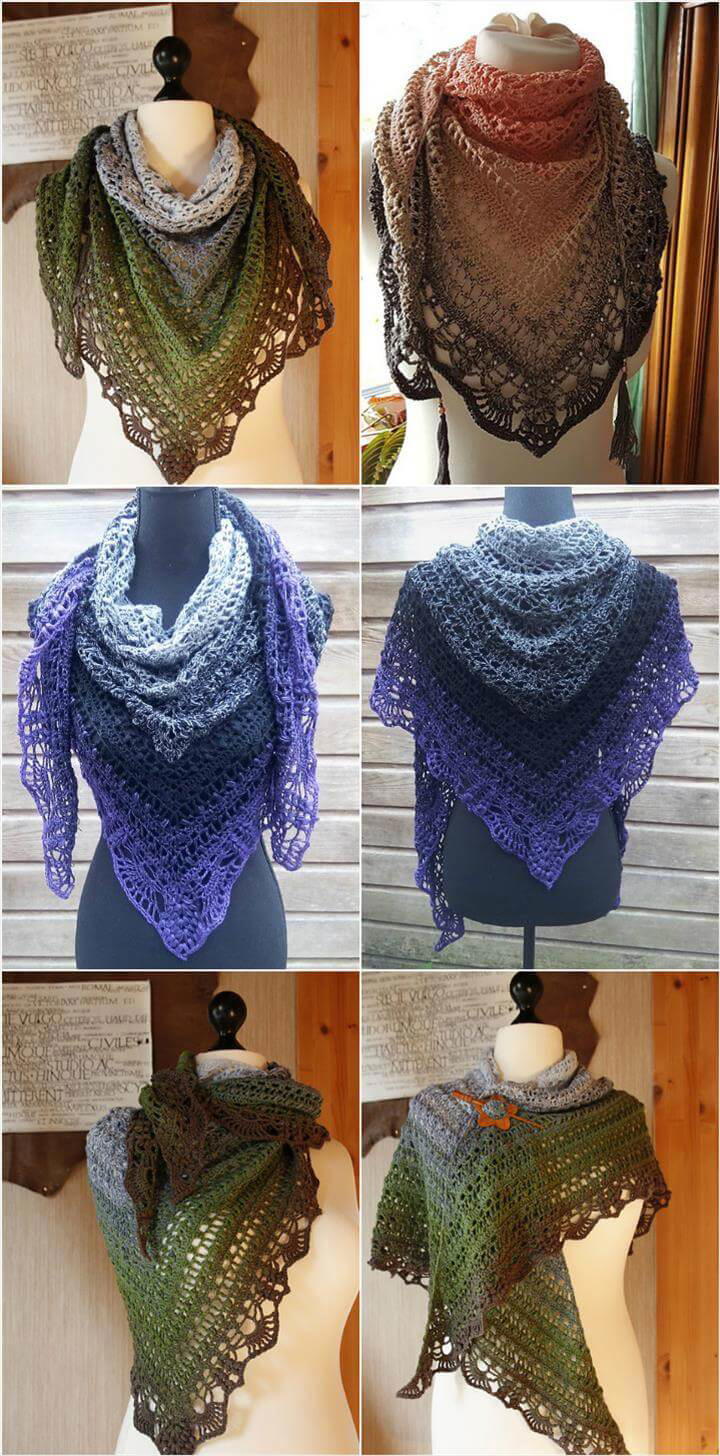 Special schal quiraing shawl with a beautiful ombre appeal! Use it as a neckwarmer, as a cowl or as a shoulder warming shawl! This shawl is only to say one thing here, stay warm and cozy without losing any fashion points! Get the full free pattern from here Silvia Bangert on Ravelry
Crochet German Scalloped Shawl: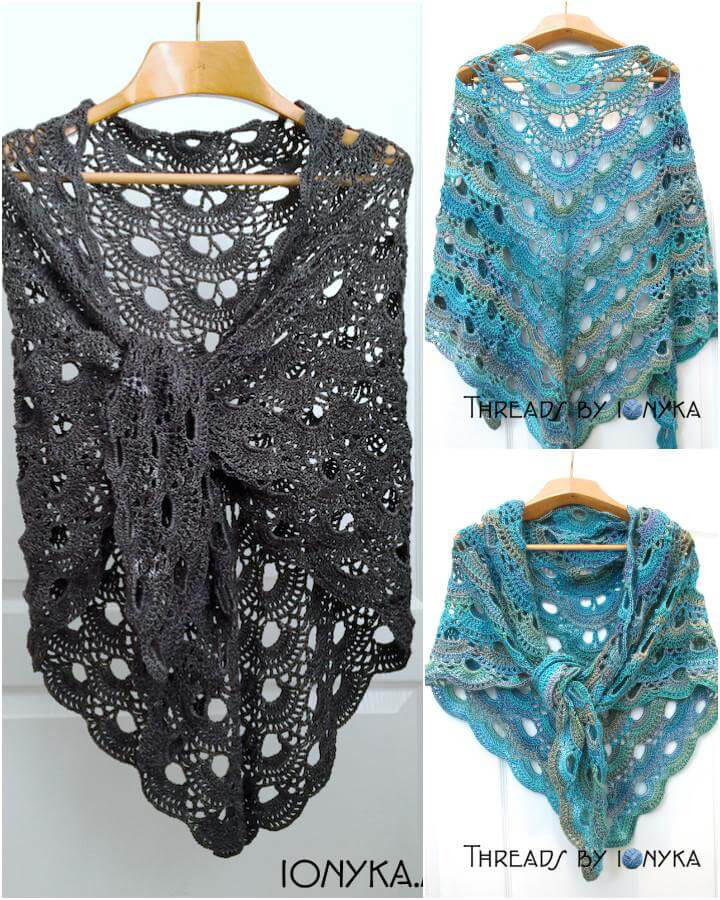 The ultimate fashion-worthy winter shawl, the German scalloped shawl which is sure to redefine your winter style and fashion! Feel it cozy while being around your shoulders and keep on looking glam and attractive! Duplicate this special winter shawl with the help of this free pattern threads.ionyka