Crocheting is a great art that is popular from the ancient times! Just after learning the basic skills you can dive deep to art of crocheting to crochet anything special! The art of crocheting allows you to gain necessary warmth in winter in a style as you can crochet all the winter fashion accessories like hand gloves, sweaters, tanks, shrugs, cowls, scarves, crochet shoes and also the amazing crochet hats! For bringing coziness to your interiors, one can crochet amazing crochet furniture covers, afghans, blankets and custom throws for furniture furnishings! Just to assist you in getting master hands in art of crocheting, we have brought here these 31 free crochet patterns, all are new and inspiring! All these crochet patterns will help you to broad your creative vision about crocheting and will help you to learn the new useful techniques!
Crochet chunky and colorful yarn weights to make warm chunky blankets and afghans, given white chunky blanket and swirl afghans are great examples in this regard! Get busy with your hooks to crochet amazing neck warmers, cozy pillow cases and also the custom crochet flowers and paufs, see the interesting samples showcased below! Transform also your ordinary items of use into exclusive winter stuff, get inspired of given crochet flip flops and crochet tin can cozy!
Spice up the cute looks of your baby by making them wear special heart head warmer and follow the winter retro fashion by wearing retro crochet headband! Feel free to crochet amazing amigurumi toys that make interesting baby shower gifts too like the given octopus amigurumi!
The fashion lovers can crochet special winter slippers that would be super soft and comfortable to wear and also crochet stylish tote and bags like the showcased bohemian tassel bag! The style loving girls can crochet the breezy summer shorts that would help to beat the summer heat and also the ruffled handbags!
All these free crochet patterns comes with the reference links that leads to complete tutorials, patterns and also to video tutorials in some cases! So, take a roundup, choose your favorite items and make it yours by crocheting the provided pattern!
Chunky White Crochet Blanket: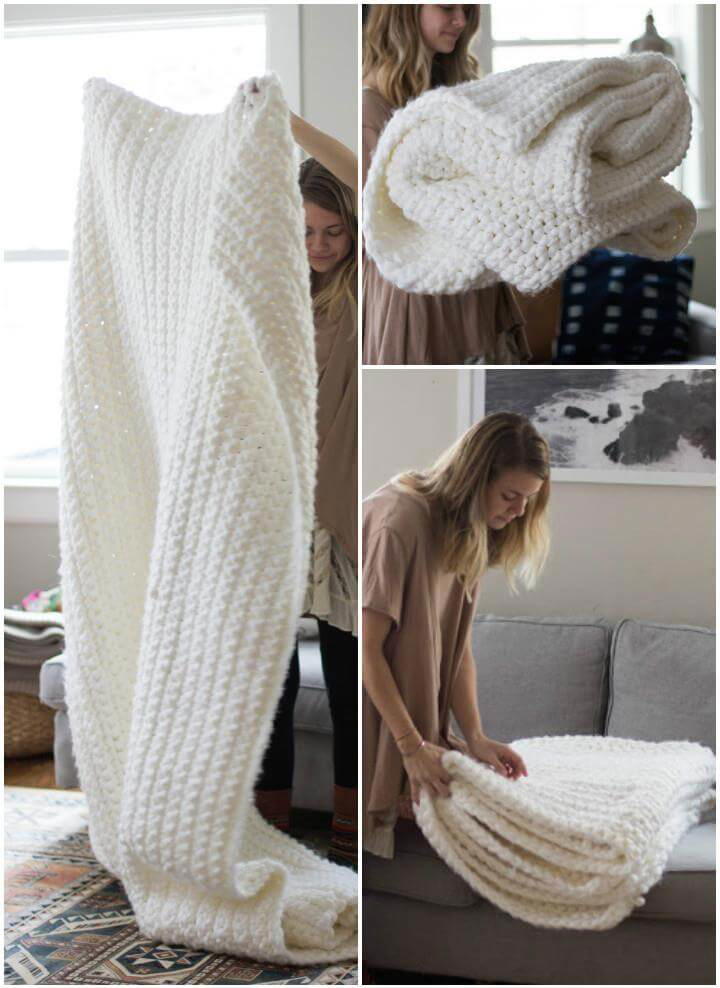 We all like to snug in cozy blankets in the trembling days! Blankets made of yarn have always been an item of first priority while talking about the winter warmers! Crochet your own beautiful blankets at home by getting busy with your hook in free time just like this white chunky blanket! Here is the complete pattern for it alwaysrooney
Crochet Rustic Slouchy Hat and Infinity Scarf: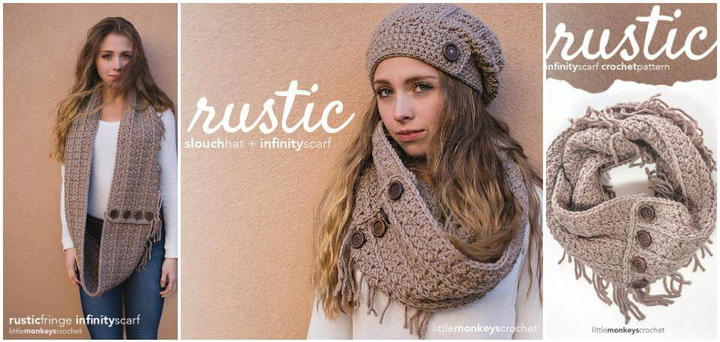 While covering your body parts sensitive to clothes in winters, the style lovers just can't overlook the style! Here is the precious rustic slouchy hat and infinity scarf that will work great as head-warmer and neckwarmer respectively without making you lose any fashion points! Make it duplicated now! Complete pattern and tutorial for both is here littlemonkeyscrochet
DIY Crochet Afghan: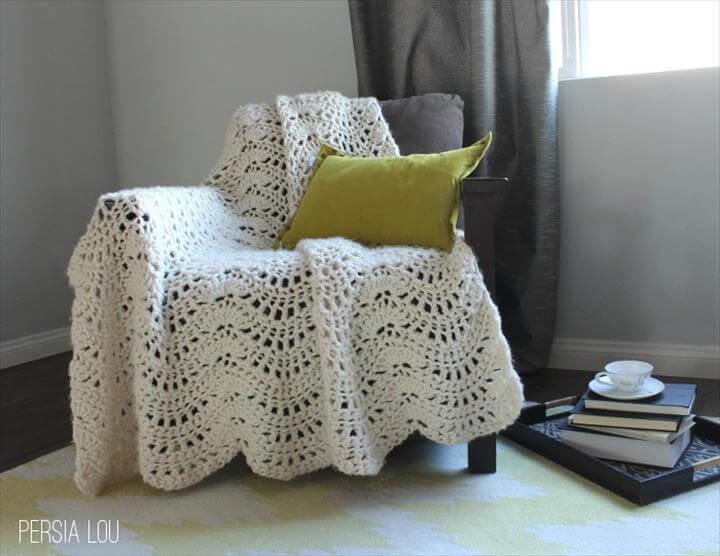 With the arrival of winters, we tend to bring coziness to our interiors! In this case, using cozy furniture covers is a great idea, an example is shown here! Now you can crochet your own throws, blankets and afghans like a pro at home with the help of this free crochet afghan pattern persialou
Beautiful Crochet Ruffled Bag: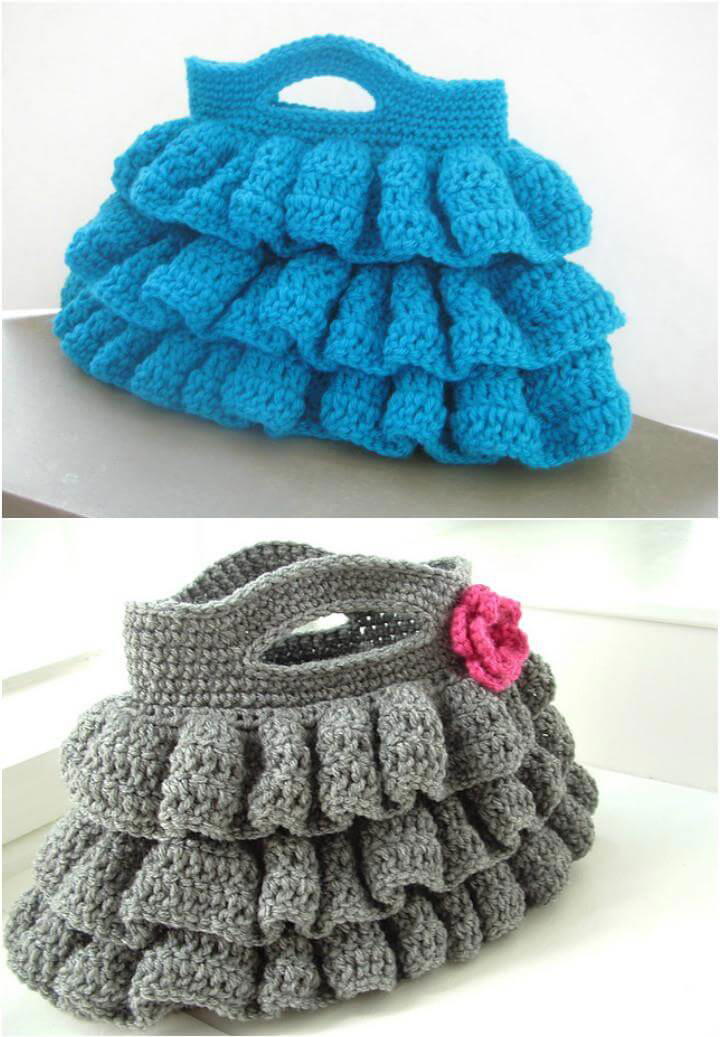 The style loving women just can't miss out those stylish handbags and purses! Crochet the chunky yarn weights to crochet your own special and fashion-worthy bags just like this ruffled bag! Learn how to crochet this ruffled bag with this help of this free tutorial and pattern crochetdreamz
Lovely Crochet Owl Granny Squares: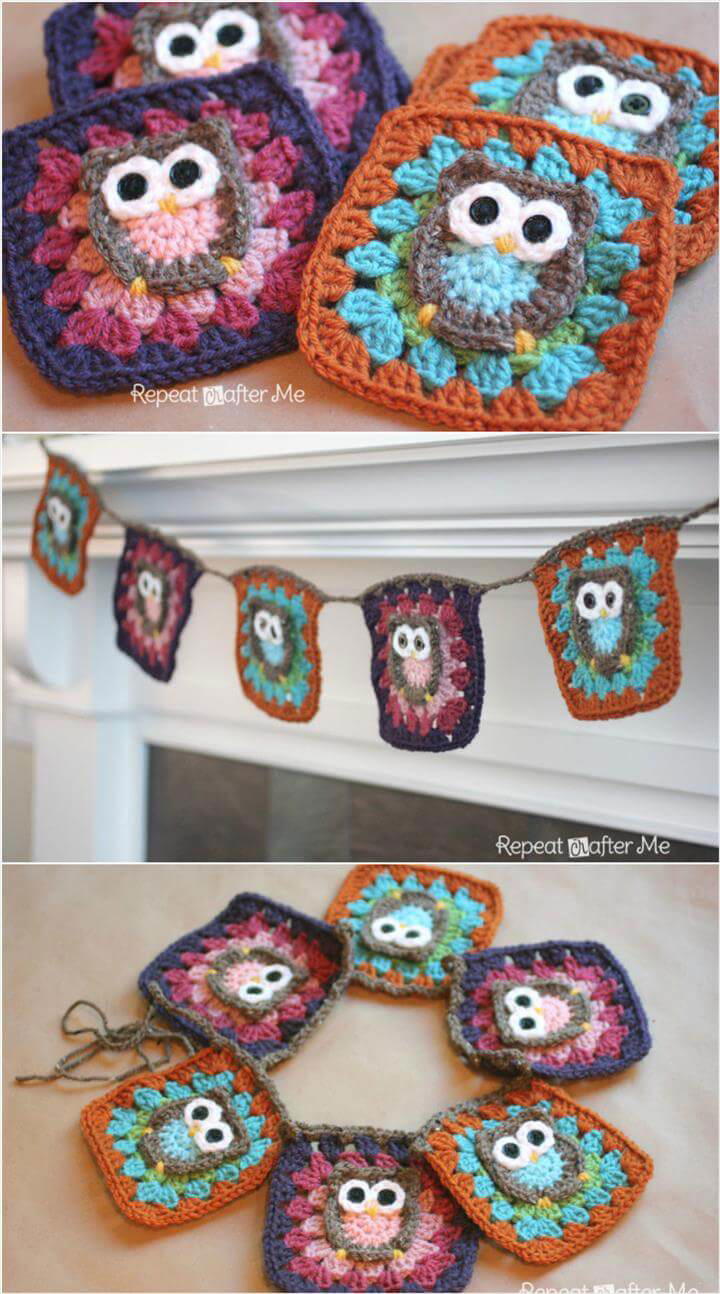 Granny squares have always been a great item of interest in art of crocheting! Grand crochet designs and patterns are often made of them! This time we are these owl granny squares, would be fun-raising units for any of crochet pattern! Complete pattern for these owl granny squares is here repeatcrafterme
Shell Stitch Crochet Cowl Scarf: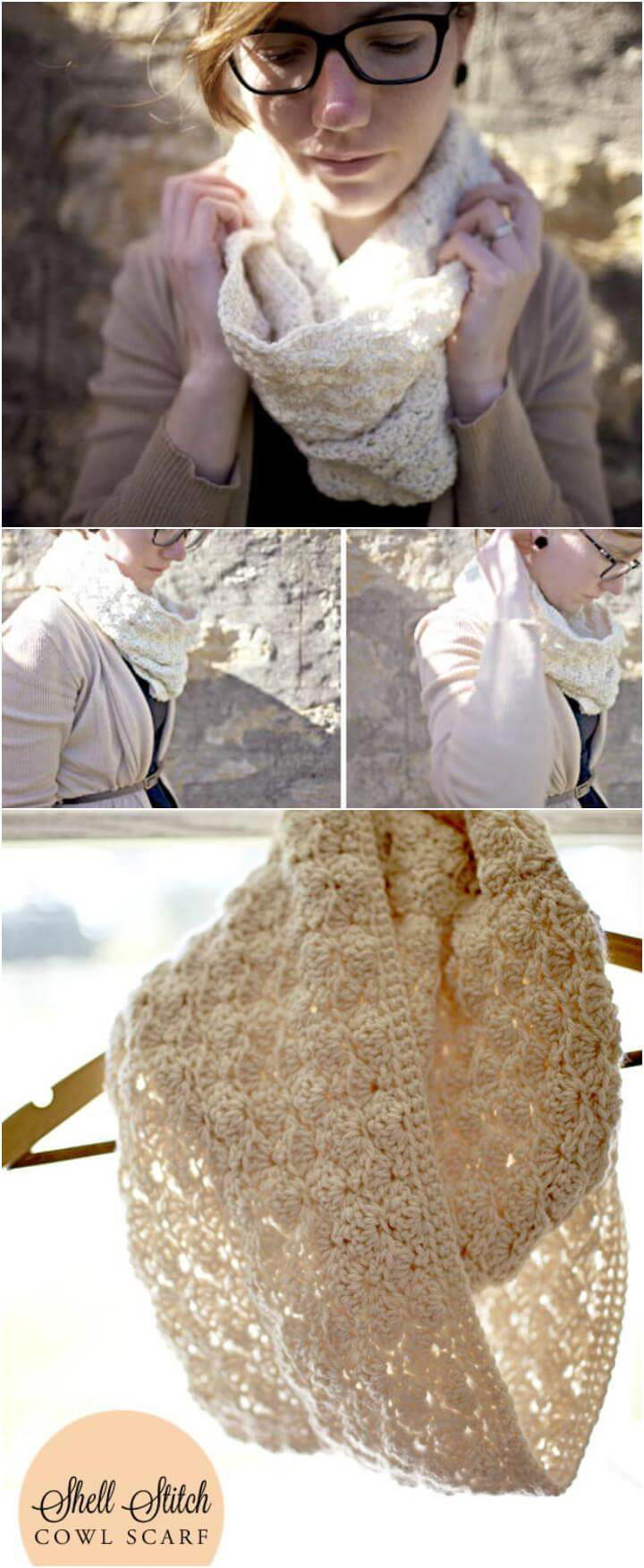 Crochet all the fashion-worthy stuffy you like to wear in winters! This cowl scarf may be the next item you are waiting to ad to your winter wardrobe! Crochet it now by going with shell stitch, complete pattern here shesowsseeds
Gift-Worthy Crochet Chain Bracelet: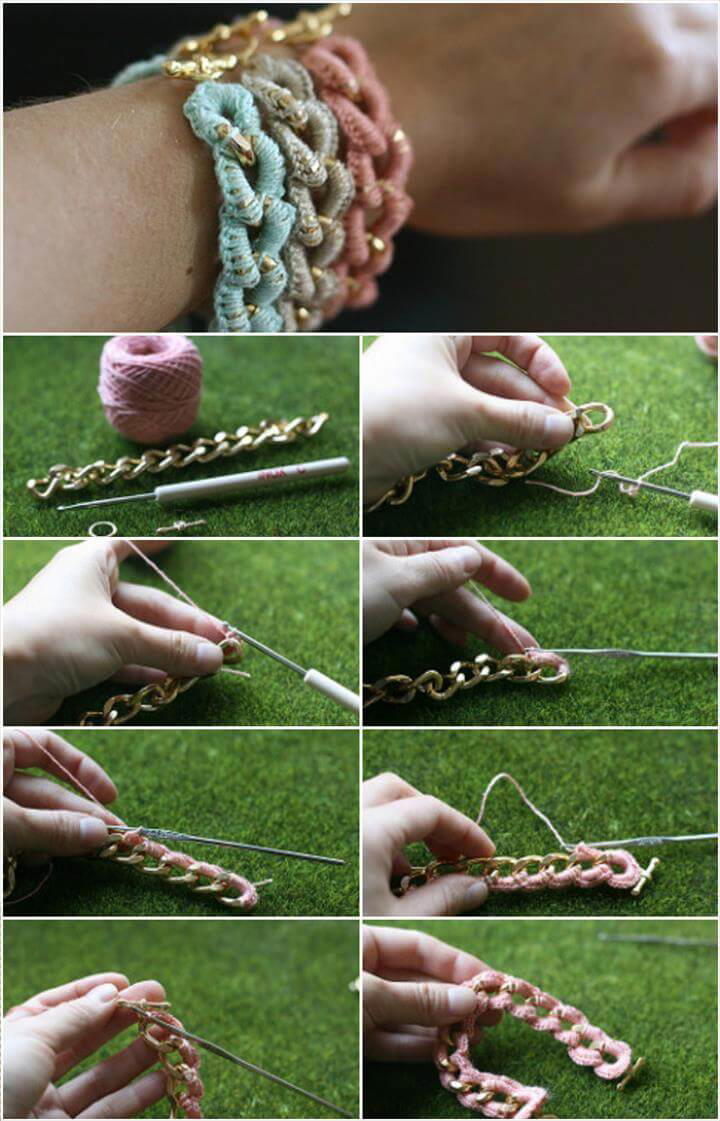 Bracelets are the most preferred fashion accessory for forearm fashion! Crochet also precious bracelets with your hooks at home that will not only style up your forearms but would also make amazing gifts! Complete tutorial for this chain crochet bracelet is here superziper
Stylish Crochet Pixie Hat: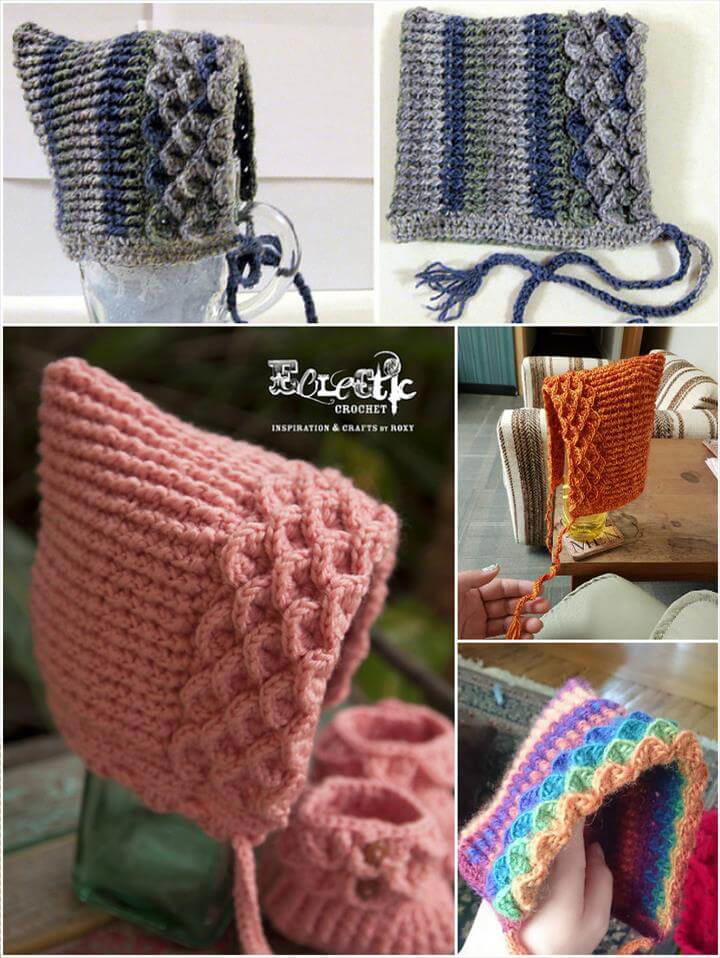 Looking for a precious gift for a mother-to-be? We would recommend you this precious pixie hat, would make a super cute head-warmer for your newly born baby! Complete pattern for this pixie hat is here ravelry
Beautiful Crochet Breezy Shell Tank: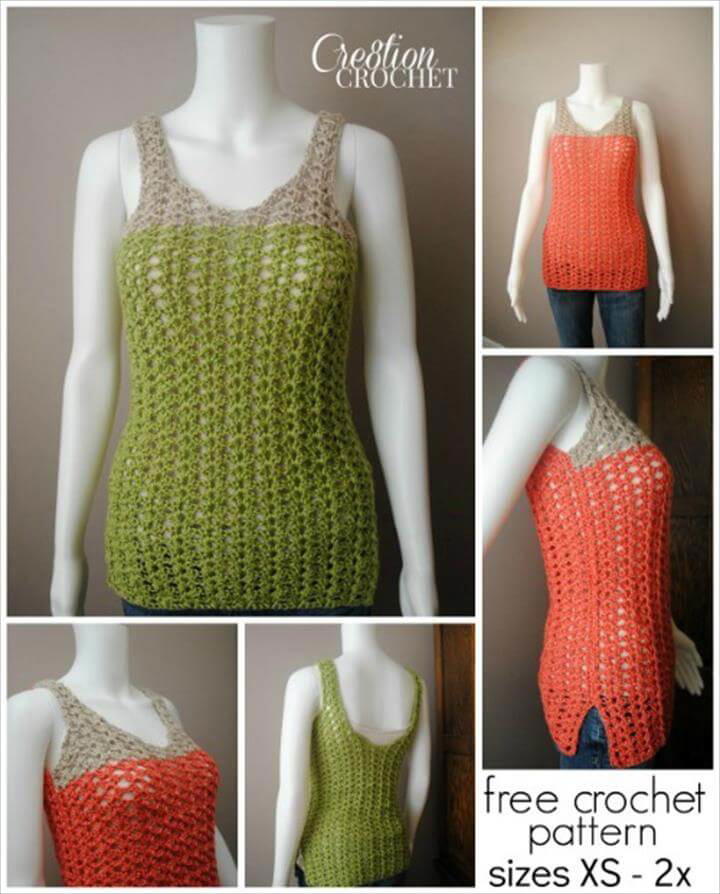 Another great winter accessory for style loving women here, a precious self-crocheted tank! You can crochet it too so simply to add to your winter wardrobe! Here is the complete crochet pattern for it cre8tioncrochet
Free Crochet Peppermint Swirl Afghan: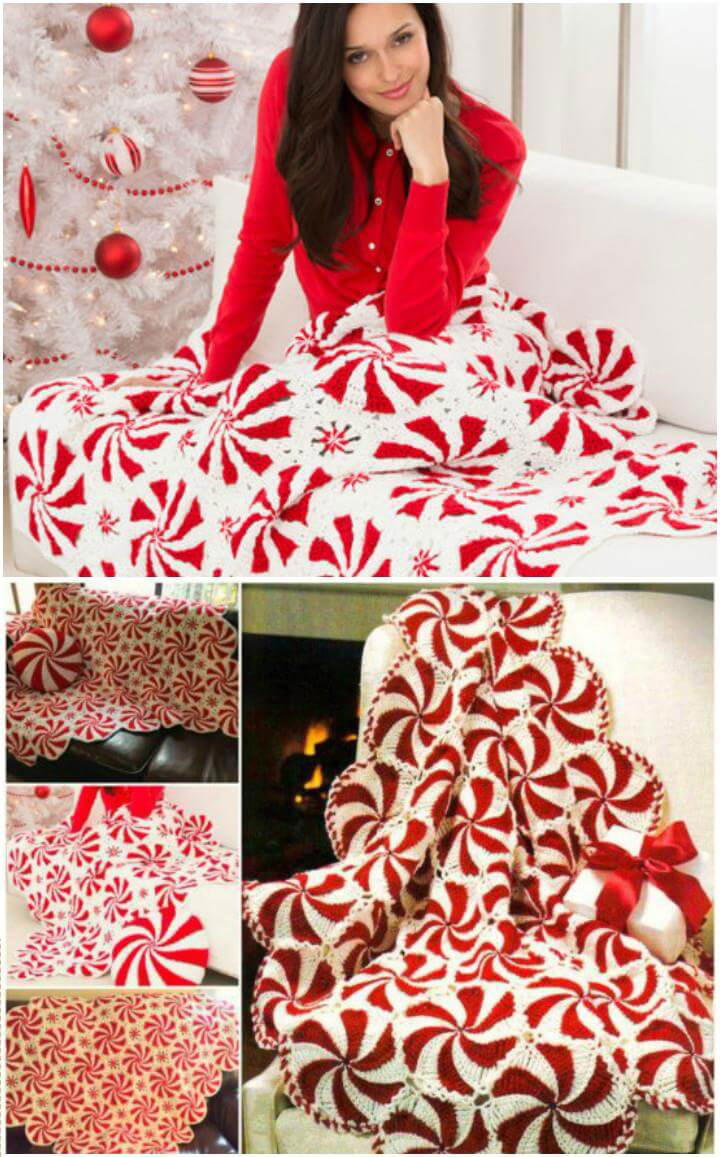 Crochet stylish throws, blankets and afghans with your hooks now! All you need the minimal crochet skills and sometime! This swirling afghan will make a great choice for style lovers! Interested in making copy of this stylish afghan? Full free pattern for this swirl afghan is here thewhoot
Summer Fun Beach or Market Crochet Tote :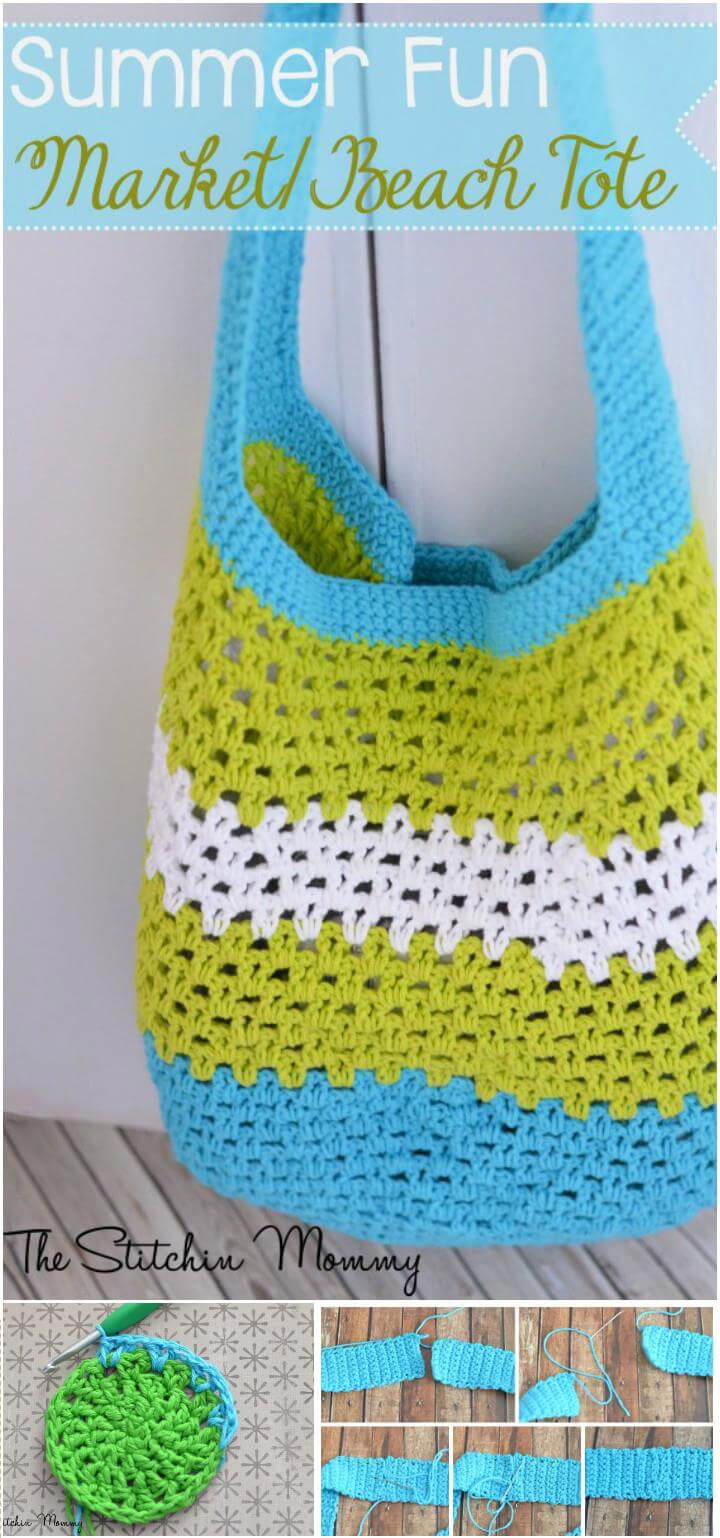 Raise your summer fun also with your crochet hook! Crafty also praise-worthy summer accessories with your hook just like this summer beach or market crochet tote! As beautiful as you may wish it to be! Make it your with the help of this free pattern thestitchinmommy
Fashion-Worthy Crochet Flip Flops: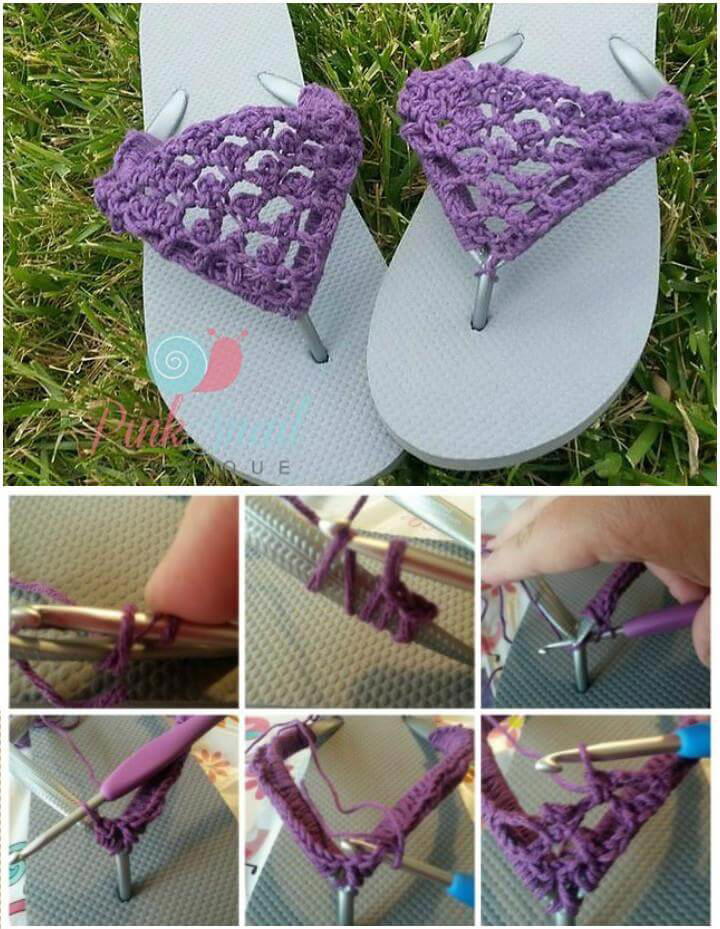 Bring coziness to your slippers your crochet hook! Here ordinary flip flops have been turned into winter special footwear through art of crocheting! Willing to copy these crochet flip flops? Complete pattern and tutorial is here cre8tioncrochet
Crochet Lace Beach Shorts: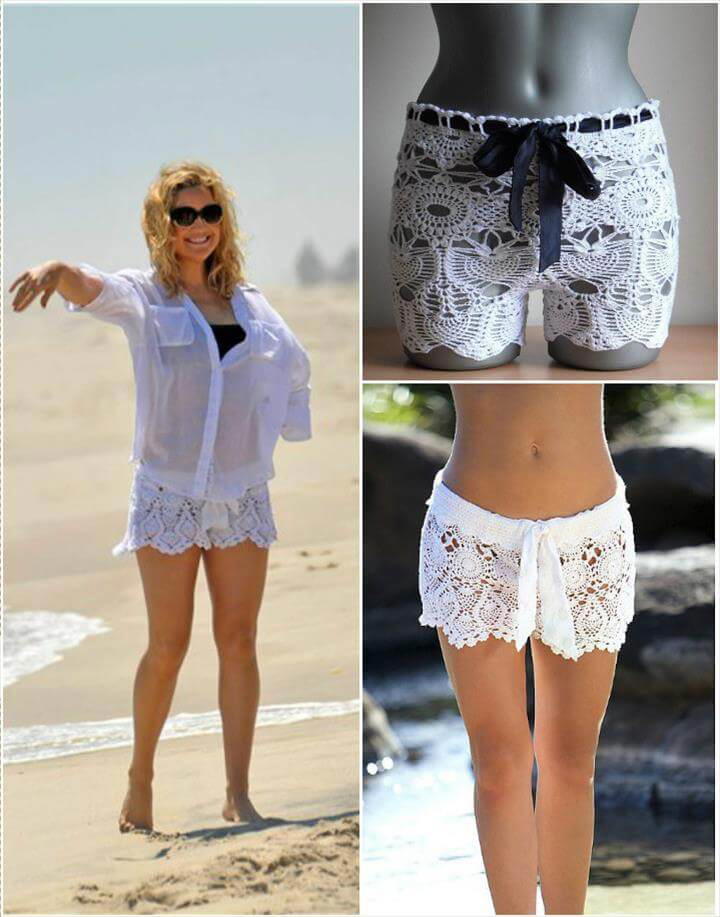 Beat also the summer heat with your crochet hooks without losing any fashion points! Crochet glam shorts with your hook that will be all special for beach parties and picnics, a few ones have been shown here! Did you like these crochet summer shorts? If yes, then crochet them now! Full pattern is here wonderfuldiy
Precious Crochet Boho Tassel Bag: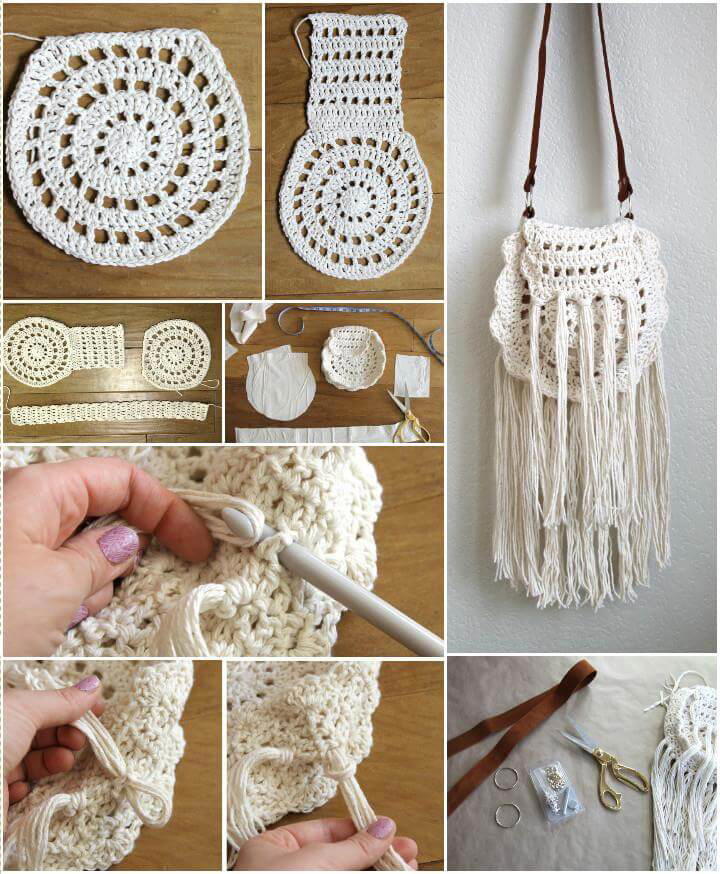 Are you a big fan of bohemian fashion? If you really are then this bohemian tassel tote is sure to hold your attention! Would make an ever pleasing gift for all style loving girls and women! Willing to have a same one like this? Here is the complete pattern and tutorial persialou
Beautiful Crochet Striped Cotton Blanket Throw: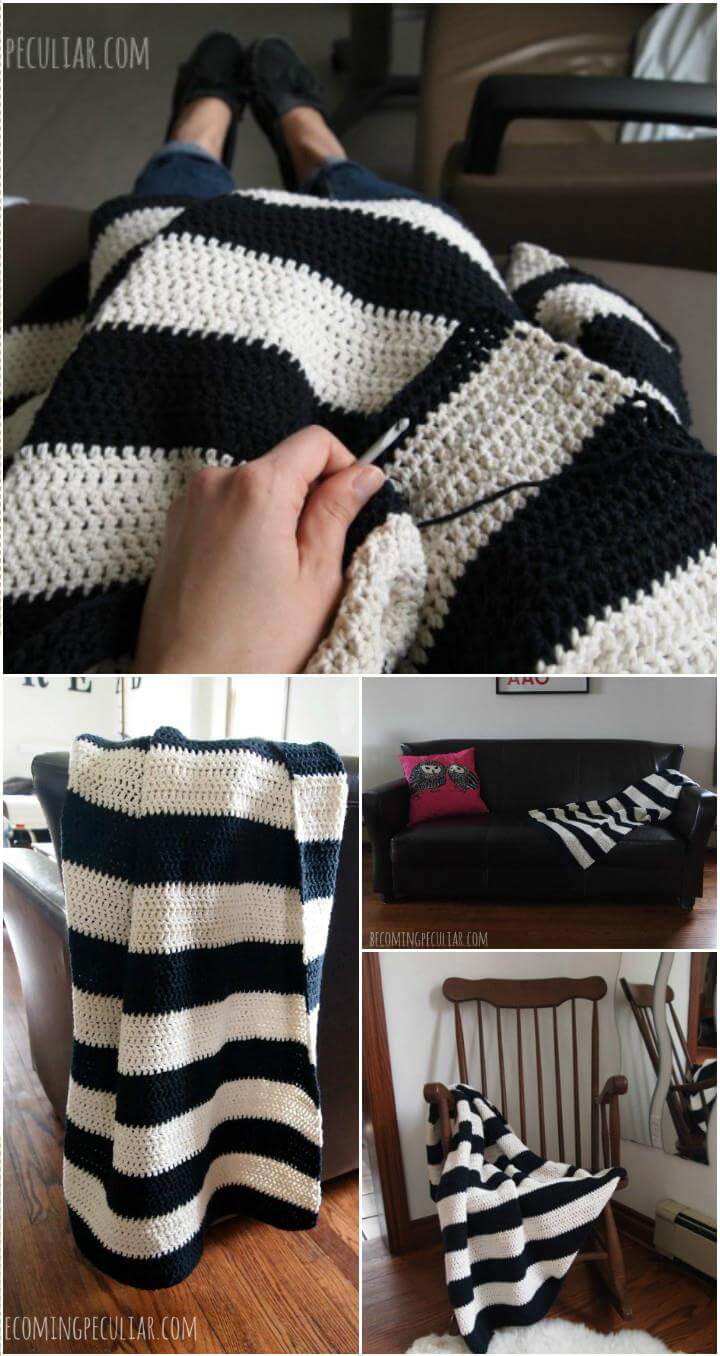 Make this striped cotton blanket throw yours just by spending some time with your crochet hook! It is not only a throw, but will also make a cozy blanket which can be wrapped around your lap while being on a sofa to watch TV or to read a book! Complete pattern for this throw is here becomingpeculiar
Glam Crochet Retro Pin-Up Headband: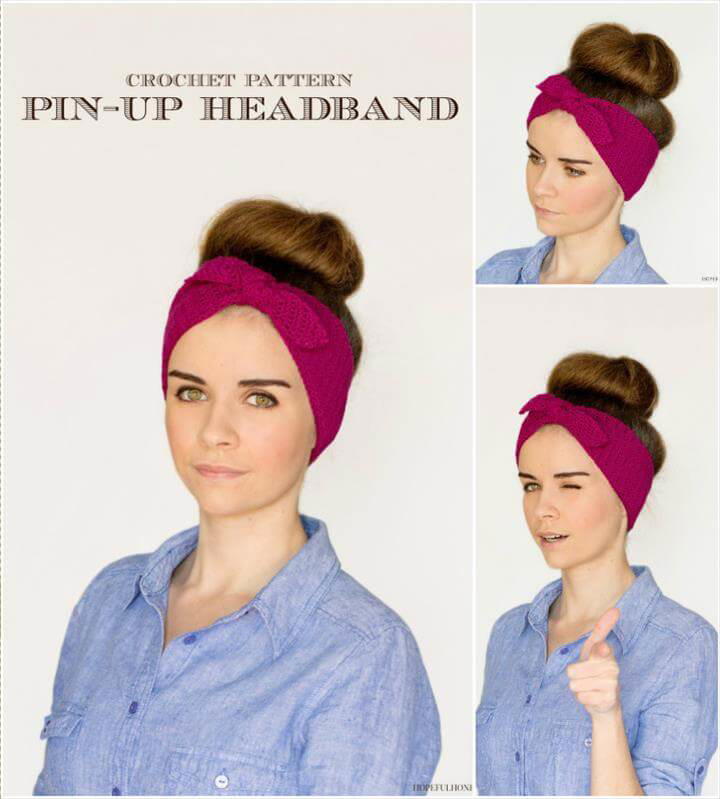 A crochet gift for girls who love retro fashion! A stylish retro headband self-crocheted at home! Are you willing also to crochet it at home! Here is a complete free pattern for it hopefulhoney
Chevron Crochet Free Tutorial: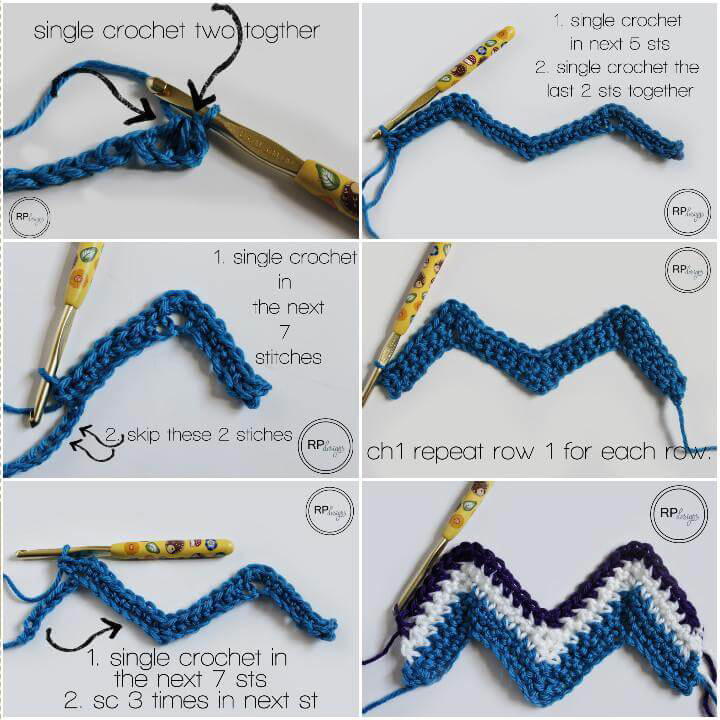 Sometime you just wish to give accent side trimming or edging to your crochet patterns, this crochet chevron is really a great idea to do so! Complete pattern and tutorial for this chevron crochet is here rescuedpawdesigns
Lovely Crochet Kids Heart Head Warmer: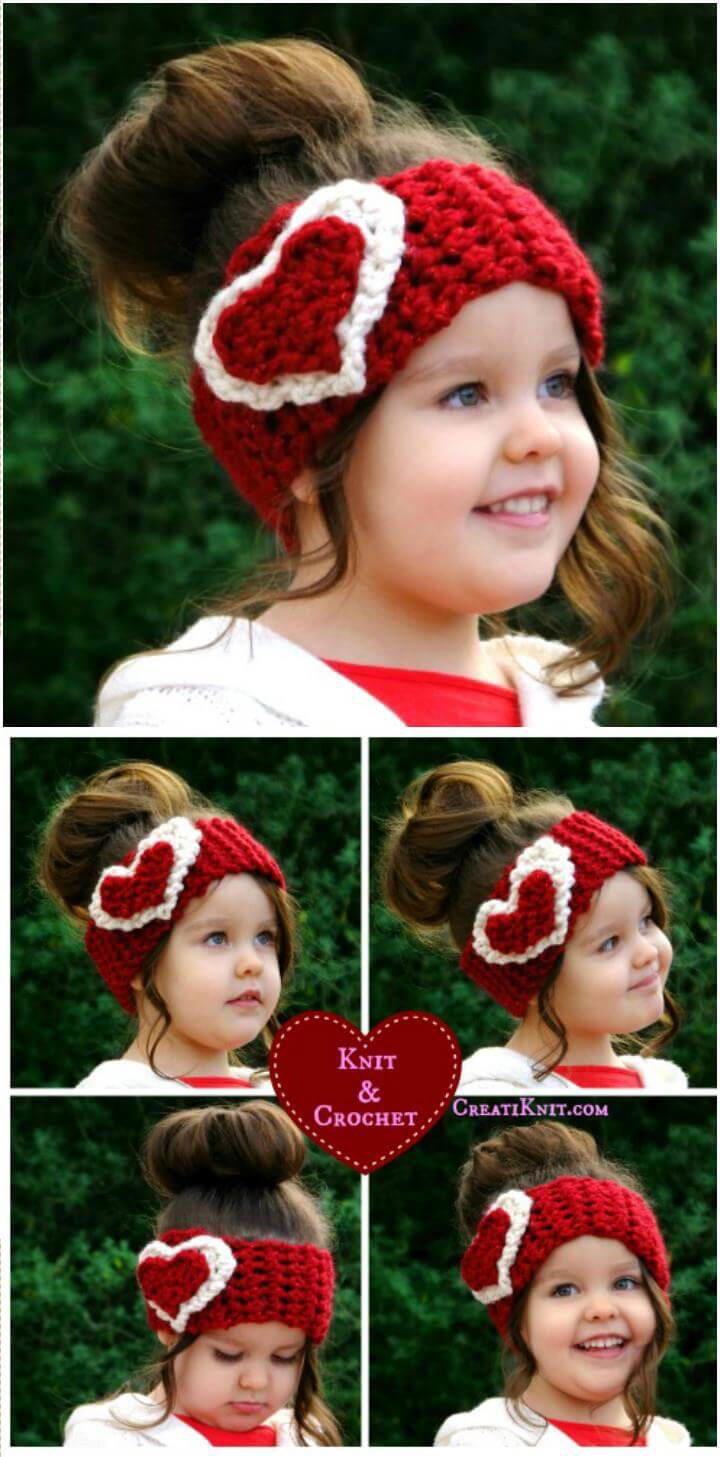 All the loving parents just take great pleasure in making their babies look extra cute! Presenting here a highly precious crochet gift for all the loving parents, a love themed heart head warmer! Crochet it now for your little princess! Free complete pattern is here creatiknit
Easy Crochet Throw Pillow: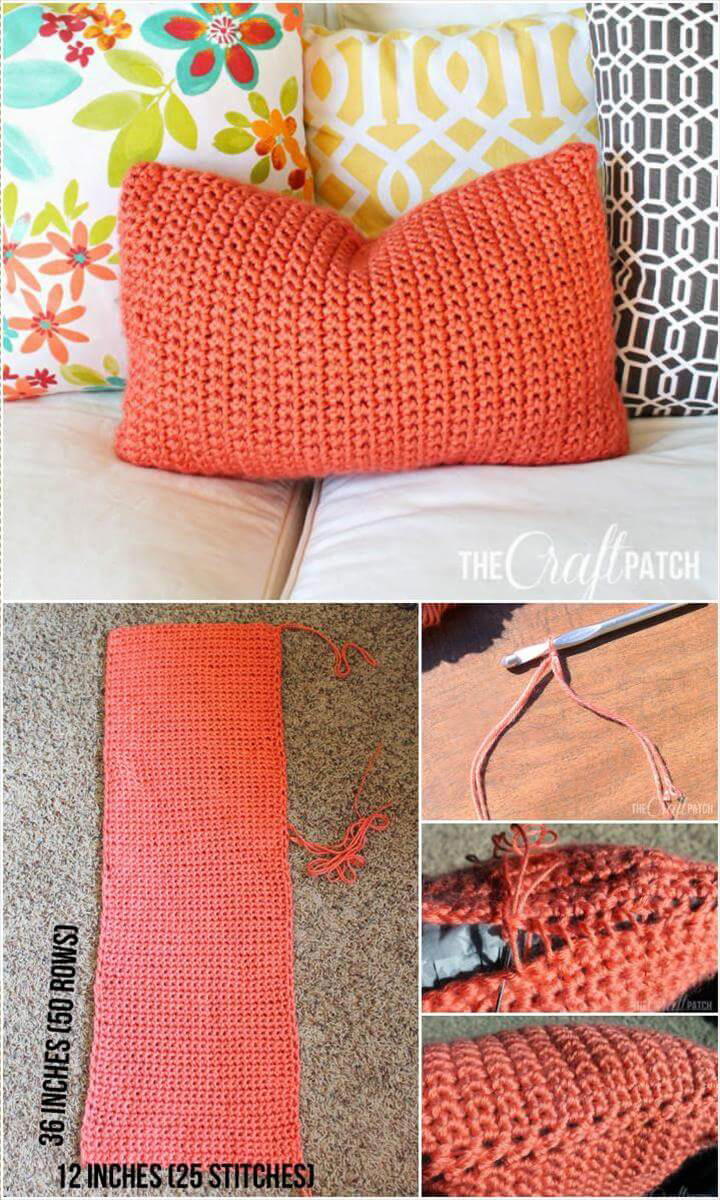 As everything changes from normal to cozy in winters, then why not your pillow covers? Crochet amazingly stylish and cozy covers for your pillows with your crochet hook! Here is the complete free pattern thecraftpatchblog
Easy Crochet DIY Hats:

Crochet hats are a big hit while talking about the winter fashion! They are available for every age group and also for both genres as cozy and stylish head warmers, just look at these simple blue crochet hats! Clone these hats for this winter season with the help of this free pattern gatheringbeauty
DIY Crochet Puffy Bath Pauf: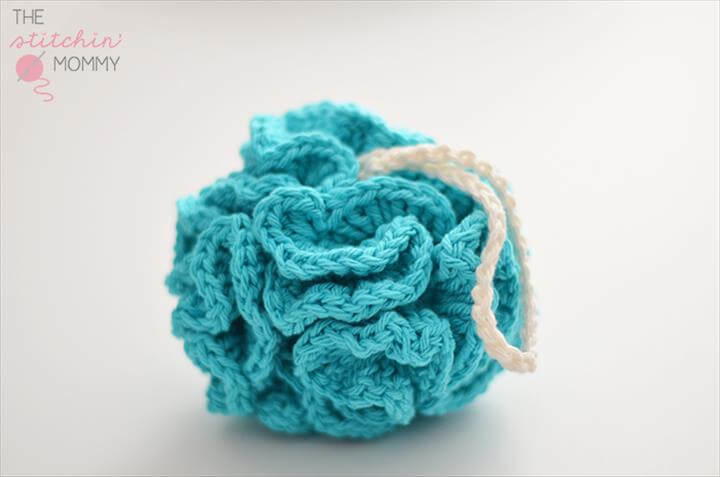 An easy-to-crochet but worthy crochet gift, a puffy bathroom pauf with white yarn loop! Want this pauf for your bathroom? Here is the complete free pattern for it thestitchinmommy
Easy Crochet Baskets: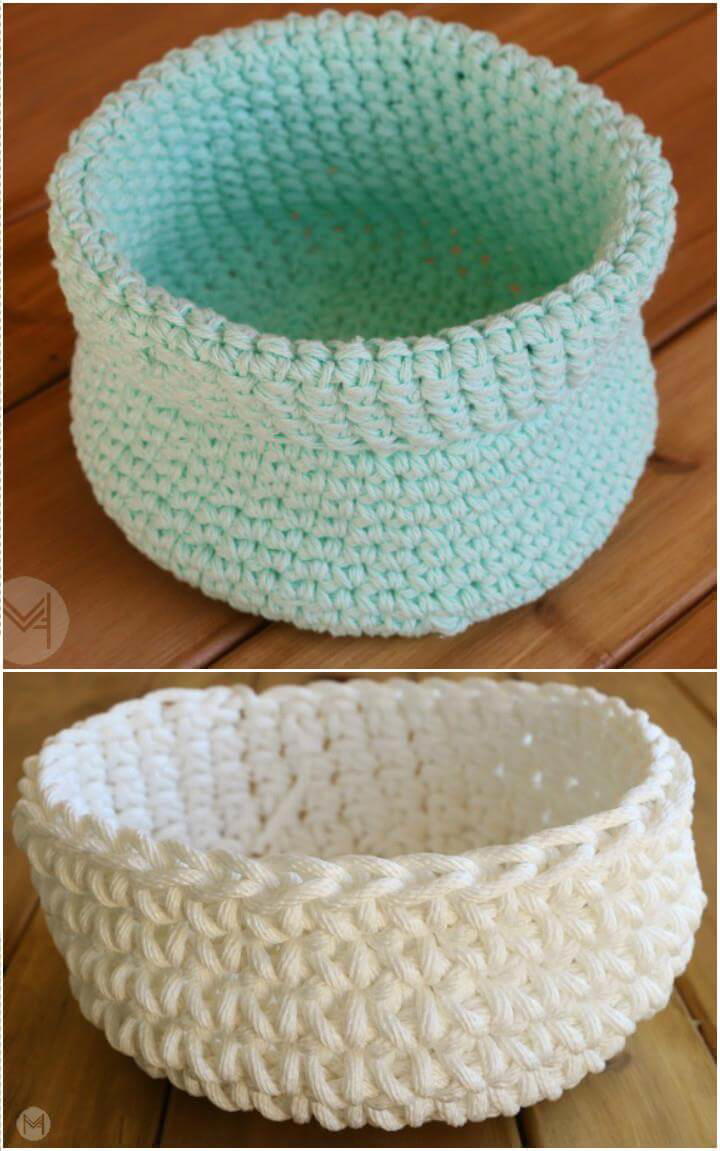 Inspire others with your crochet hook, also crochet lovely baskets for home-use using your own colorful yarn weights! 2 lovely ones have been given here to inspire you! Complete free pattern for these baskets is here melaniekham
Crochet Baby Hat Video Tutorial: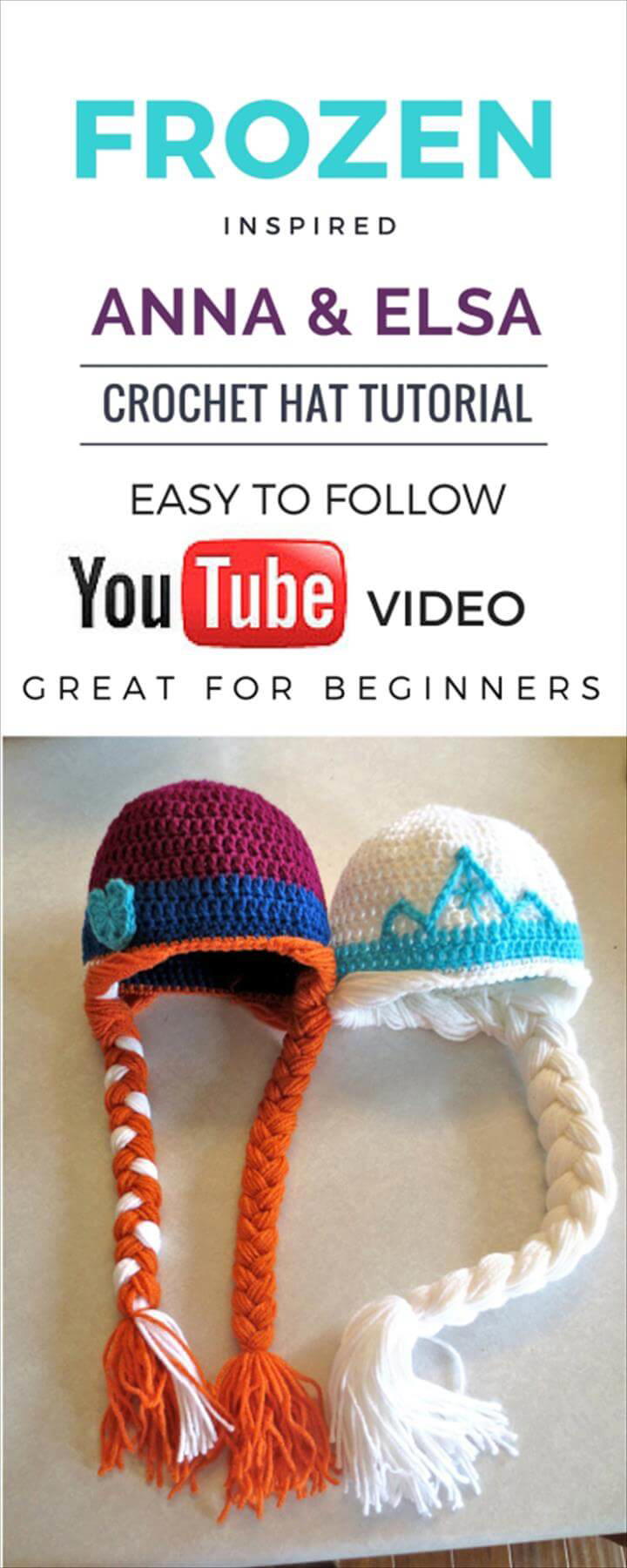 Crochet lovely hats for your babies and kids and just protect their foreheads in killing cold days in a style! Presenting here the lovely baby hats with braided stripes will work like a charm for your baby's head! Want to make these hat duplicated? Complete free pattern and video tutorial is here handiytutorials
Blue Crochet Popcorn Stitch Flower:

Crochet these popcorn stitch flowers and use them as ornaments and decors for your clothes and winter dress ups! Use these popcorn flowers as accents for crochet winter baby hats! Complete pattern and tutorial is here bhookedcrochet
DIY Crochet Amigurumi Octopus: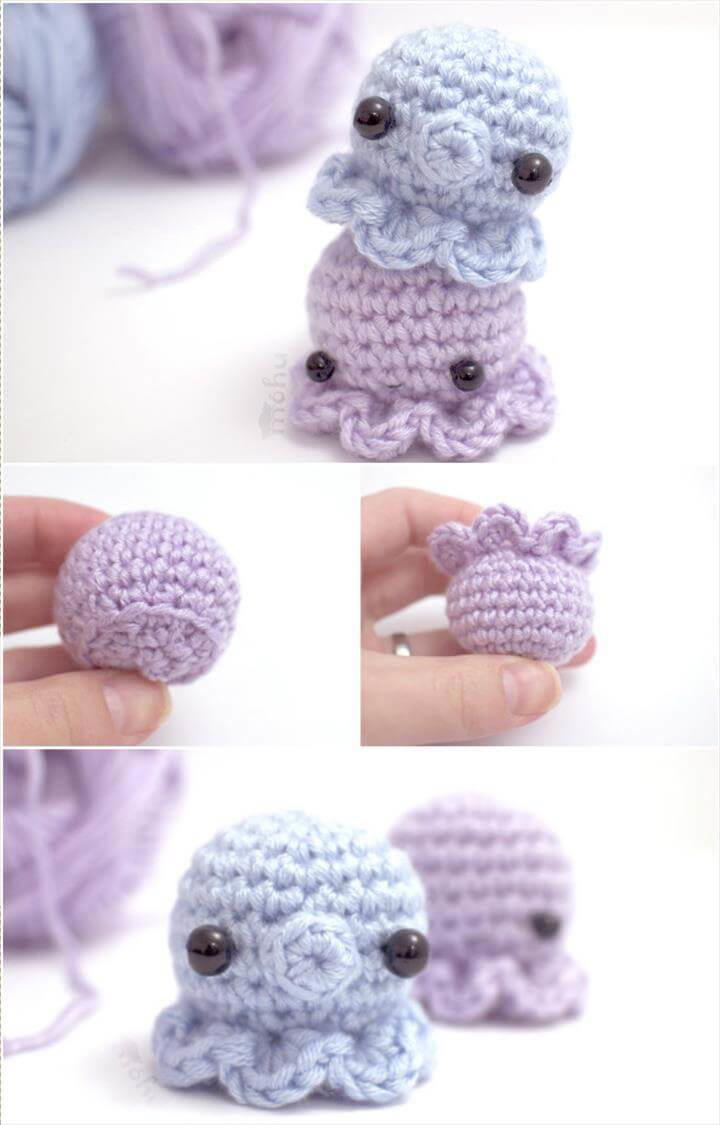 Get creative with your crochet hooks and crochet worthy gifts and toys for kids! Crochet these octopus amigurumi for a baby shower ornaments, will also make a great gift! Complete free pattern is here mohumohu
Chunky Crochet Market Shopping Tote:

Along with the winter fashion accessories, also crochet the items of daily use with your hook just like this market crochet tote! Crocheted with chunky yarn weights and is really durable to hold too much of weight! Here is how to crochet it deliacreates
Cozy Crochet Pillows: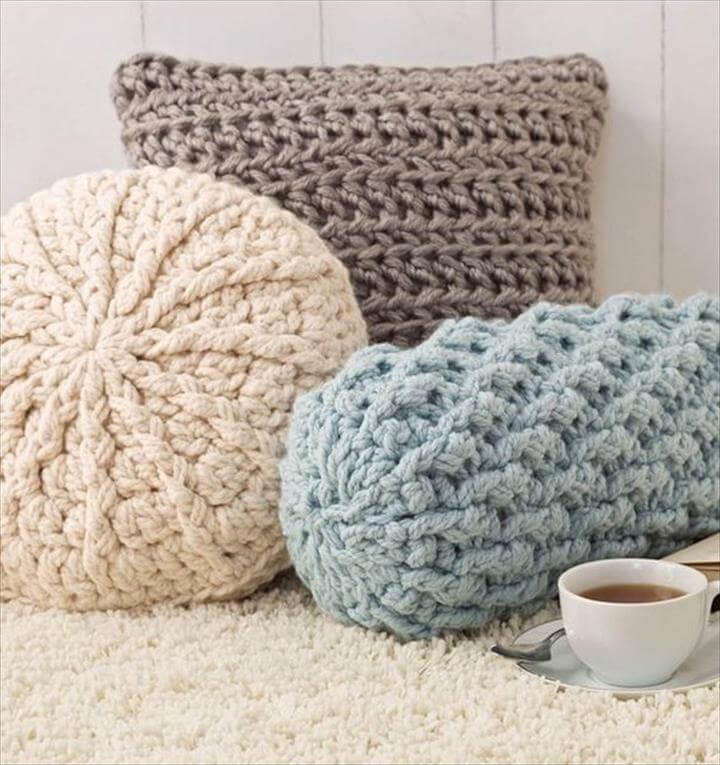 Crochet chunky yarn weights also for super comfy pillows or pillow covers, you can see a few ones here to get inspired! Complete pattern and tutorial is here joann
Beautiful Crochet Striped Can Cozy: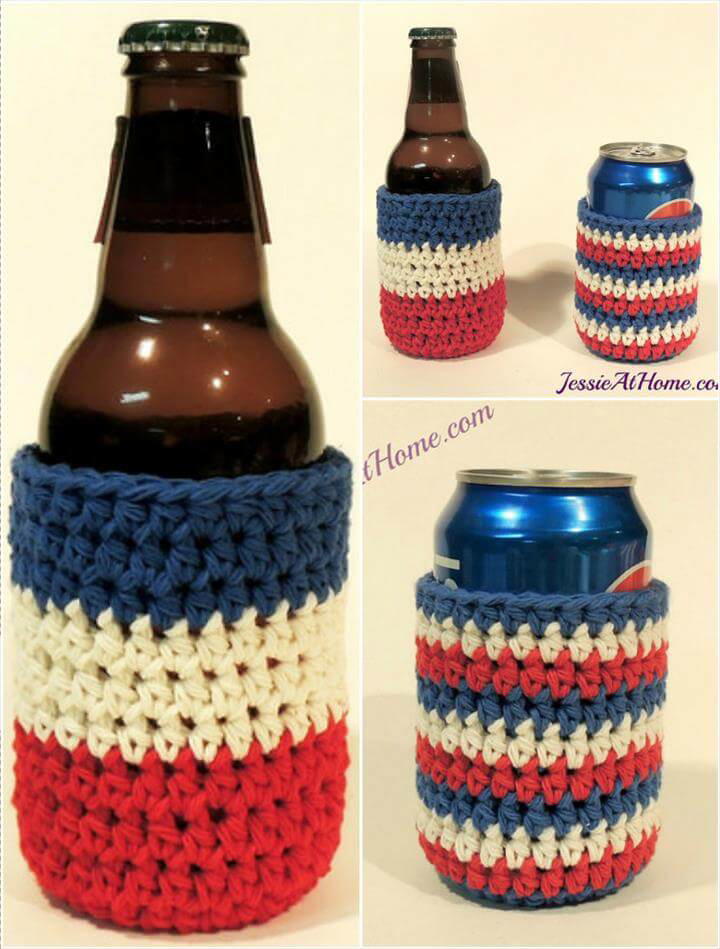 For a praise-worthy winter vibe, you can also crochet extra beautiful mug cozies, tin can cozies and also the beverage bottle cozies with your hook! Get inspired of this given striped can cozy and make it yours! Full guide and pattern is here jessieathome
Easy Crochet Rainbow Stool Cover: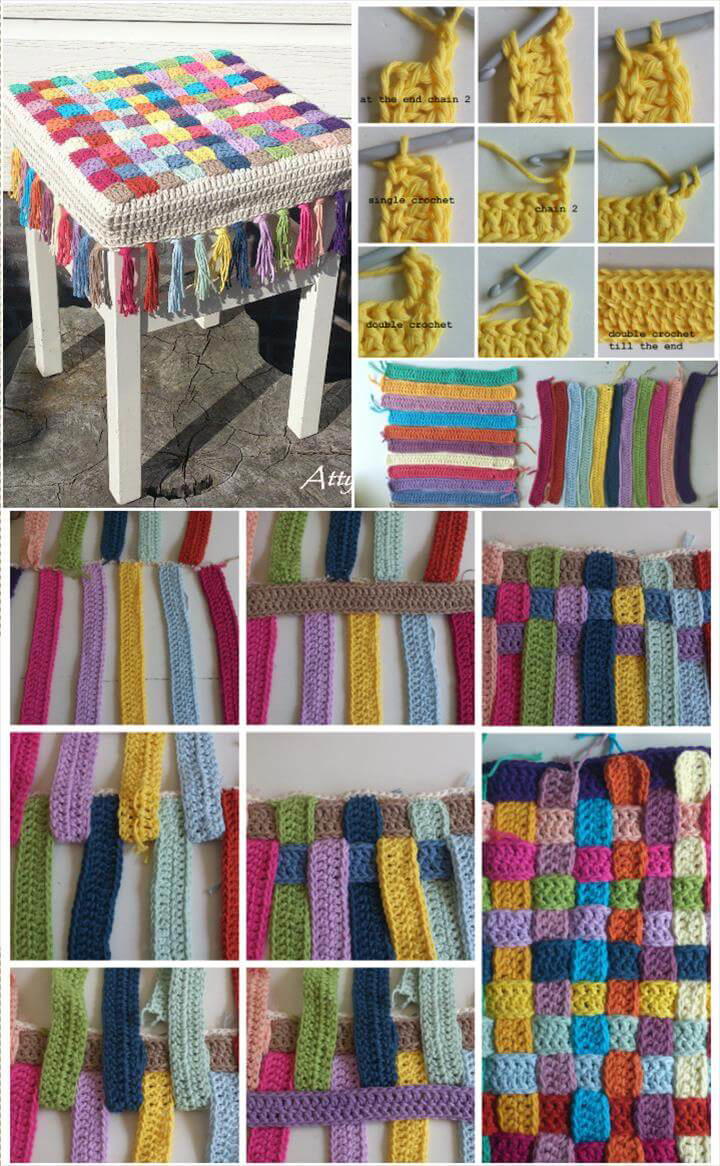 Bring coziness also to interior furnishings by crocheting exclusive cozy covers! Just like this rainbow top cover, crocheted for a stool for soft sitting experience and attractive visual! Complete free pattern is here atty-s
Self-Crocheted Slippers: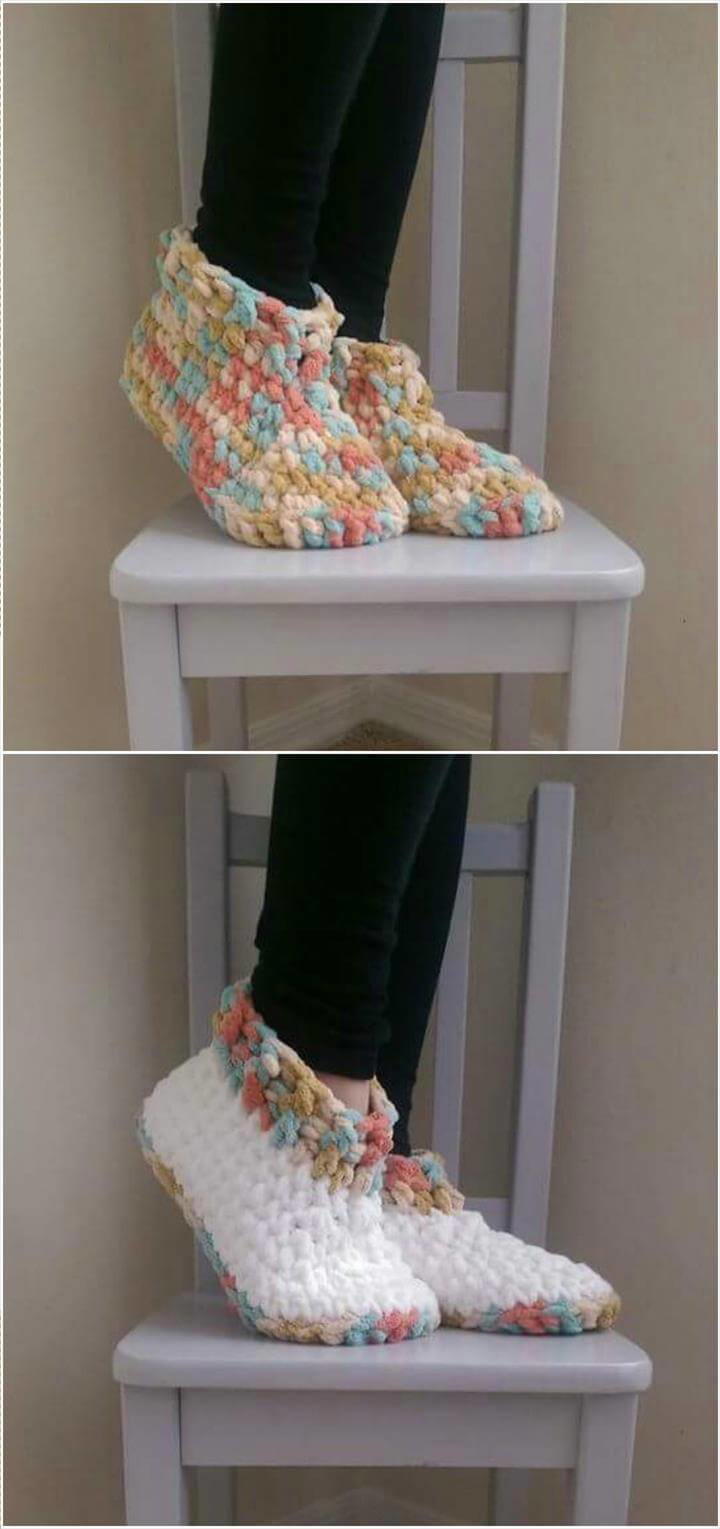 Make your toes feel extra soft and cozy with stylish crochet slippers! Here is an example of stylish crochet foot-warmers! Crochet these slippers now by following this free pattern with your hook thelavenderchair
Crochet Towel Rack: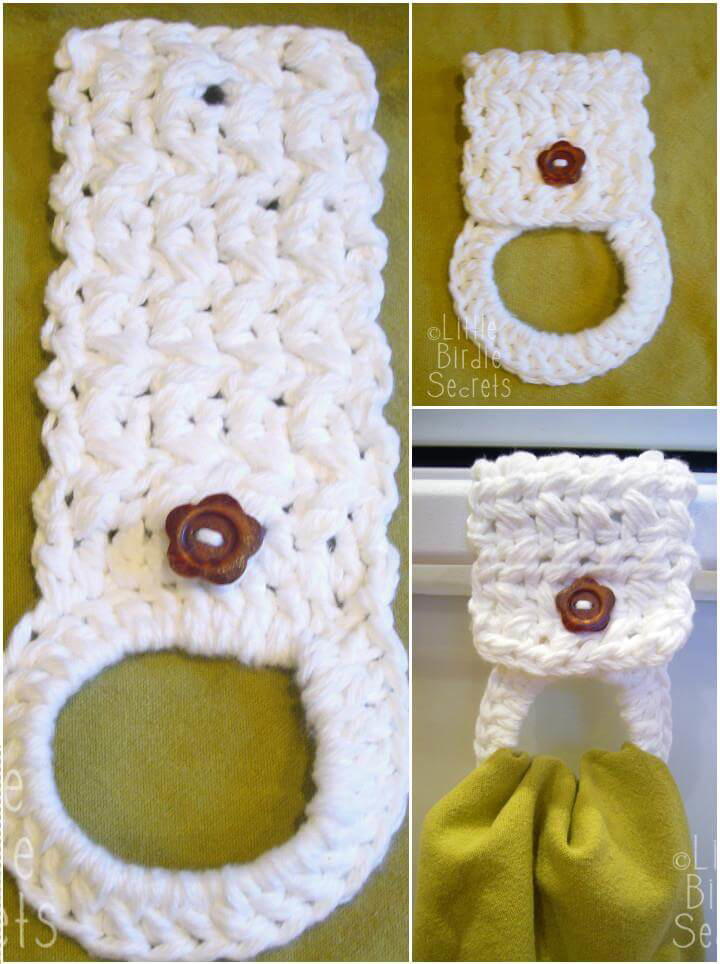 Another great hack, crochet also the little but highly functional items with your hook like this beautiful crochet towel rack! Would be a great items for your kitchen or bathroom! Here is full free pattern for it littlebirdiesecrets
More Free Crochet Patterns: