During the fall and killing cold days, the chunky crochet scarves are a great choice! They wrap around your neck just as the most comfortable winter neck warmers and help you to look stylish even in dead of cold! No matter whether you have been practicing the crocheting for years or just a beginner, to crochet a scarf pattern is easy to all! So, if you just willing to crochet the coolest scarves of the year for your closet or wardrobe then we presenting here these flawless 10 free crochet cowl scarf patterns that have exclusively been showcased for the style loving girls! All you need is to keep your hands on doing crocheting while watching your favorite TV show and you will soon get a fashionable scarf that can be worn all the year long!
Prefer the lacy and light weight scarves for the spring or summer fashion but going chunky in your yarn weights will be recommended when you also need to beat the winter cold along with gaining a style! The given list will guide for all the seasonal choices of crochet scarves! Moreover, you are also going to learn a lot about wearing a scarf in different ways for bigger fashion statements!
From granite to puff to block stitches, you can go with any while crocheting your favorite scarf pattern, it will vary the texture and overall appeal of the scarf! In this case, you will learn a lot from the given scarf inspiration! Here most of the scarves are featuring neutral hues that go best to coldness of the winter season!

Just go down by seeing each and every showcased free crochet patterns for scarf and pick your favorite one! After making a selection, you can simply hit the underside pattern link to grab the respective free pattern and picture tutorial! Enjoy and keep on crocheting this winter!
Crochet Grit Stitch Infinity Scarf:
Keep on enjoying the chill of the winter with this infinity scarf! Will style you in multiple different ways as it can worn as a neckwarmer or cowl too! Chunky yarns weights will help to beat the winter cold! Here is the complete pattern for this scarf littlemonkeyscrochet
Crochet Big Rib Scarf: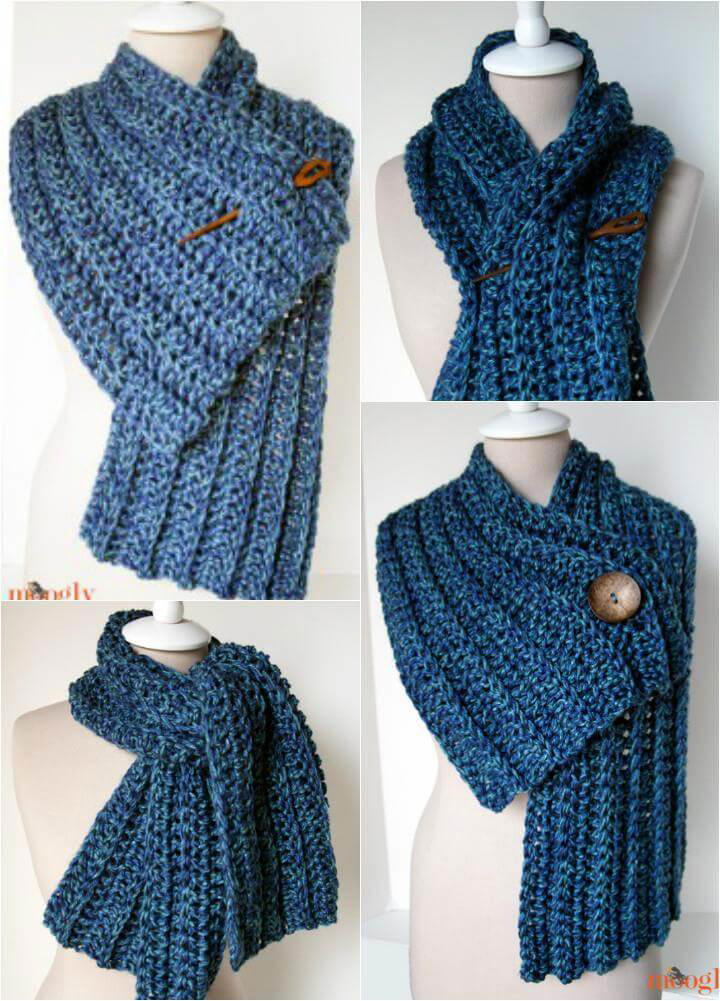 Want something that will wrap your upper body soft and warm without losing fashion points? Here is the precious blue crochet big rib scarf, a complete solution, graced up with the wooden button! Complete pattern here mooglyblog
Crochet Chunky Block Cowl: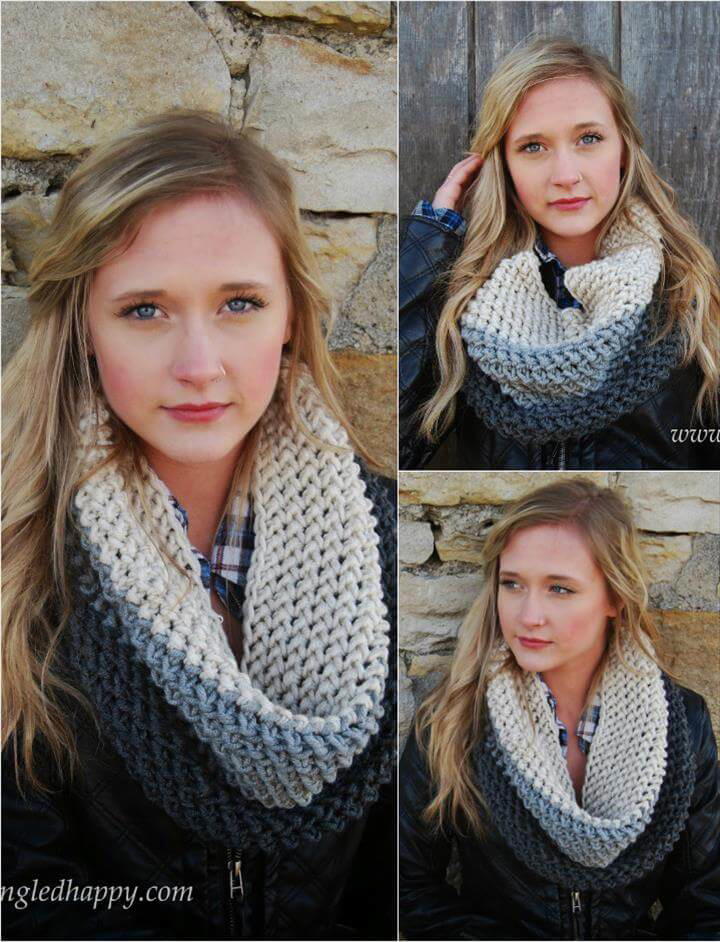 Enjoy winter looks with bigger fashion statements by wearing this chunky crochet cowl around your neck! Will make the girls look extra beautiful who are already cute! Here is the full pattern for this nice crochet cowl tangledhappy
Long Crochet Double Cowl: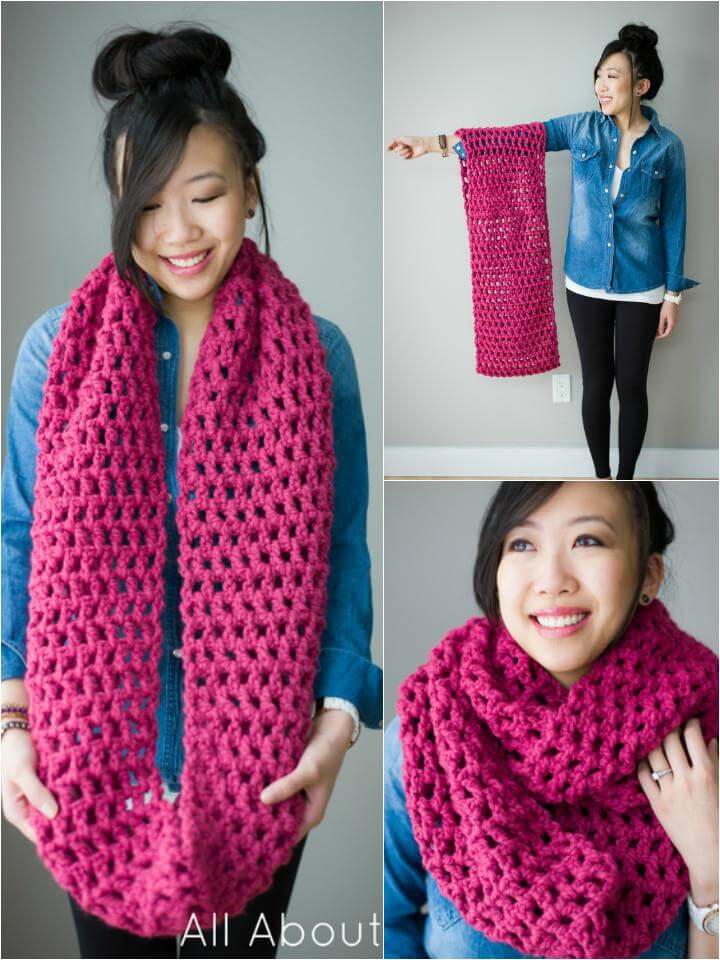 Let yourself feel special with this nice winter warmer! Chunky crochet double cowl, wear it in a style that suits you best like as a neckwarmer, as a cowl and also as a simply scarf! Here is the complete free pattern if you are interested in cloning it allaboutami
Crochet Chunky Infinity Scarf: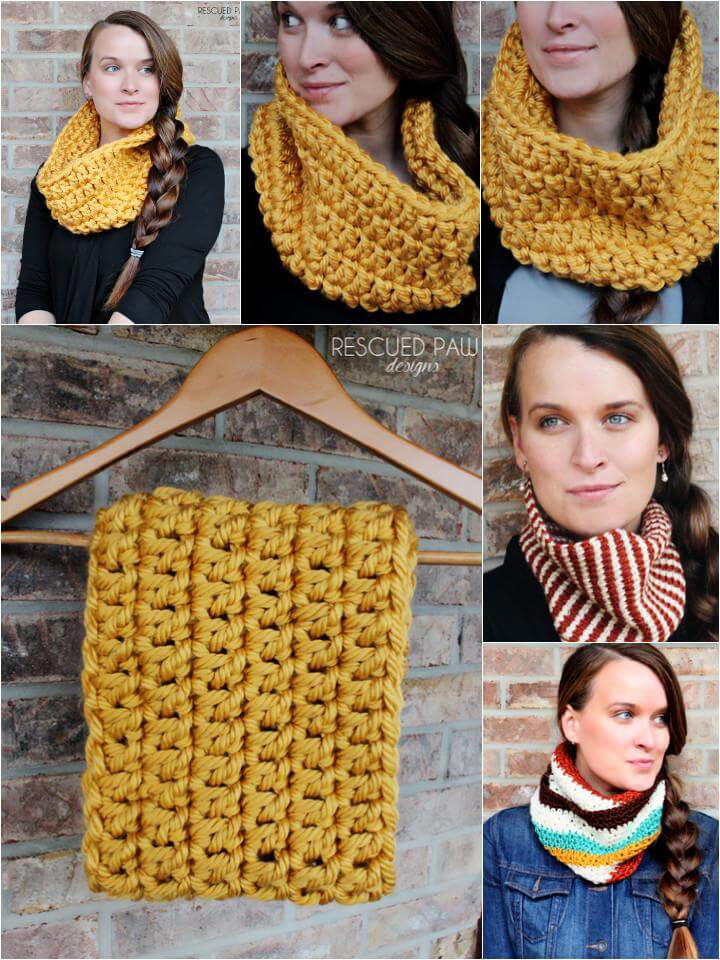 Another great and quick-to-crochet chunky infinity scarf! Will work like a charm for your neck while being wrapping around it as a neckwarmer! A stylish crochet stuff that will also help to beat the winter-cold! Complete free pattern here rescuedpaw
Crochet Oversized Scarf: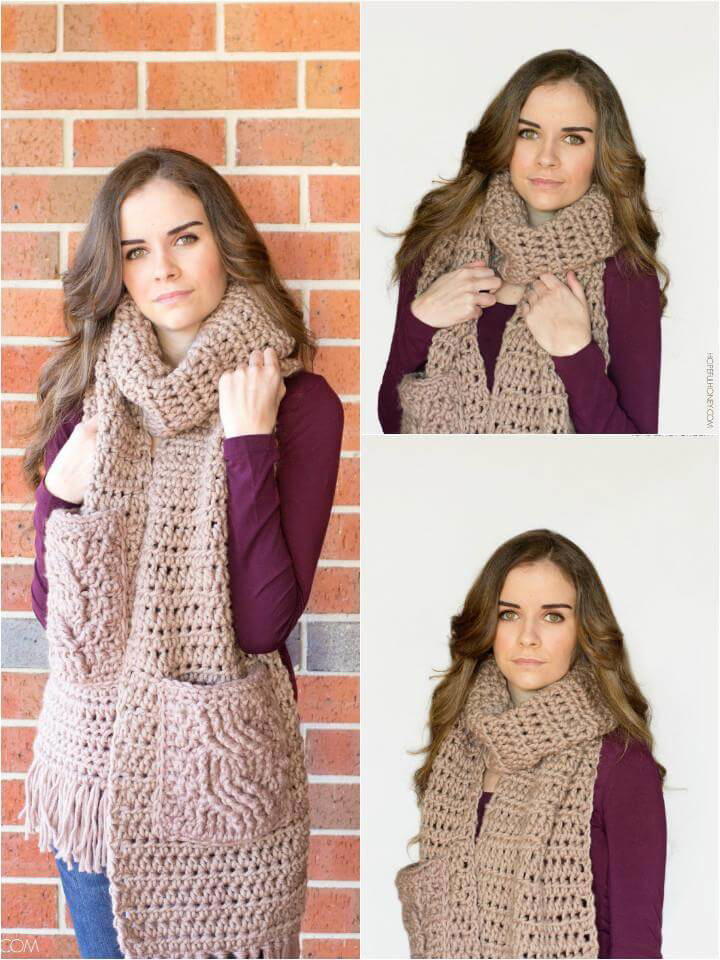 Here is a special one-of-a-kind crochet scarf, crocheted for an oversize and also comes with pockets! Will make you look great from home to office and is as warm as it is stylish! Full guide and free pattern here hopefulhoney
Crochet Super Duper Chunky Cowl: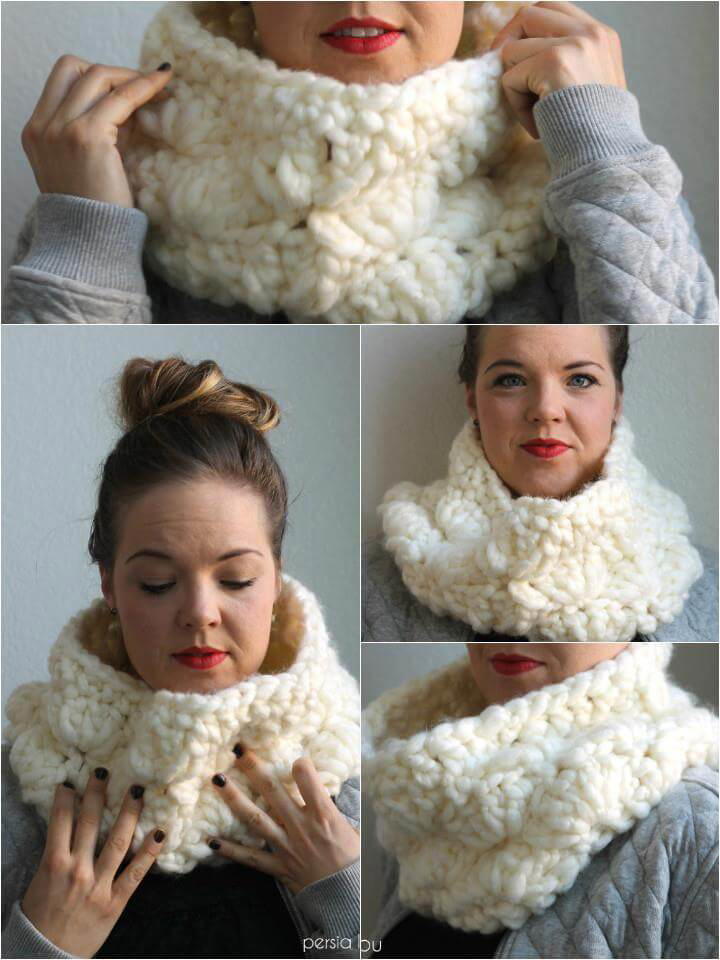 If you are going through killing cold weather in your region then this super duper chunky crochet cowl is really for you! Will hold your neck warm without losing any style points! Complete free pattern is here persialou
Crochet Knit Look Cowl: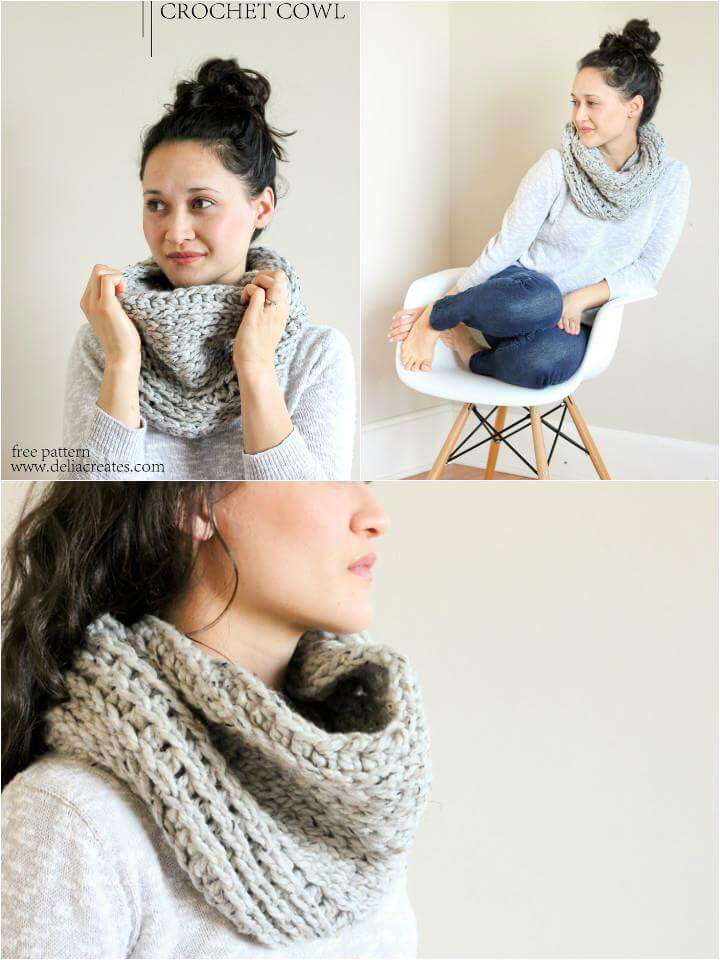 Another great crocheted cowl that looks knitted! Comes in a neutral hue that will really go friendly to winter weather! Interested in making it yours, here is the full free pattern deliacreates
Crochet Thick & Ribbed Cowl: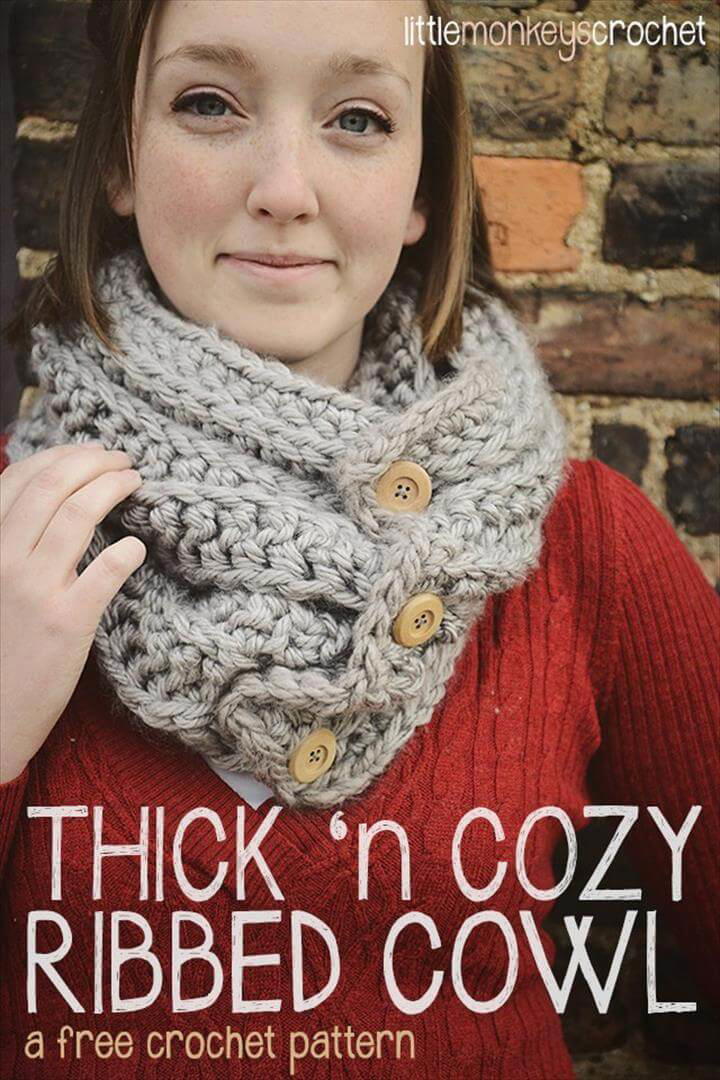 One more awesome crochet cowl or neck-warmer from a genius crochet designer! Comes with wooden buttons that will keep it fixed around your neck! Stay warm and feel stylish by wearing this thick and cozy cowl! Grab the free crochet pattern for it here littlemonkeyscrochet
Crochet Snowy Hills Scarf: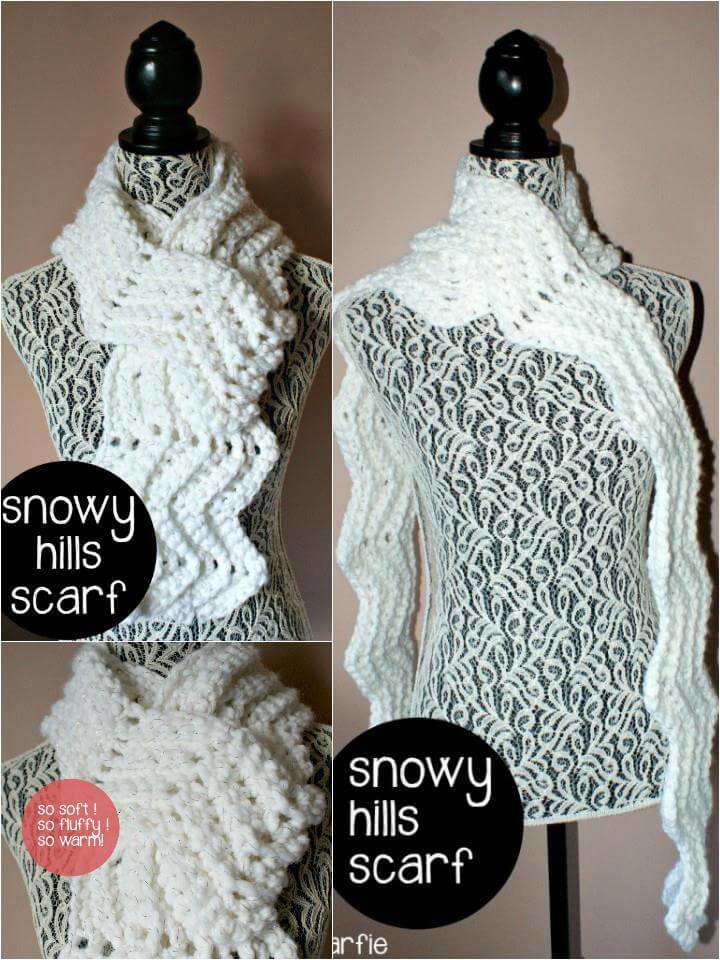 Beat the winter cold with this hand-crocheted cowl if living in a snowy area! Here the name of the scarf is self-explanatory! Make this super soft and warm crochet cowl scarf yours by getting a little busy with your hook! Complete free guide and pattern is here oombawkadesigncrochet