Crochet hats are equally famous in both genres and are always to discuss about in every matter of winter fashion! Crochet products are all famous around the world as they pay double duties like they make you feel warm and stylish at one time! Same the hat are going to do with each fashion enthusiast! To satisfy different tastes of hat lovers, we have brought here this collection of 17 crochet baby beanie hat patterns that have been provided along with full free patterns, but here these hats have been specified for the kids and babies mostly! So, the crochet loves can crochet these hat pattern for a whole family to avoid getting bored in winters and also to feel warm and cozy!
Here very first thing you will find difficult is to choose the right size for a hat suitable for a toddler, kid, or for a mature person! So, you can simple visit the mango and tree crafts given in the top of the list to learn all about the crochet hat sizes!
After you decide a hat size, you can take a short tour to choose your favorite hat from the given collection! The design you will choose, will also come with a free pattern tutorial link so you can enjoy error-free crocheting in your free time!
The given free crochet patterns comes with hat designs inspired of animals and birds the kids love a lot, the given fox hat and baby bird hats are a great examples in this case! Some hats are also inspired of fruits the kids like! Moreover, there are also hat inspired of kids toys like cars! Here a very new crochet Pokémon ball hat has also been included in the list that will be mind-blowing for a Pokémon fan!

You are also going to find here diverse different ways here to give you hats a superb finishing touch for a boosted visual interest! You can do so by choosing special crochet stitches and also by adding custom bows and flowers to your crocheted patterns! Thanks for visiting us!!
More 103 Free Crochet Patterns:
Mango Tree Crafts Crochet Hat Sizes:

We would wish you take a look at these basic sizes for crochet beanies and hat that will help to crochet a perfect hat for a head of a baby, teenager or of a mature person mangotreecrafts
Crochet Kids Hat and Scarf Set: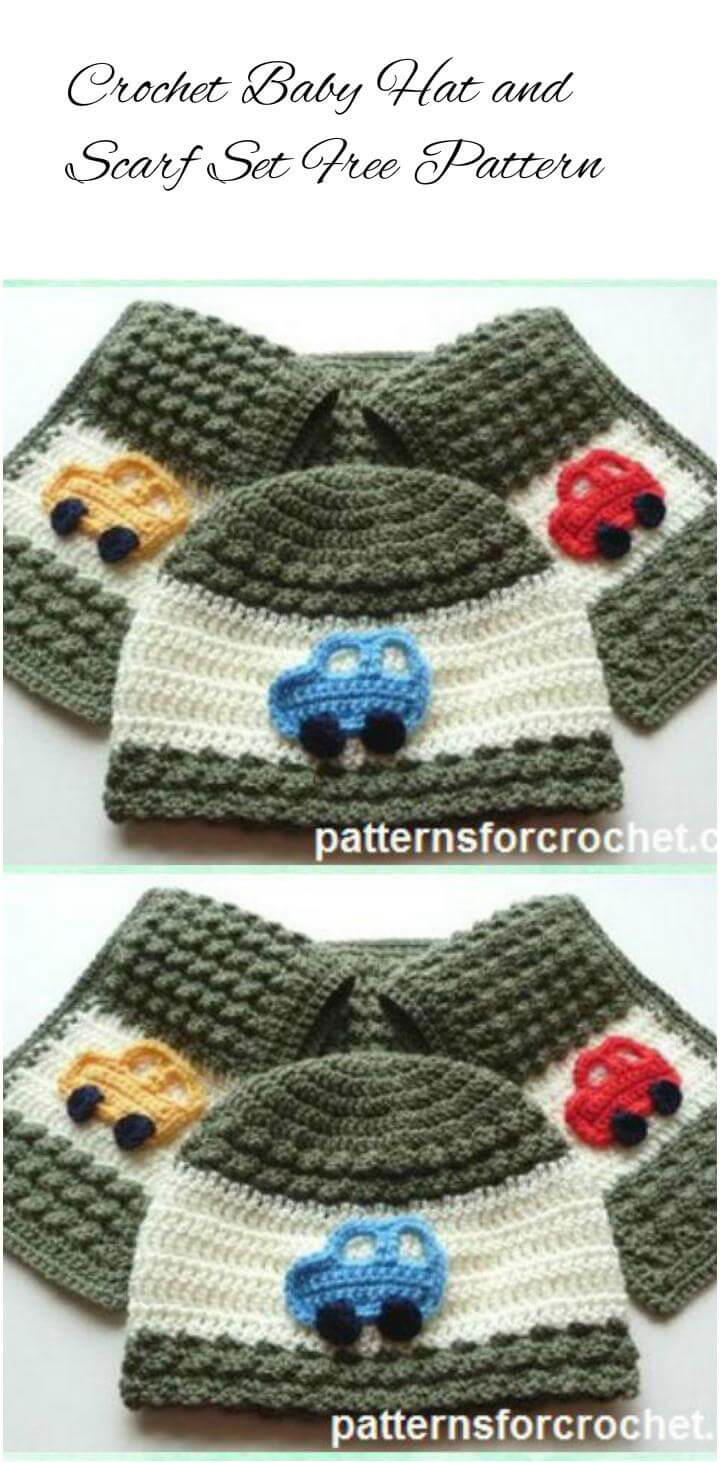 Special hat and scarf set for a kid who need to be winter protected in a style! Here both hat and scarf comes with a car theme that will be truly eye-catching for all toy loving kids! A crochet inspiration to please your kids! Full free pattern here patternsforcrochet
Crochet Puff Stitch Hat: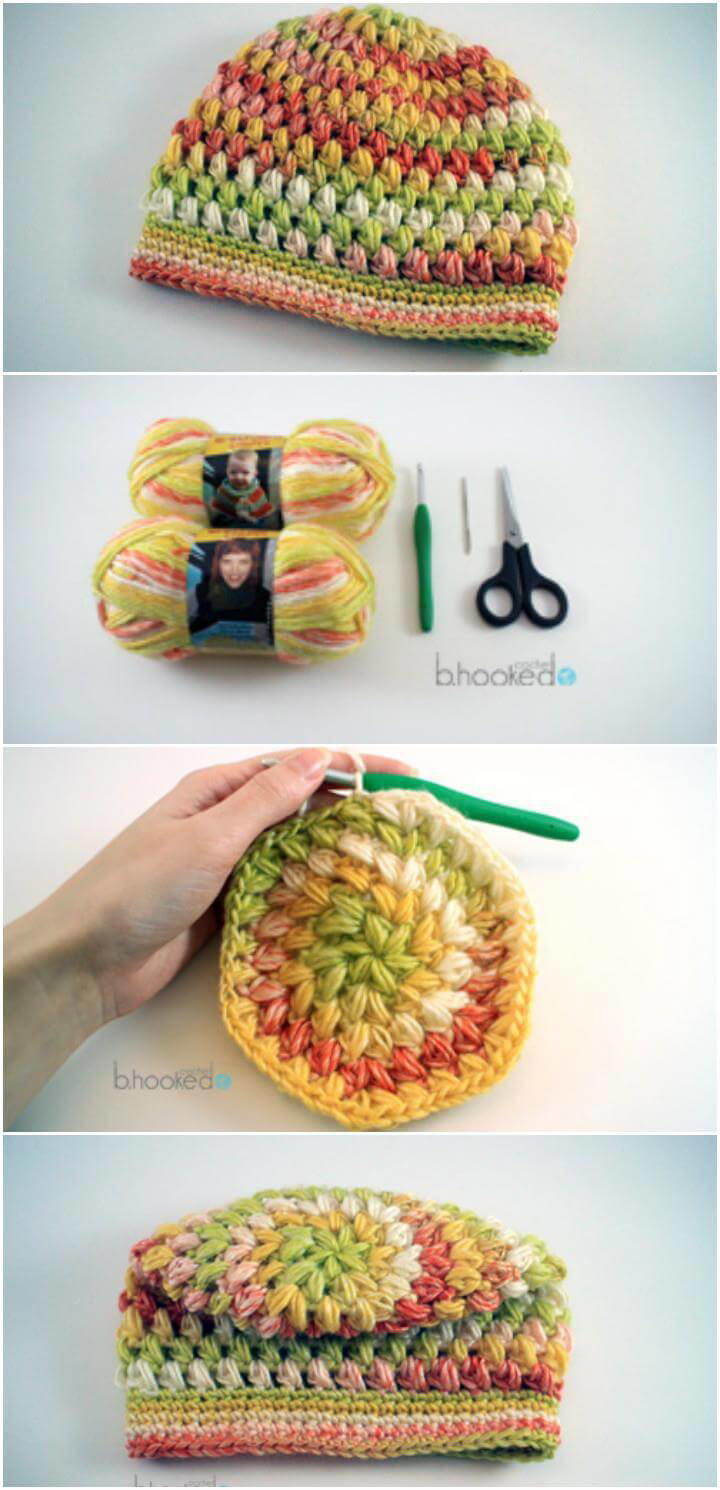 Always feel handy at puff stitch? If you really feel so then here is your next crochet project or inspiration! A chunky crochet puff stitch hat, will adorn any kid's head in a fashion-worthy way! Full guide and free pattern here bhookedcrochet
Crochet Love Heart Nautical Baby Hat:

You may be a big fan of nautical decors! If you really take pleasure in following the nautical home decor them then this crochet hat is only for you! Now bring also the nautical vibe to your with your hook, a precious nautical kids hat with a red love heart in front! This hat is as cozy as it is beautiful! Full free guide and pattern is here makemydaycreative
Crochet Baby Bunny Hat: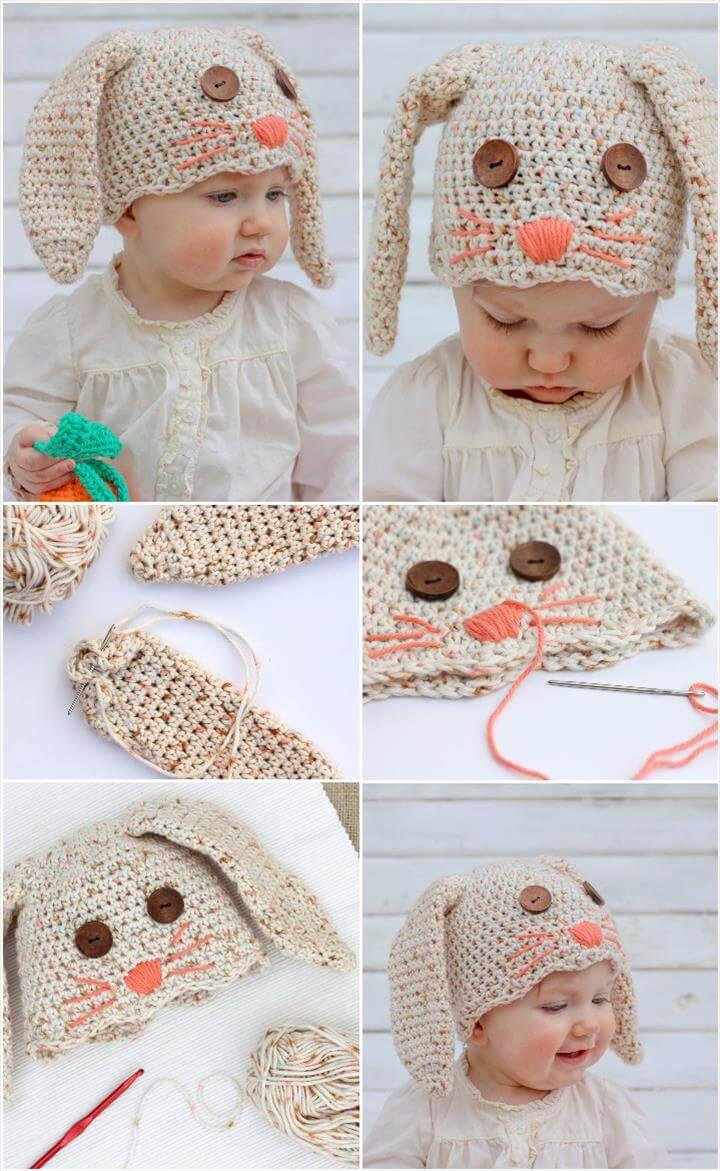 This special hat is a for a bunny's fan, may be in your family or in neighbor hook! Why not crochet this hat to gift to that bunny lover, it will truly lift you up in his/her eyes! Time to earn more respect and love with your hook! Free pattern for this bunny hat is here makeanddocrew
Crochet Newborn Holland Hat: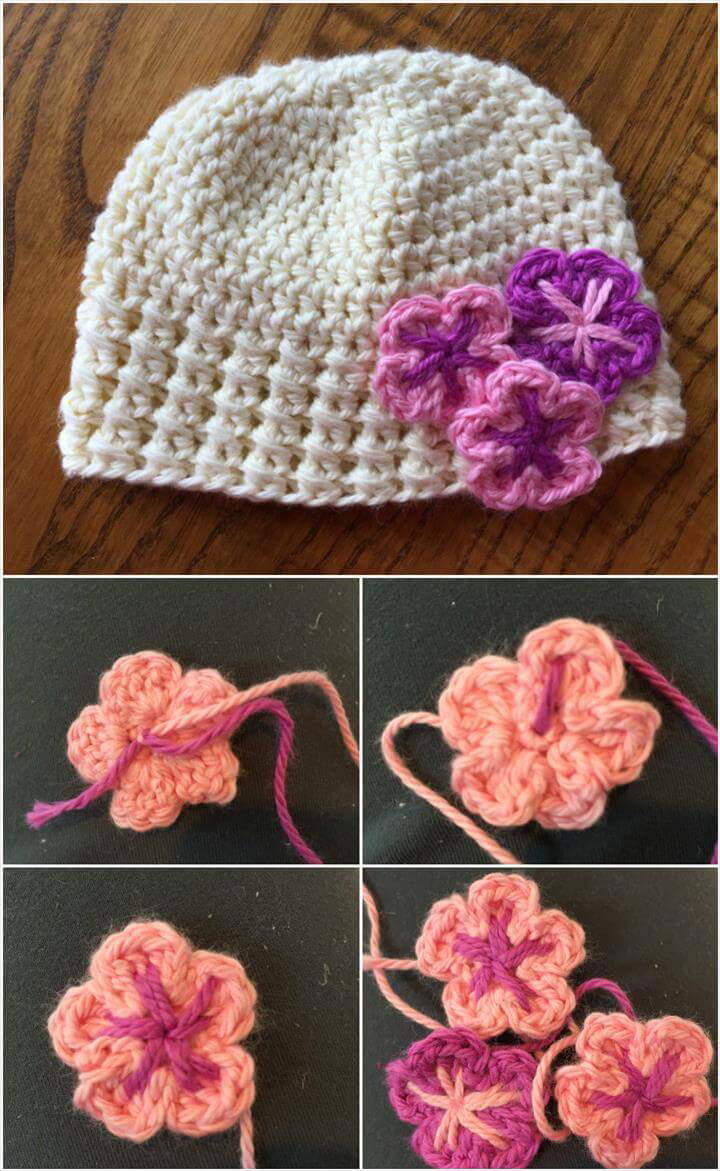 This chunky hat would make a super cute head-warmer for a newly born baby, graced up with a bundle of 3 crochet flowers! A flawless gift for a mother-to-be! Want to clone it now? Full free crochet pattern is here skeinandhook
Crochet Pearl Hat: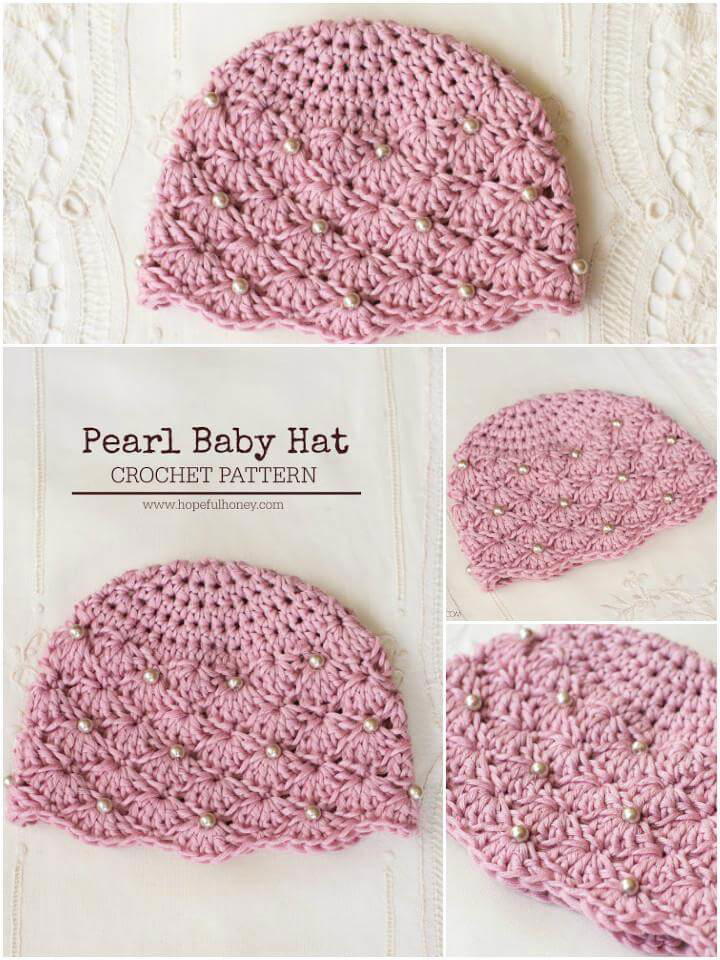 Here is what you need to adorn any kids head, especially the head of your little princess, a superb crocheted pearl hat! Design and hue is also perfect for fashion loving teen! Full free pattern for this adorable hat is here hopefulhoney
Crochet Spring Lacy Hat: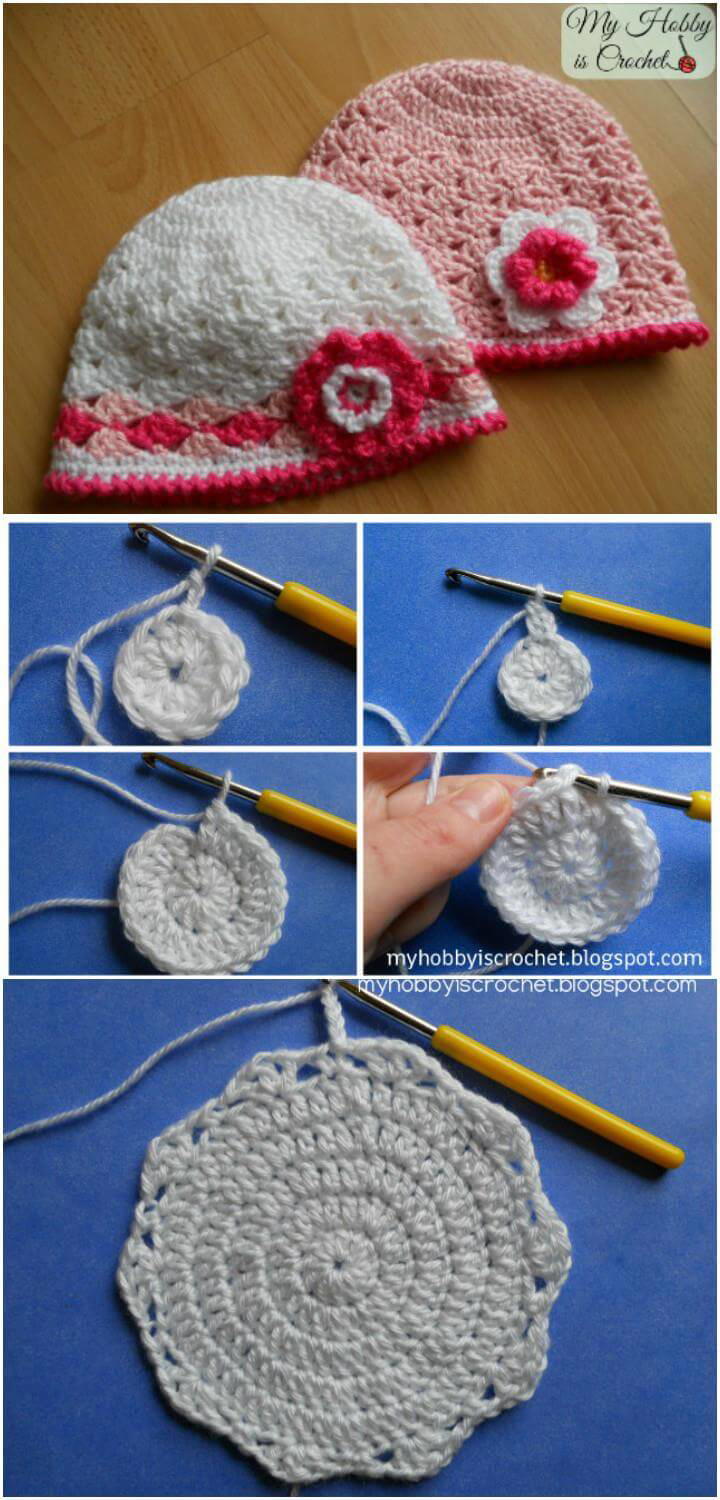 Here is another super precious one, would be perfect for both spring and fall! Here a feminine touch has been given by embellishing the hat with crochet flowers! Grab the full free pattern from here myhobbyiscrochet
Crochet Blanket and Hat Set: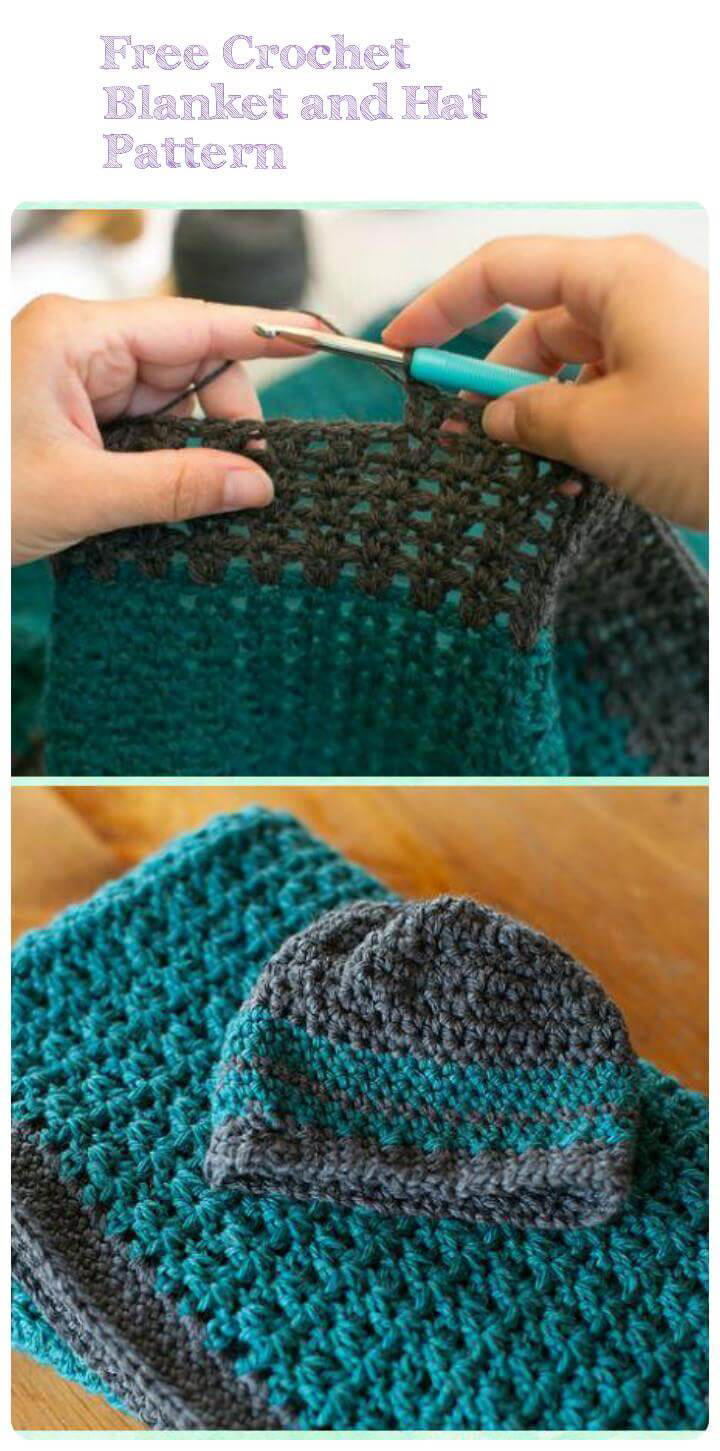 The set of a chunky warm hat and a cuddly blanket, perfect to make any trembling kid feel comfortable in chilly days! So crochet the whole set and wrap around your baby boy! Full free guide and pattern is here The Firefly Hook on Ravelry
Crochet Puff Stitch Hat: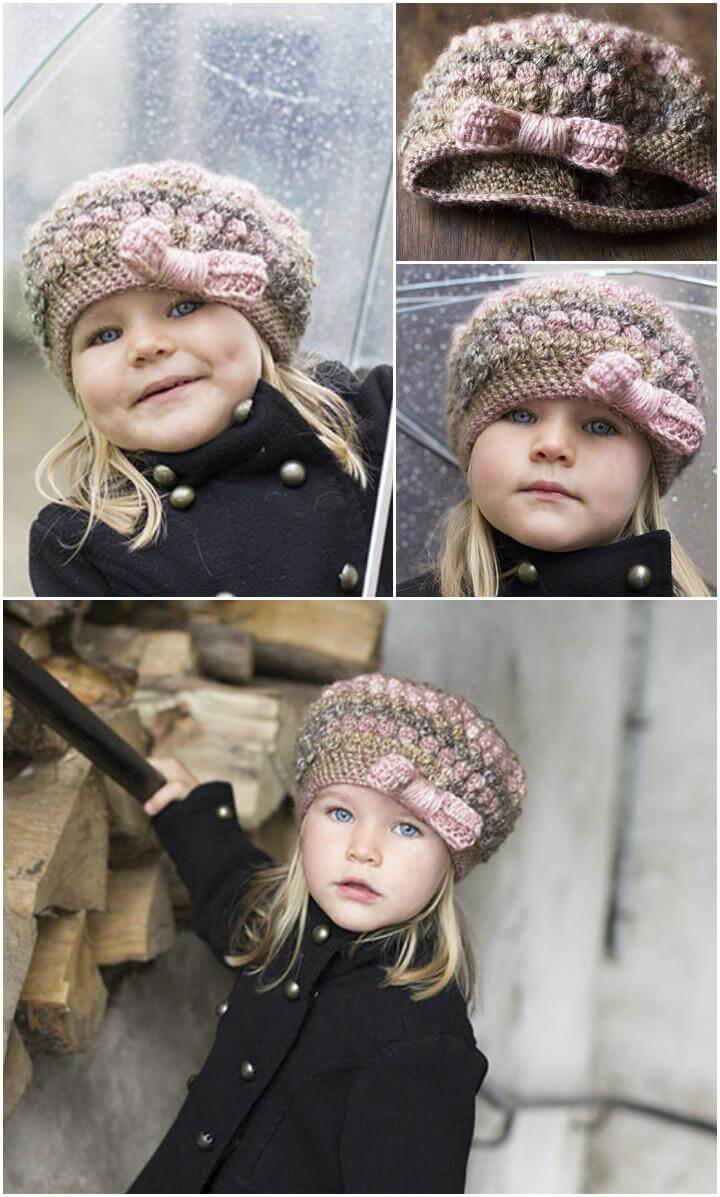 Here all you need is to go with the puff-stitch to crochet this adorable hat! The hat looks complicated but is quite easy to crochet, it demands you to have a little master hands in puff-stitch and that's it! Finally, the visual of the hat is raised with a bow! Here is the full free pattern mon-petit-four
Crochet Anthro Hat: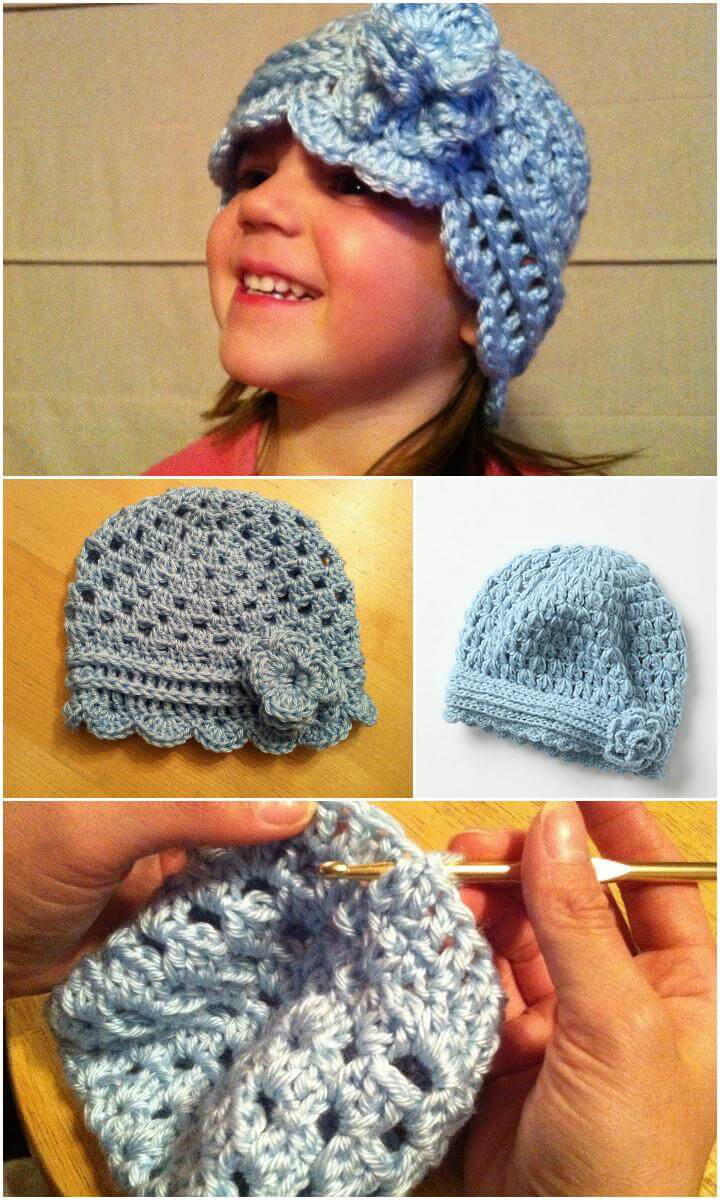 This anthro-inspired crochet hat is a perfect inspiration for crocheters having intermediate skill level! The advanced beginners can even try the pattern to learn something new as the pattern comes with a little tricky parts! For error-free crocheting of this precious hat, here is the full free pattern idesignadventures
Crochet Pokemon Ball Free Hat: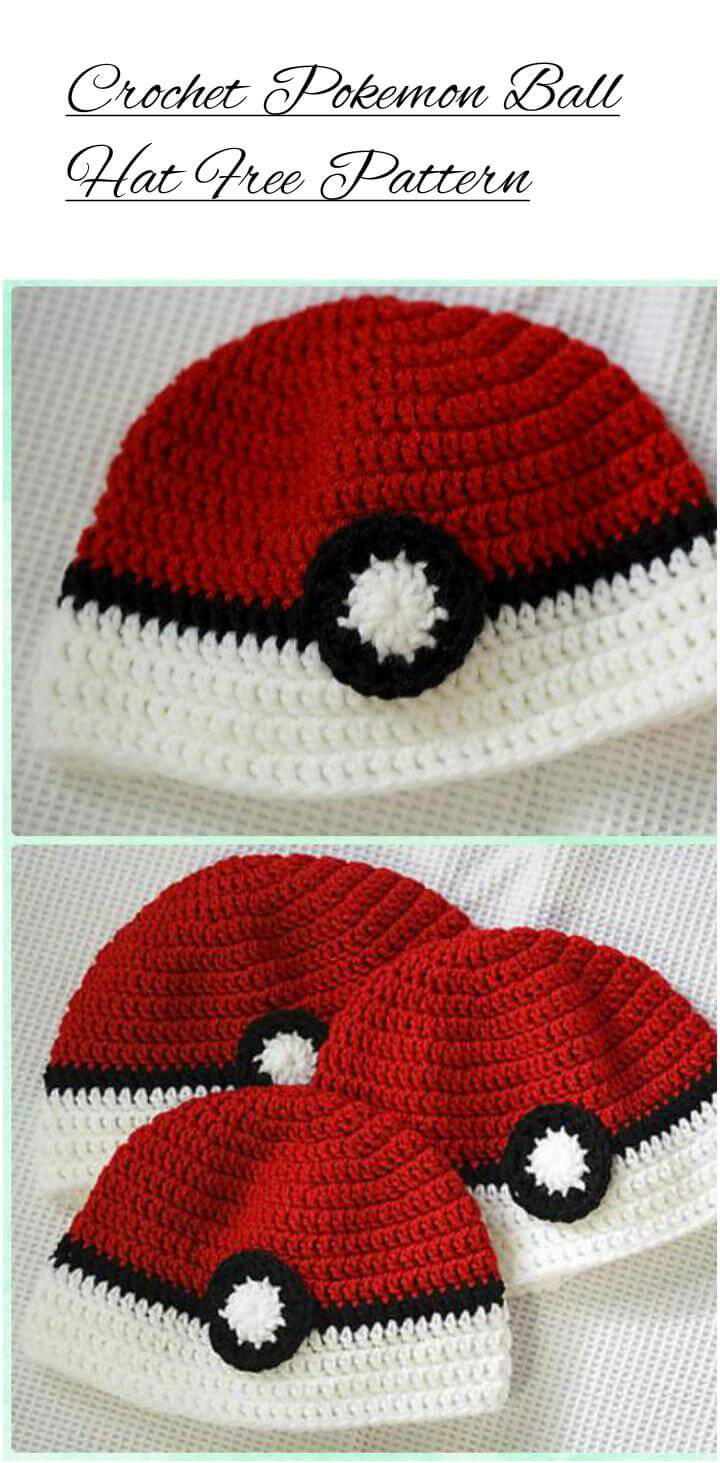 Time to please a Pokemon's fan with your crochet hook! Presenting here the very new and unique hat inspired of Pokemon's ball! It is as warm and cozy to wear as it is visually attractive! Complete free pattern is here app.box
Crochet Baby Bird or Chick Hat: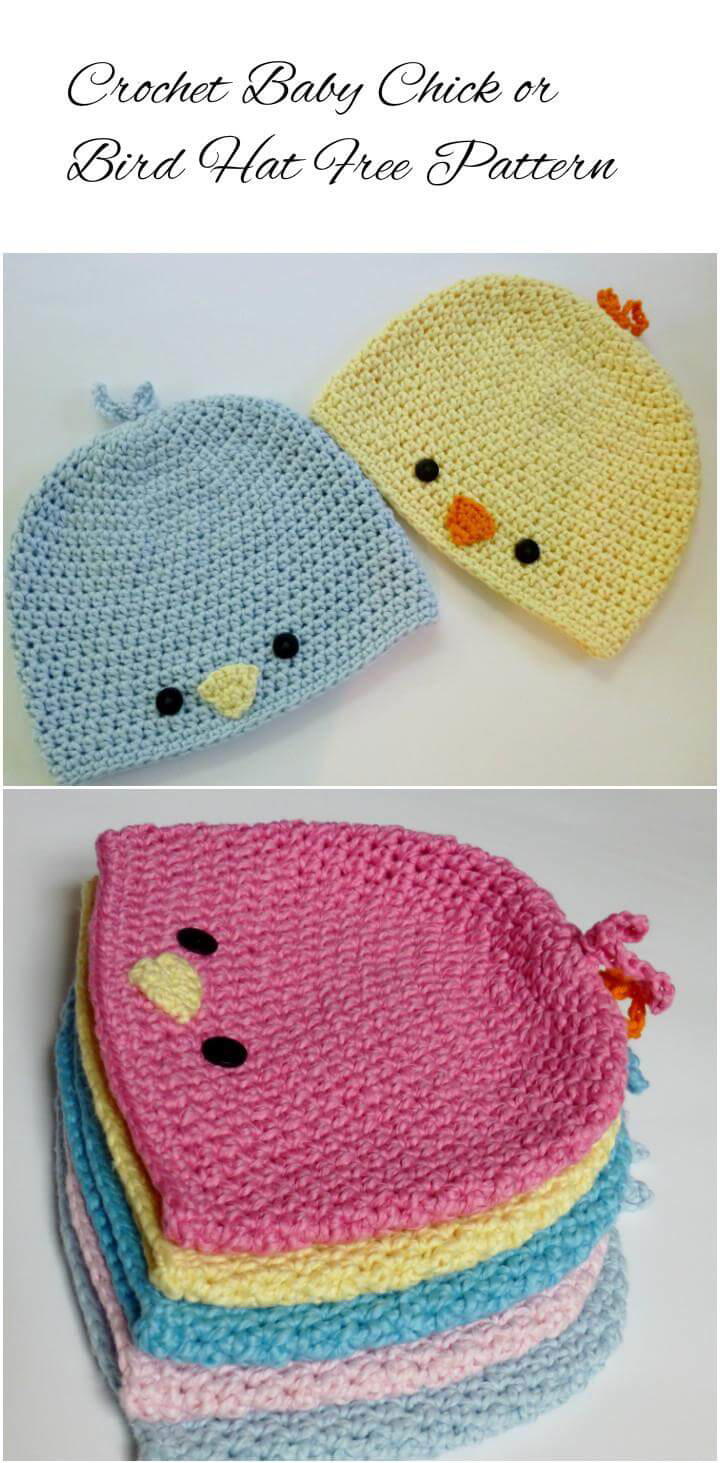 Create a special funky look of your little baby boy or girl by making him/her this special hat inspired of a little chicken or bird! Experiment these hat with different yarn colors you like! Easy and free pattern for this hat is here freecrochetpatternsbydarleen
Crochet Fox Hat: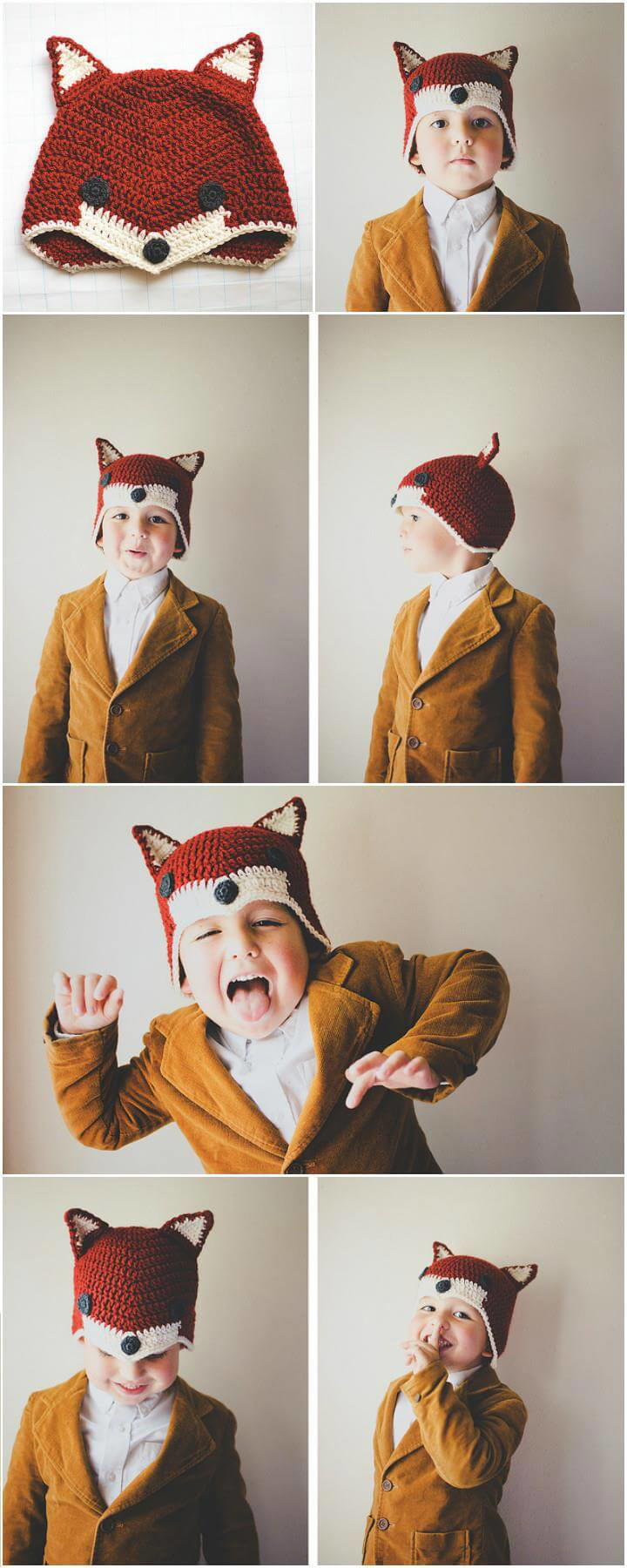 Another super cool animal inspired crochet hat, the lovely fox hat, going to win heart of any crochet lover! A medium skill level is all required to crochet this hat that would make a perfect winter gift also! Image and free pattern credit to goodknits
Chunky Crochet Fox Hat: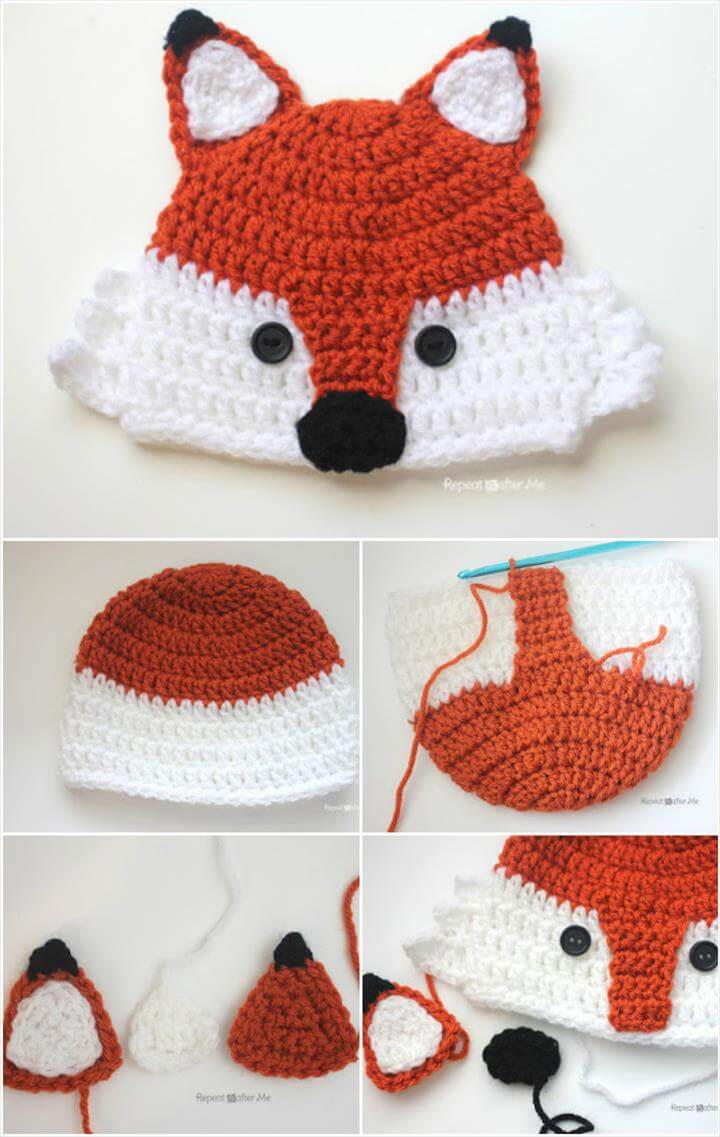 If you are thinking to go with chunky yarn weights to get extra amount of warmth in trembling days, then this chunky fox hat will no-doubt make a great choice! It would be the fun-raising hat for kids and would something that they will not want take off from their head! Full guide and free pattern is here repeatcrafterme
Crochet Spiral Topped Beanie Hat:

Chunky beanie hat, this is what you can choose while need to get more warmth! Would be all perfect to wear over head in extra chilly days! Get the full free pattern from here danyelpinkdesigns
Crochet Perenni Floral Hat: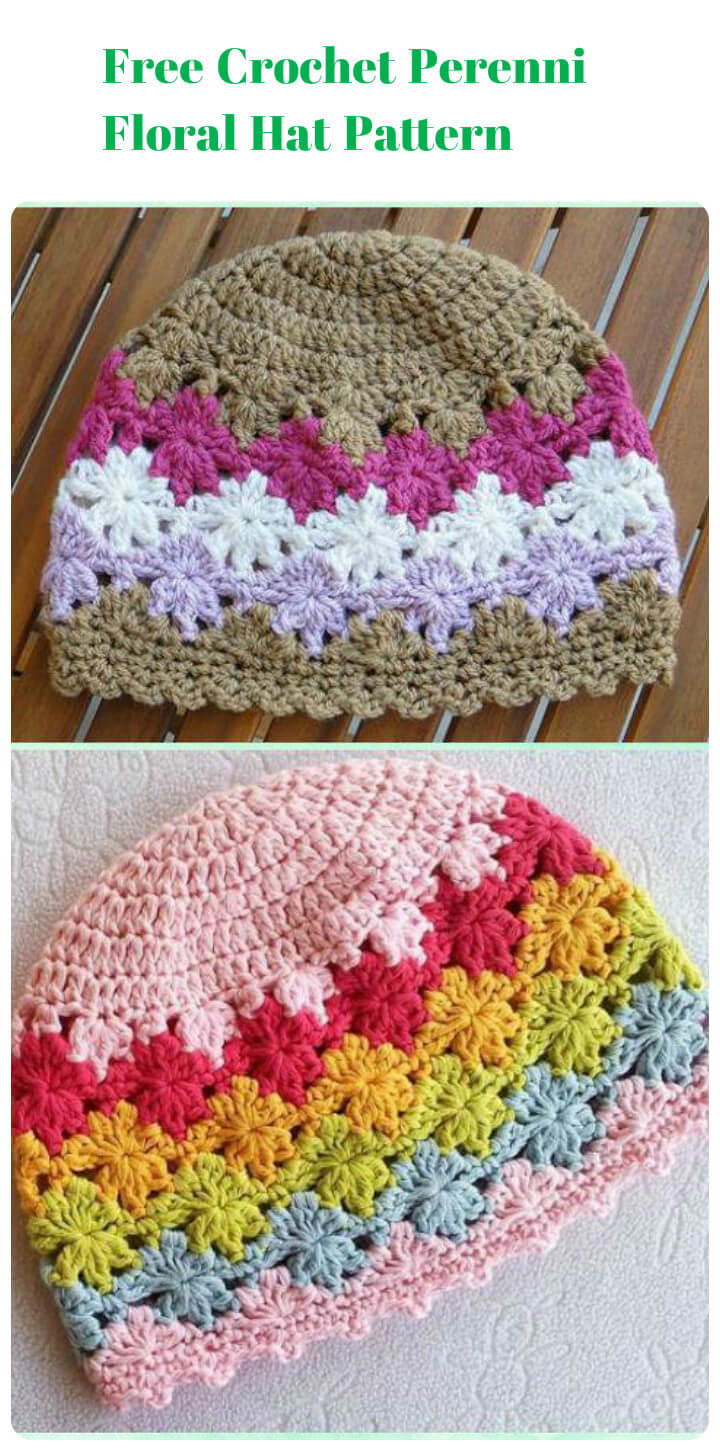 If you all want a matching hat for a kids top, sweater or vest then this hat is recommended one! You can duplicate with any chosen yarn colors! The floral design will make this hat super special for little baby princesses! Free pattern for this hat is here Deanne Ramsay on Ravelry