The style lovers always feel crazy about the latest fashion trends! Especially, the girls and ladies just have that celebrity fashion and designers clothes always on their brain! If you are also a girl or a women who is fashion enthusiast then we have really brought something very adorable here for you! Look outstandingly great this winter by wearing any of these 12 crochet circular vest jacket patterns that are all inspired of bohemian fashion! These free crochet patterns for jacket would also be great for stylish everyday wear for women who always strive for the new fashion!
Each circle cardigan, sweater or jacket features a special motif that makes it out-of-ordinary! You can amaze all your senses by taking a very first look at the lotus motifs that goes for bigger bohemian fashion statements! You can also praise the mandala motifs that create a super traditional and classic look of that particular circle vest! To please you more, there are also remarkable circle sweaters that come with exclusive floral motifs and are perfect for spring fashion! In short, the collection is just extraordinary for each crochet loving women who is also having a fashion loving heart!

So, if you are on the mission to look extra beautiful and smart this winter or in the upcoming spring season then you must have these circular jackets in your wardrobe! To spend some time with your crochet hook will be the whole cost price for these praise-worthy circle jackets! Each circle jacket showcased below, offers a free pattern and a picture tutorial that will guide you for all the necessary details about the yarn weights, crochet hooks and also about different style of crochet stitches which are compulsory to crochet that particular pattern!
More 51 Free Crochet Patterns:
Keep on hooking and keep visiting us to see what is latest and very new in crochet trends!
Crochet Circular Vest Sweater: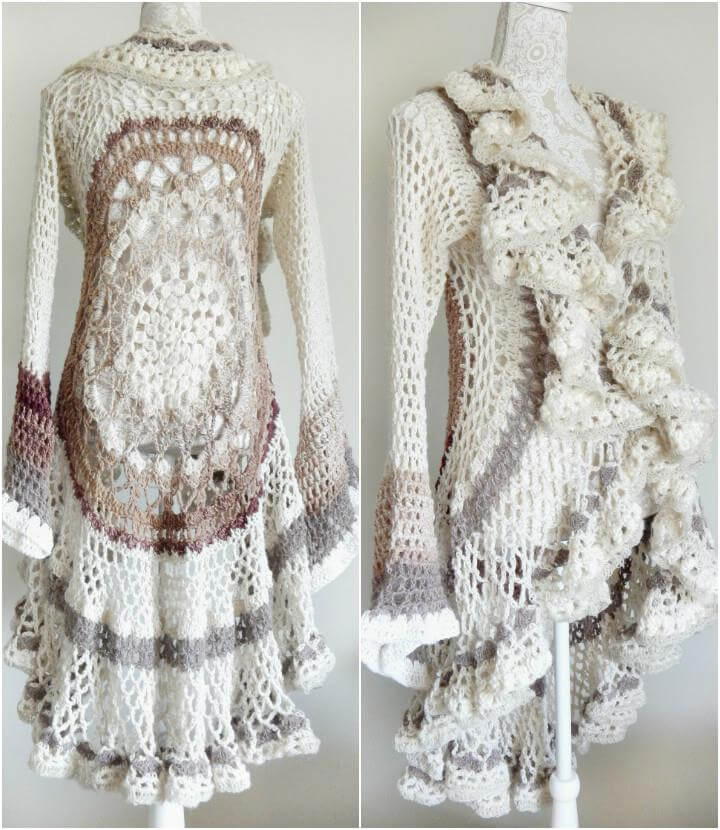 You may also be a girl or women who always run after the modern fashion trends! If you are going through the winters then here is a circular crochet vest sweater for you to look fashionable and stylish! This circular vest is whole airy and can even be used in spring to look adorable! Keep on hooking and keep on looking adorable in winters! Image Credit to: moralefiber Free Pattern Credit to: moralefiber.wordpress
Crochet Circle Mandala Motif Sweater: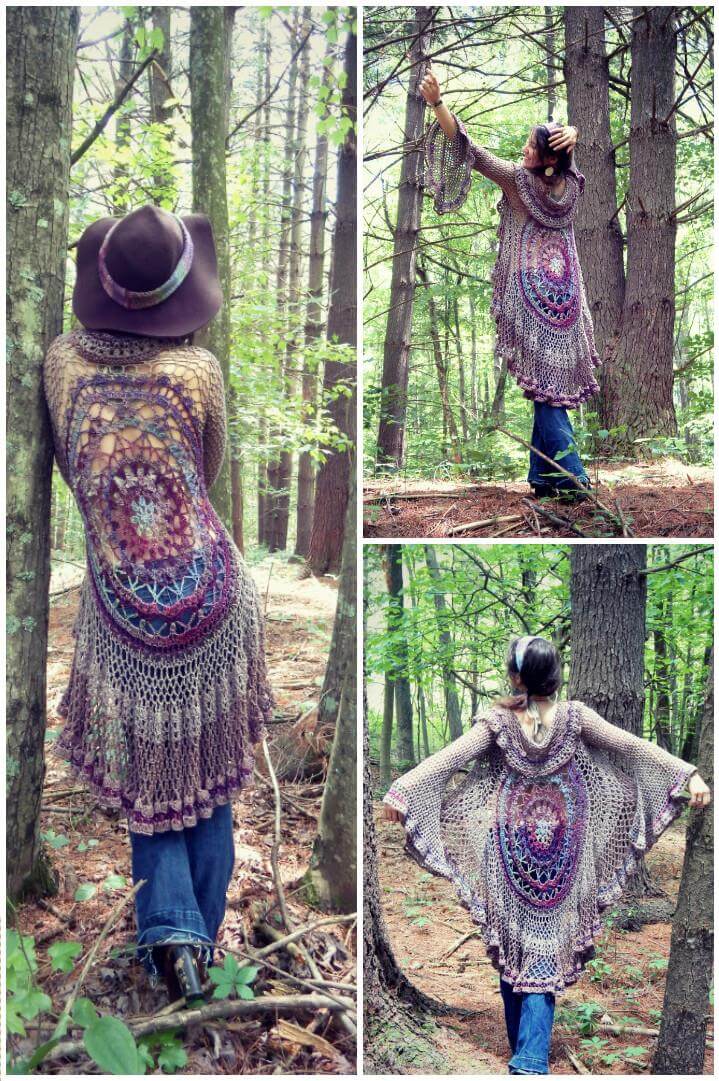 Another great circular vest or sweater, inspired of mandala and hence has been crocheted for a mandala motif in the center! A new adorable way to cover yourself warm in winters! Full free pattern is here moralefiber
Crochet Lotus Mandala Circular Vest: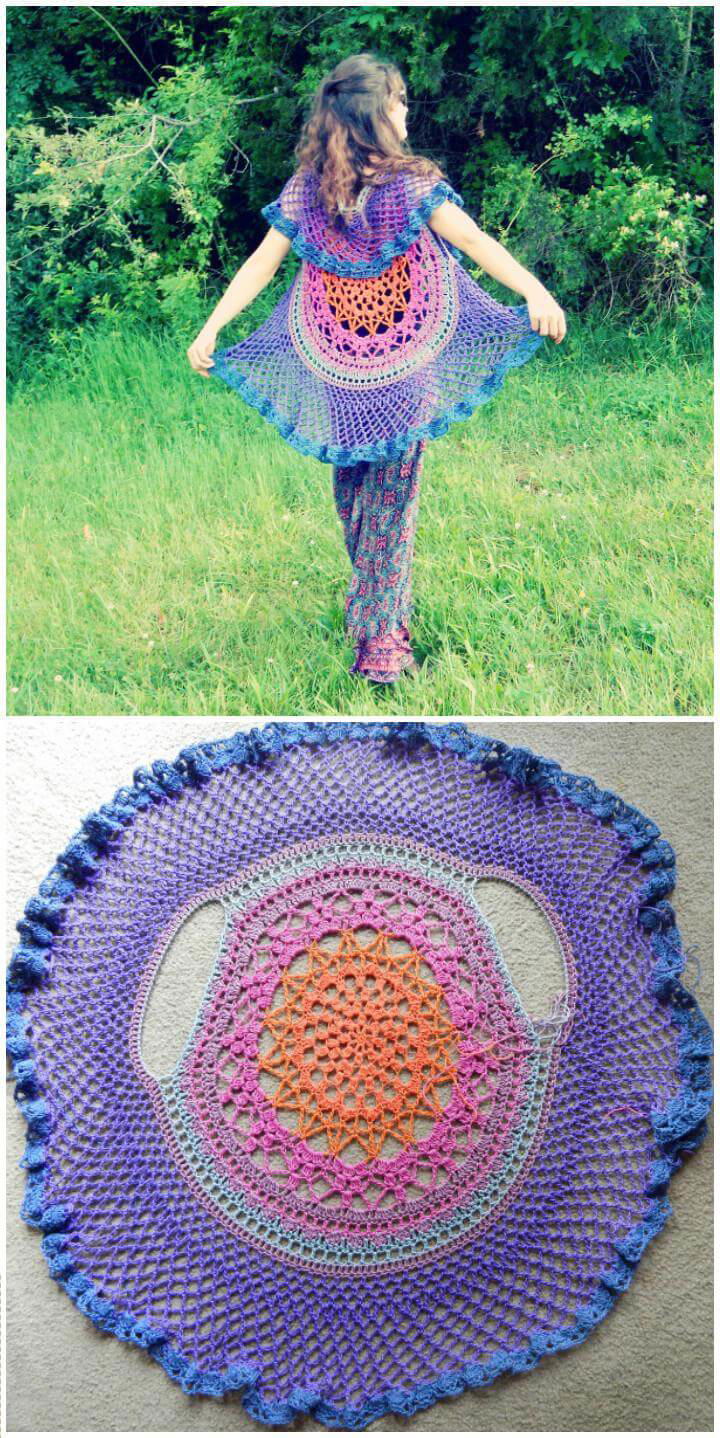 Are you a fashion enthusiast? If you really are then this mandala crochet jacket is for you! It will help you to gain that exclusive celebrity inspired winter fashion look! A sweater, cardigan or a crochet vest, you may call it whatever you like but one things is sure that it is a ever best winter fashion accessory to crochet with your hook! Get those ruffled edging for more adorable looks! Full free pattern is here moralefiber
Crochet Fall Forest Sweater Jacket: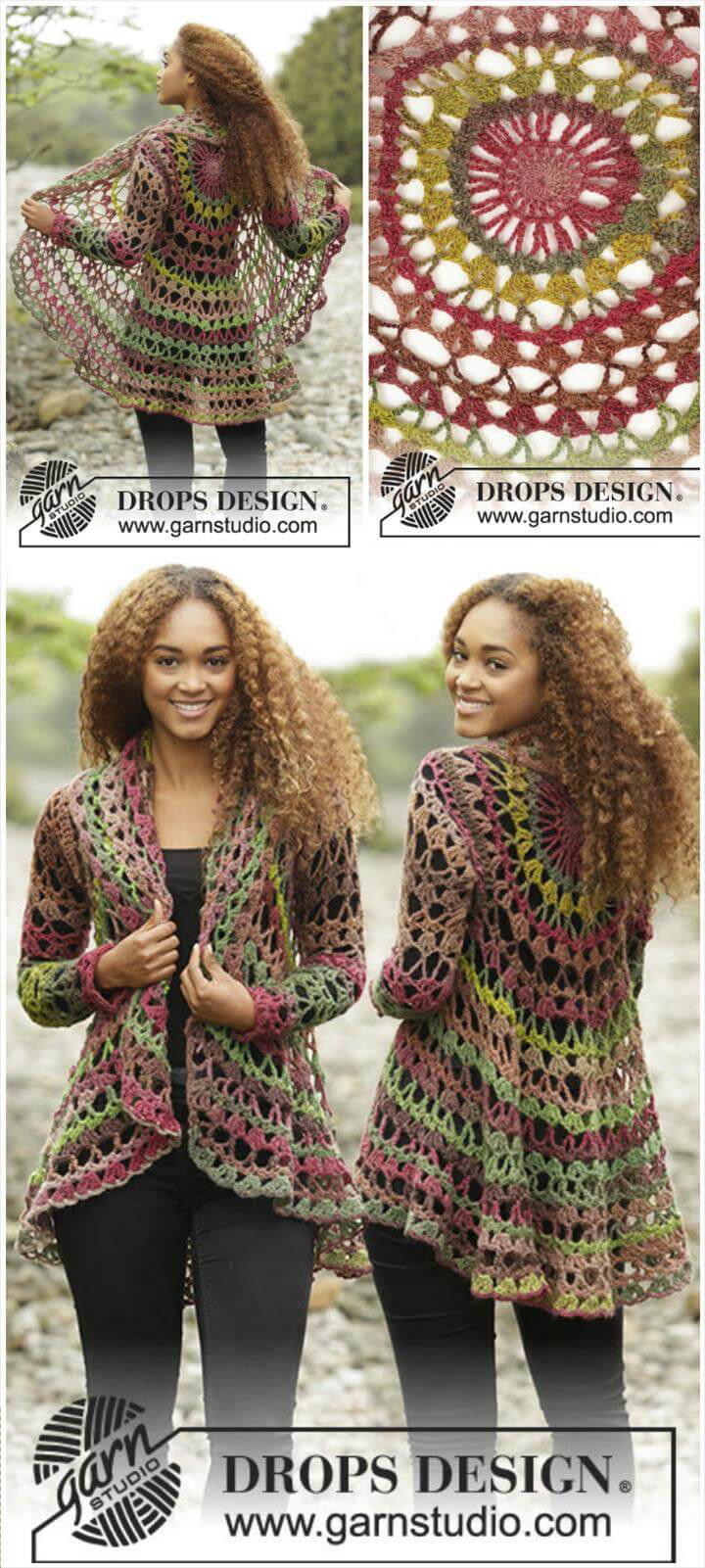 One more spectacular crochet jacket for the style loving ladies, inspired of bohemian fashion, the lovely fall forest circle sweater jacket! It is super airy but still flattering! Complete guide and free patter is here garnstudio
Crochet Flower Circle Vest: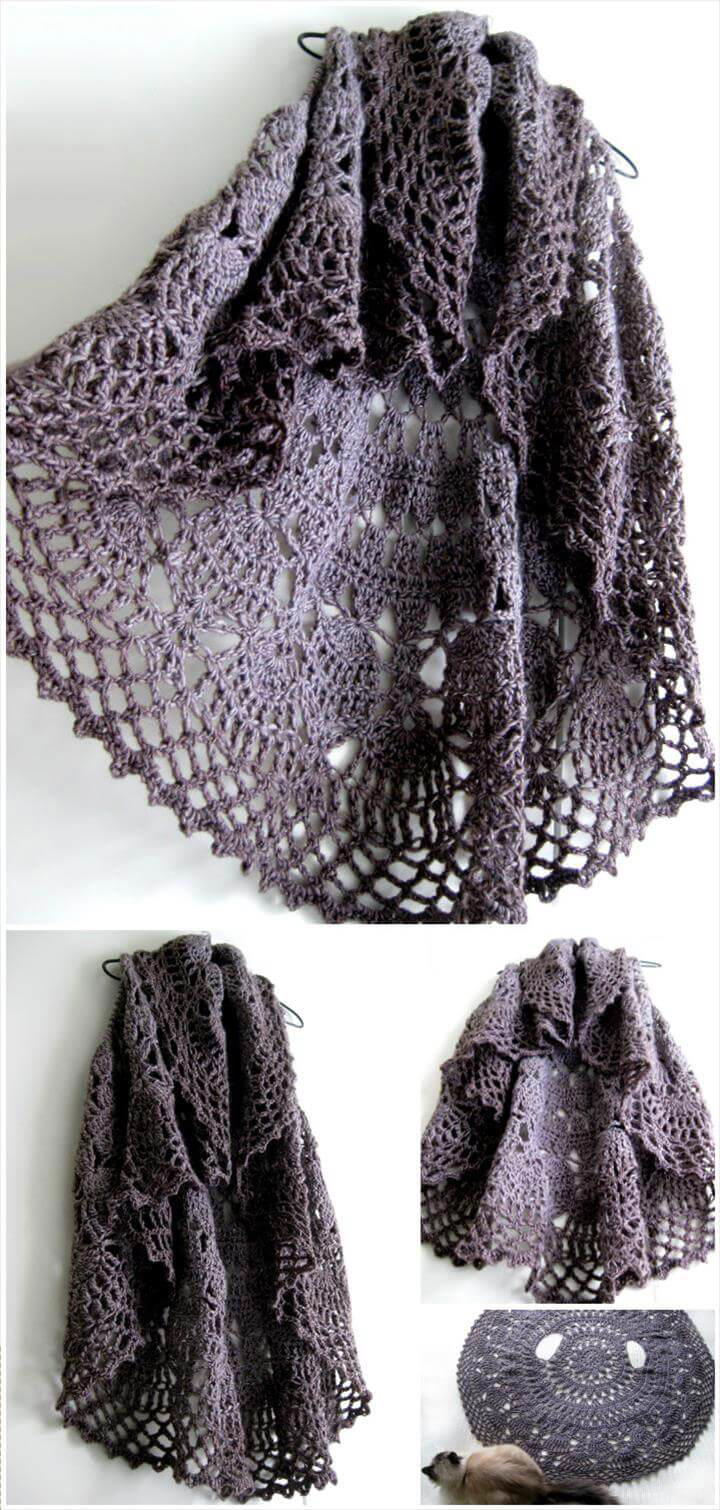 Exclusive flower crochet circle vest, would make a beautiful gift for a fan of bohemian fashion! Experiment it with vibrant yarn colors! Full guide and free pattern is here omakoppa
Crochet Flower Power Circle Vest: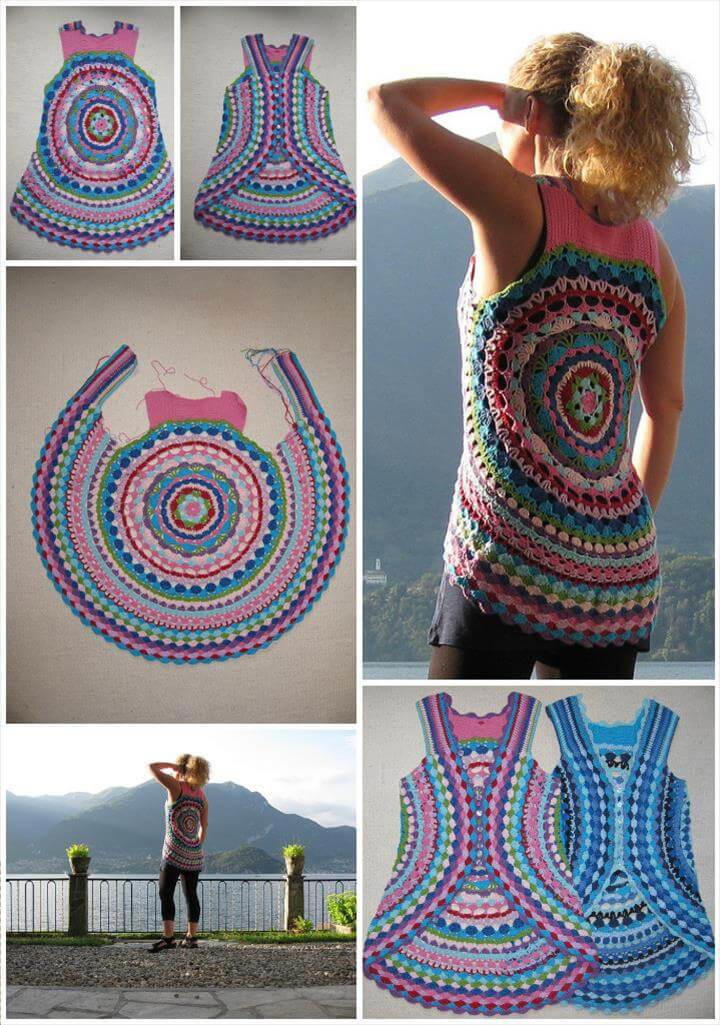 Another great women's every day fashionable wear to crochet with your own special hook! Here it is a stylish flower power circle vest, crocheted to inspire all the fashion loving teens! It is all inspired of bohemian fashion! Complete free pattern here Lene Unmack Larsen on Ravelry
Crochet Moonlight Mist Circular Sweater or Vest: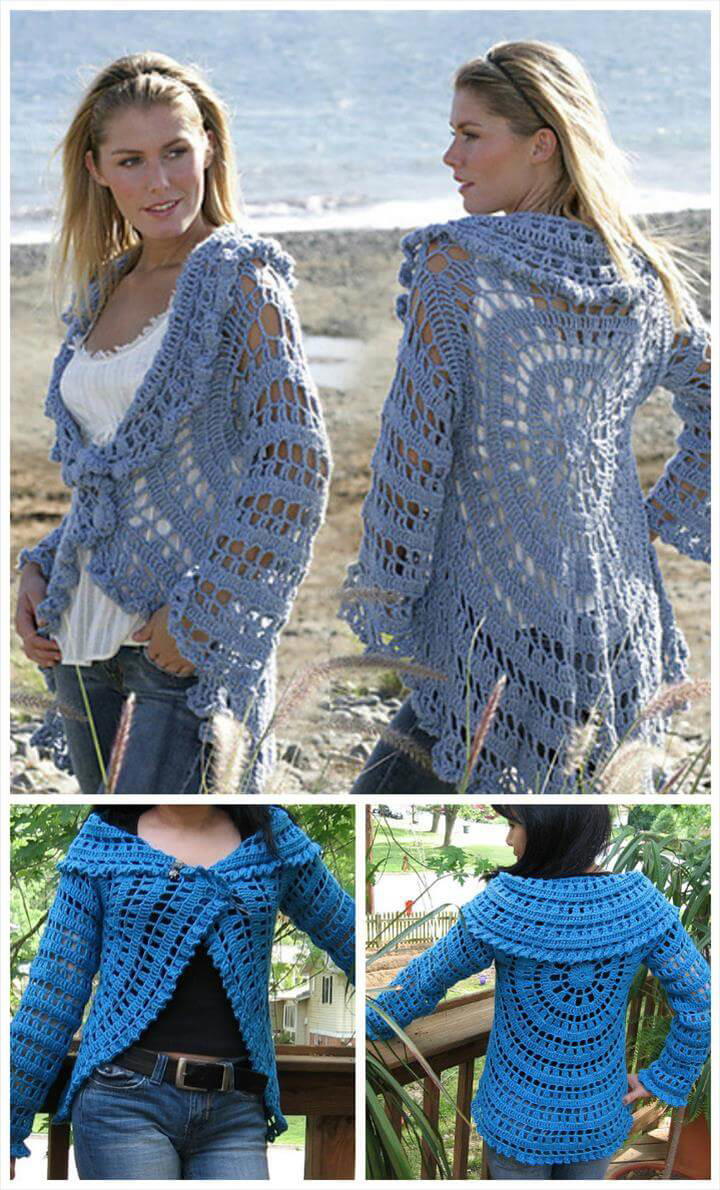 Redefine your winter fashion with this remarkable circle moonlight mist vest! Would make all the ladies look highly stylish and is just perfect for the spring fashion! Time to get busy with your hook to clone it! Complete free pattern is here ravelry
Crochet Red Circle Vest:

Here is another hot red vest with scalloped edging, crocheted as a stylish winter warmer for the girls who give their first preference always to fashion! It is so much airy so you can use it also in spring and in summer mornings! Full picture guide and free pattern is here tejidogratis
Crochet Creepy Skull Circle Vest: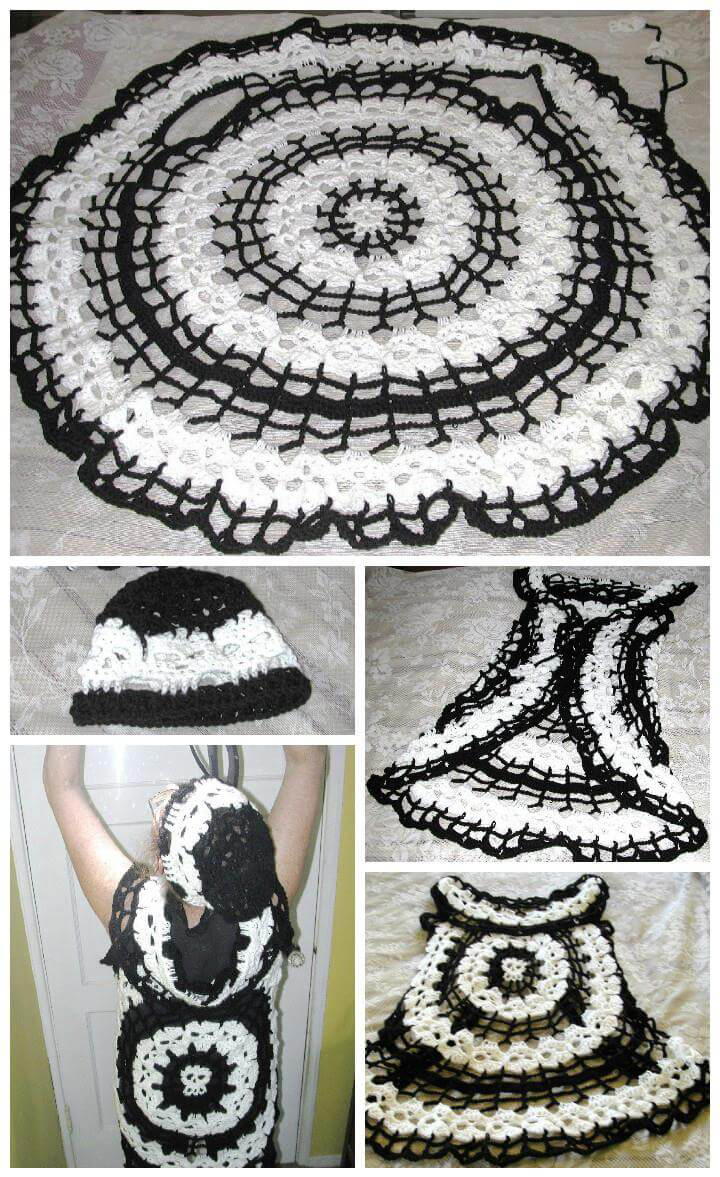 Here is a scary version of circle crochet vest, the creepy skull circle vest jacket! A matching hat has also been crocheted as a head warmer! The design provides so much space for air-circulation so is perfect for spring season and summer fashion! Free pattern for both hat and jacket is here lovecrochet
Stylish Red Crochet Circle Jacket: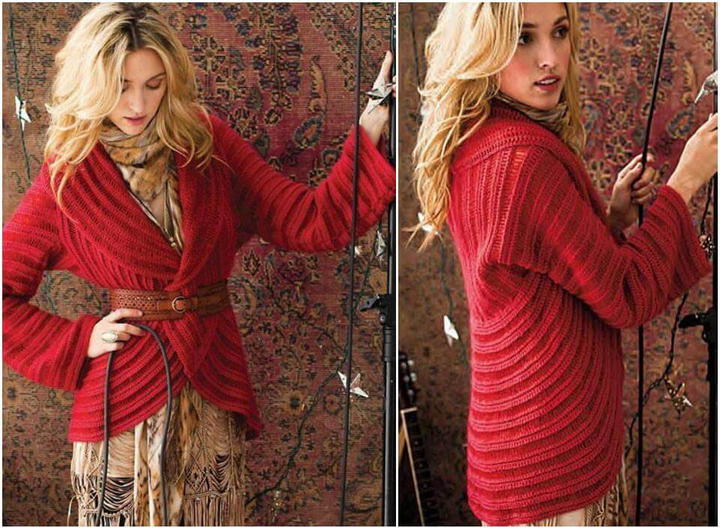 Another style-worthy winter accessory that will work great to show off your figure and personality! It is a red circle crochet jacket, a new inspiration for hook-addicts who are fashion lovers too! Complete guide and free pattern here craftsy
Crochet Dreamcatcher Circle Vest: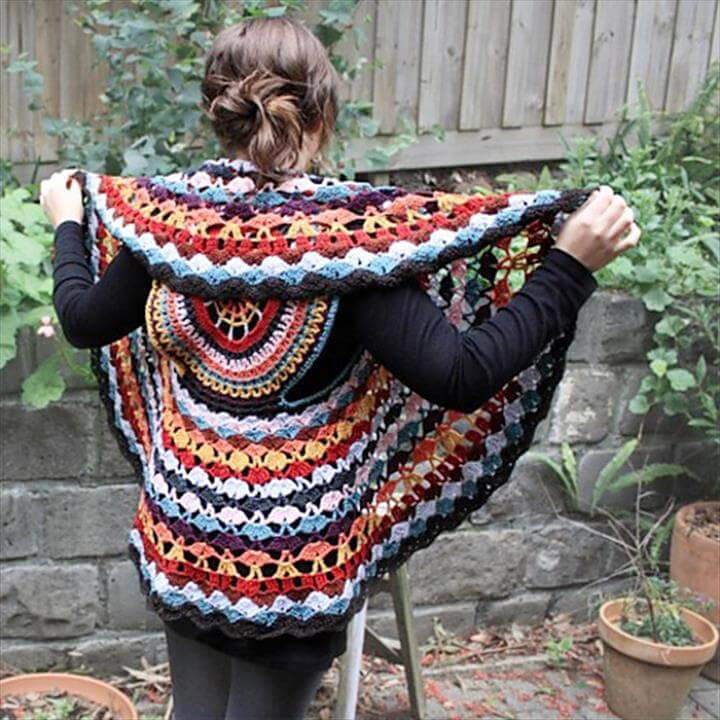 Love the bohemian fashion? Here is what you need this winter to satisfy your bohemian fashion taste! A special dream-catcher circle crochet vest sweater! Make it yours by crocheting this free pattern ravelry
Crochet Circle Shrug: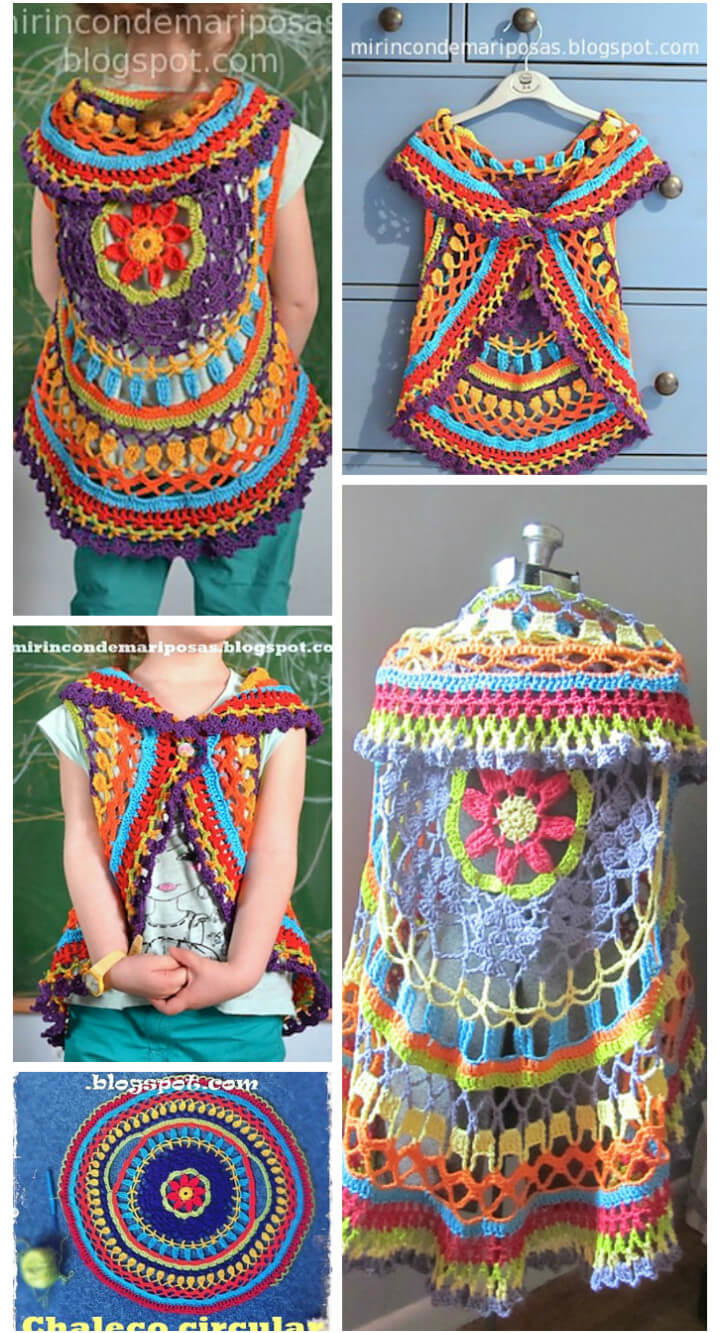 Super precious floral circle shrug, a very new and fashion-worthy crochet inspiration! Willing to clone this very stylish circle jacket? Here is the free pattern ravelry