There is a large variety of dresses to adorn the little girls but for a special little princess's look, the tutus are most preferred ones! You can see the kids wearing tutus who take the recital or ballet classes but now tutus are much more than it! Now tutus have become a dress fashion trend for lots of girl plays and events! Tutus can also be saved in your wardrobe as Halloween costumes and they also make a great gift for a baby girl shower party! As tutus have so much inclusion in the life of your little so you really know about easiest ways to get tutus! One amazing and super low-cost way is to use your crochet skills to craft high quality tutus at home! We have shared here an all praise-worthy collection of 10 free crochet patterns of little girl tutu dress tops that are all having the yarn crocheted bodices and no-sew skirts made of tulle!
You may ask that what is special in these tutu dresses! So the answer would be these crochet tutu dresses are all no-sew and can be made in much less time even in last hour! Moreover, these tutu dresses with crocheted bodices will hold the upper body of your little girl warm and comfortable! In addition, it is also very easy here to match your favorite colors and also to match the sizes you want! In short, these crochet tutu dresses are all great in all aspects and will make every little girl look like a little cute angel!
Here you will also get help about how to adorn your finally made crochet tutus like you can go for a custom edging or can make use of custom embellishments to fancy them up! You can prefer the simple straight edging or that exclusive scalloped edging and for embellishments there may be a large variety of things like pearls, wooden buttons, flower accents and much more!

To see the free picture tutorials and to get the free crochet patterns for the crochet bodices for all these tutu dresses, you can simply hit the respective links provided under each picture!
More 83 Free Crochet Patterns:
Crochet Kassia Empire waist Tutu Dress: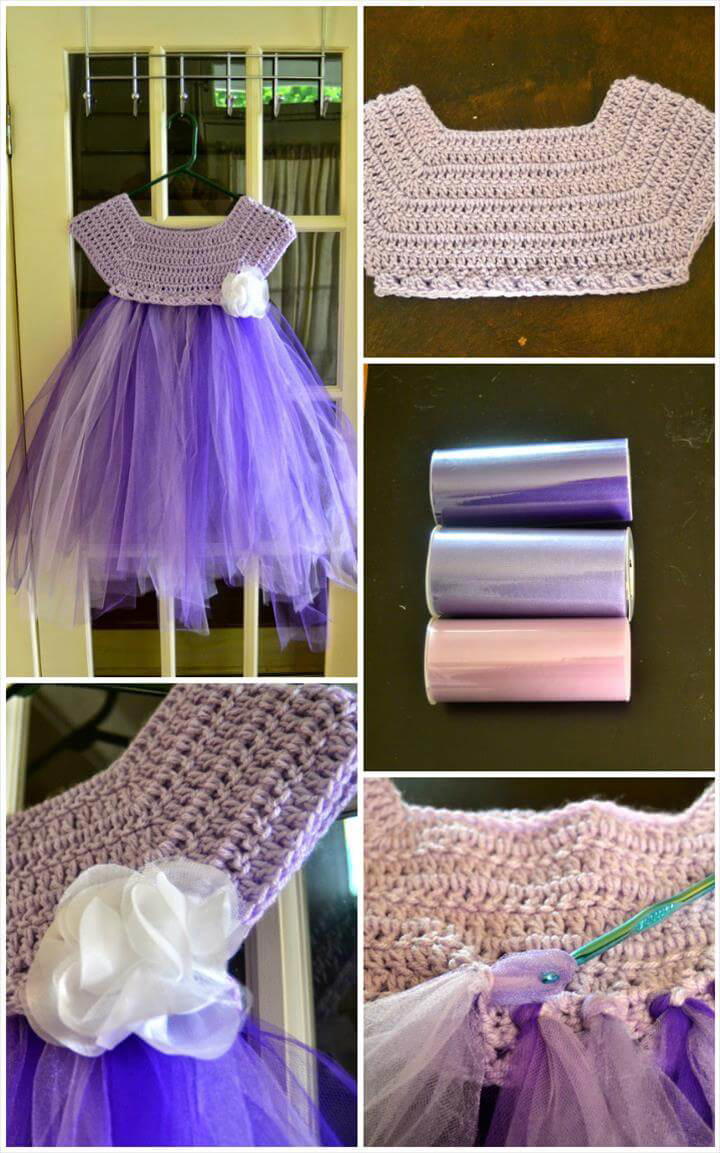 Here is the perfect dress to turn your little baby girl into a princess! The bodice has all been crocheted to be warm and stylish enough while the lower skirt is all made of colorful tulle! Full free pattern and picture tutorial here viewfrommyhook
Crochet Star Stitch Tutu Dress: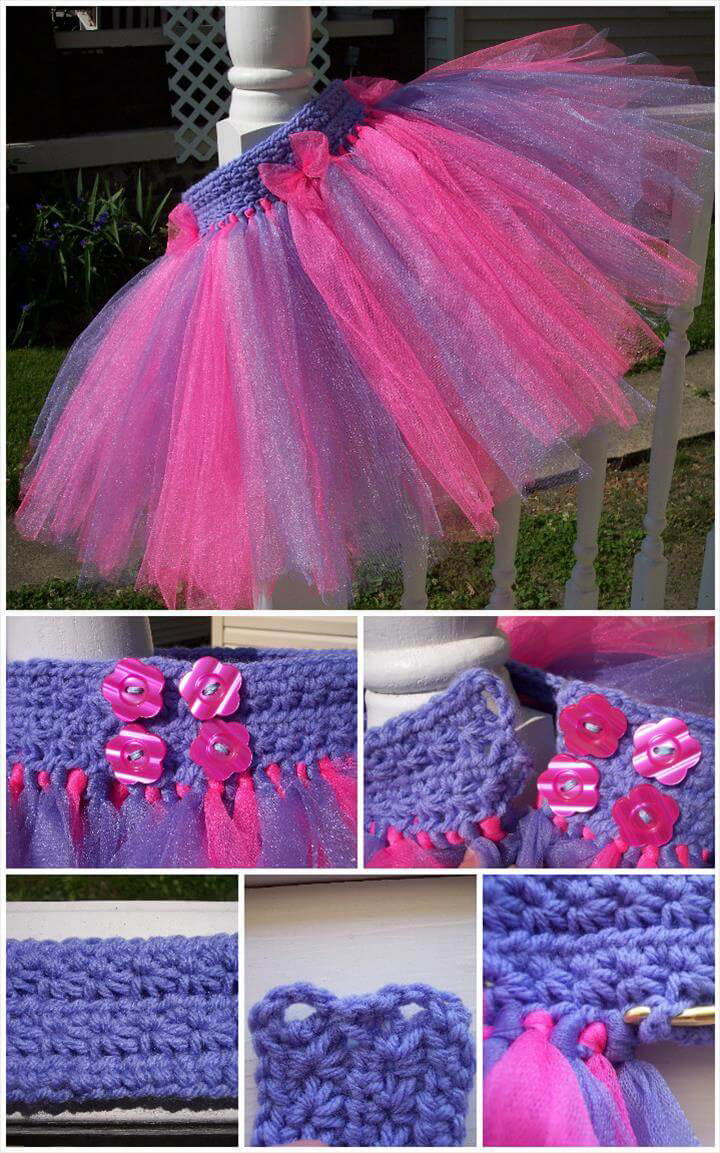 Going to celebrate a birthday of your little princess? Here is what you need to turn here into a sweet ballerina, the precious tutu dress ever! Here the waist has been crocheted with chunky yarns and tulle for skirt have been selected in hot party colors! The waist has been crocheted with a star stitch and has been finished also with pink star shape buttons! Complete tutorial and free pattern here stitch11
Crochet Patriotic Tutu Dress: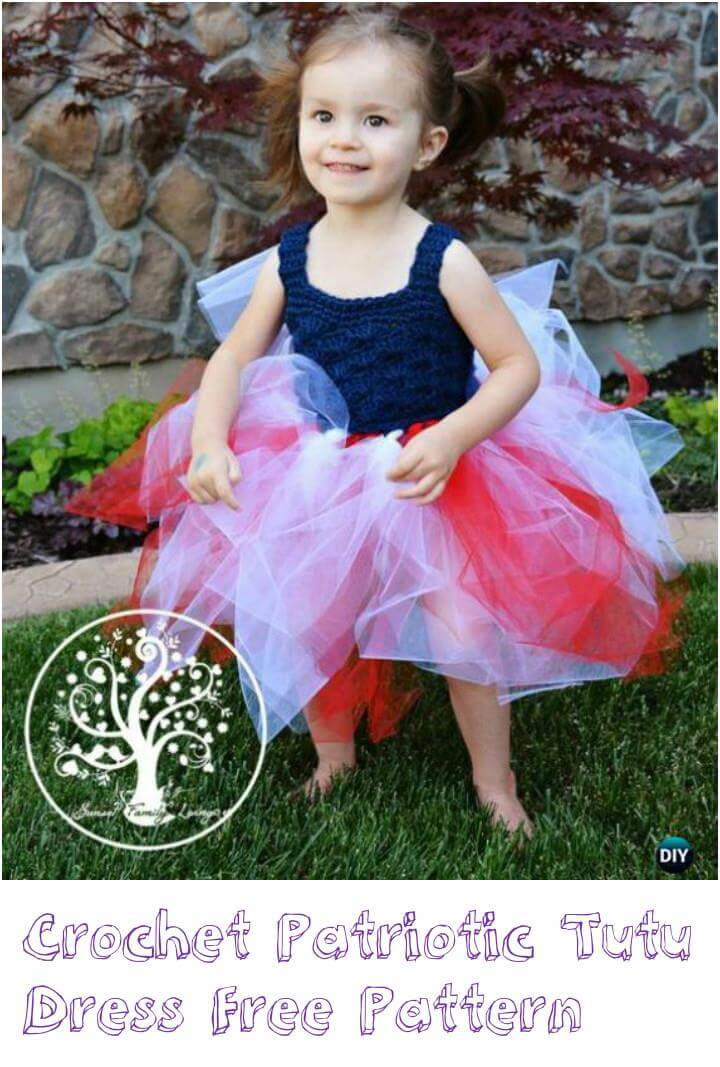 Another party tutu dress for your little princess! Here the white and red tulle has been used to craft the bizarre looking skirt while the bodice has all been crocheted with a navy blue yarn! All the main 3 colors the blue, white and red create a fantastic patriotic look of entire dress! Perfect new year dress to express the country love! Full pattern here sunsetfamilyliving
Crochet Frozen Inspired Tutu Dress: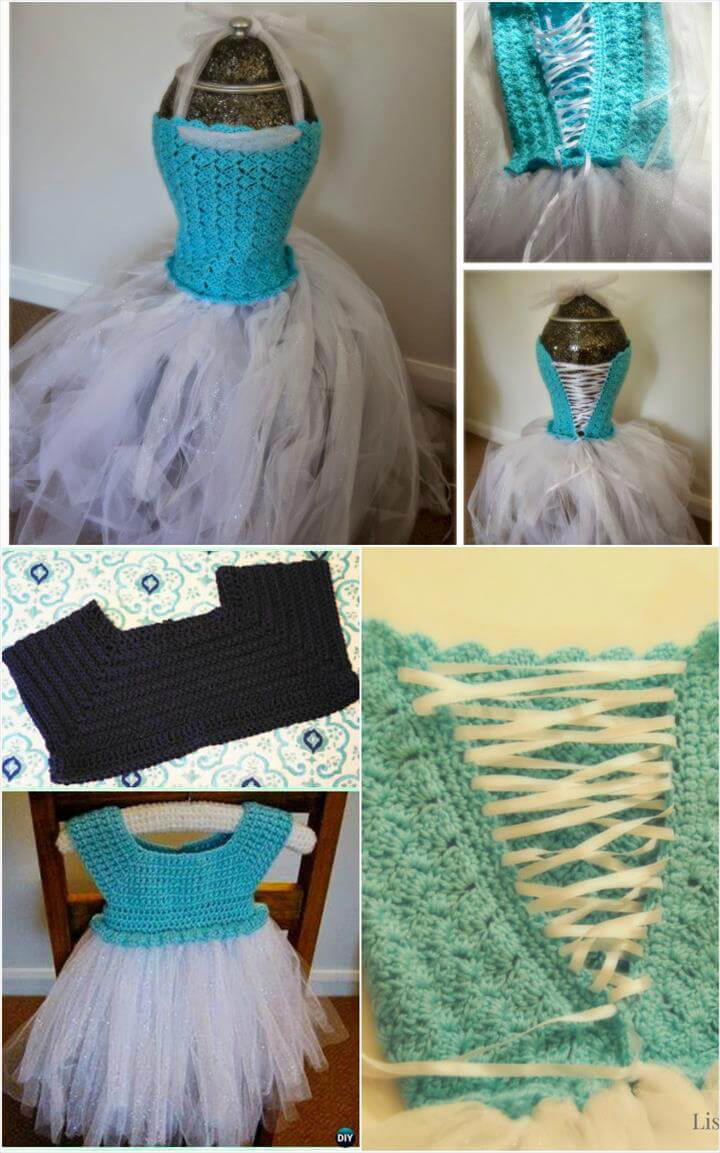 Another great tutu dress, perfect to wear on a frozen inspired party! The loving moms can crochet it any size but here it has been crocheted for a 6 moth old little baby princess! As perfect and stylish as one can expect it to be! Image Credit crochet-patterns Free Pattern ballhanknskein
Crochet Empire Waist Tutu Dress:

Simple but spectacular, crochet tutu dress inspired of empire waist dresses! Here the crocheted bodice comes with beautiful scalloped edging and white skirt just creates an angel dress look! Backside of the dress has been embellished with blue purple tulle flower and front side has been graced up with a white angelic flower! Complete Free Pattern is here Patricia Klonoski on Ravelry
Crochet Pinky Baby Tutu Dress: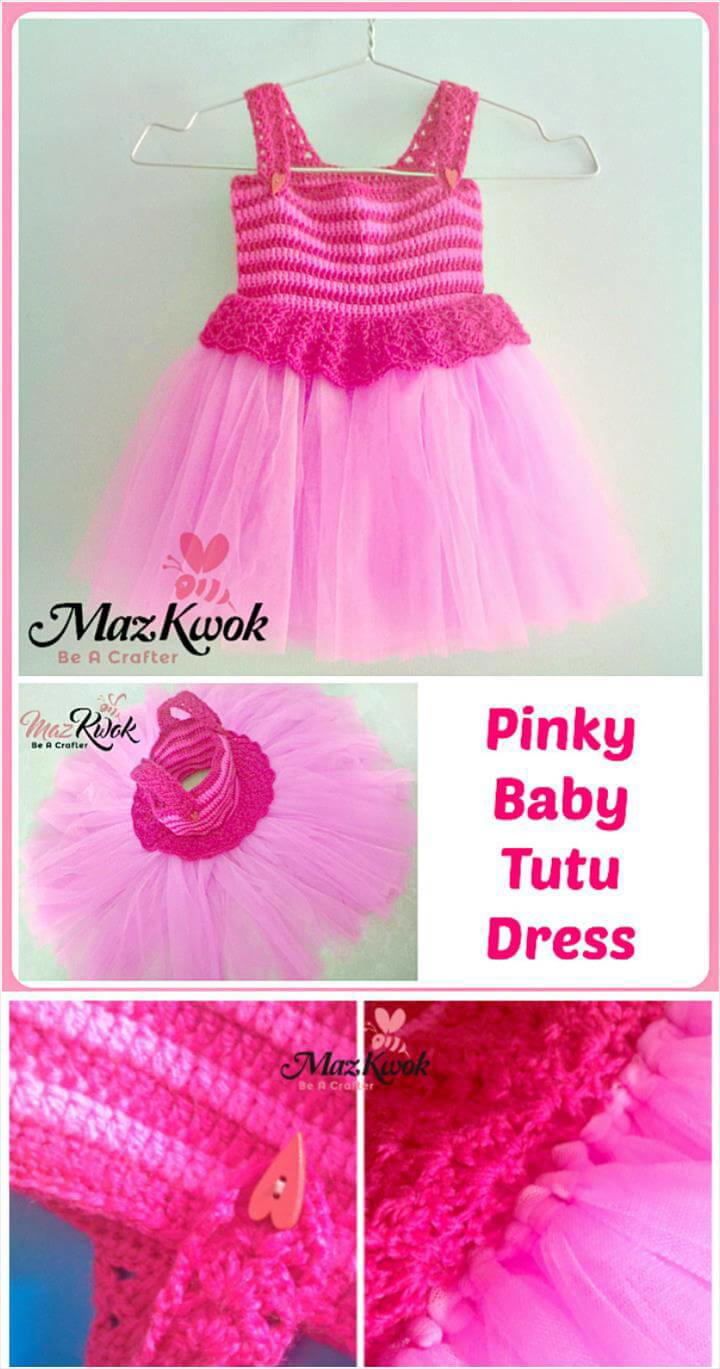 Pink is always favorite to all girls and here is the extra stunning pink tutu dress for your little baby girl! Both skirt and bodice have a charming pink visual to inspire the crochet loving ladies! Crochet this pink tutu dress for your princess's birthday! It would also make a worthy gift for a baby shower! Full free pattern is here beacrafter
Crochet Princess Tutu Dress and Hat Set: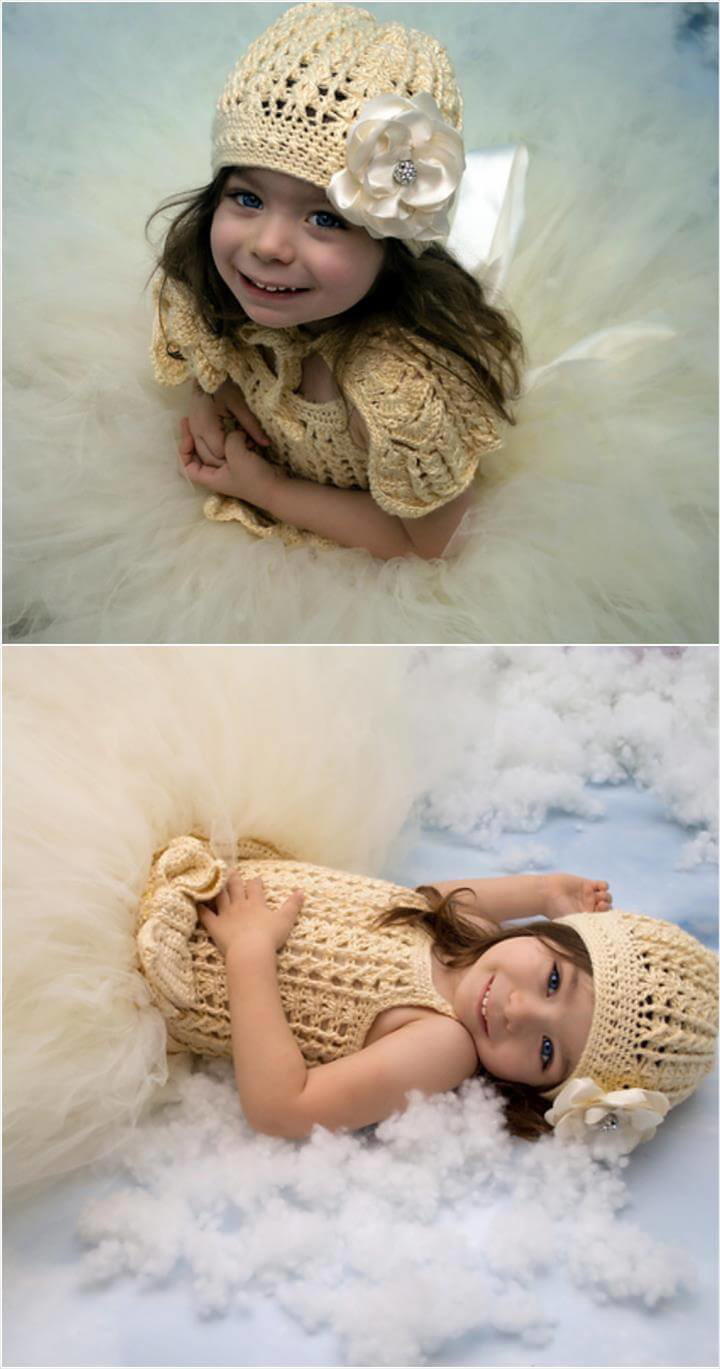 Another stylish inspiration for the little girl crochet tutu dress! Here a matching hat has also been crocheted to bring more cuteness to look of your little princess! This set of crochet tutu dress and hat features a neutral hue but still looks super elegant! Further details and free pattern is here Stacey Williams on Ravelry
Crochet Double Stitch Tutu Dress: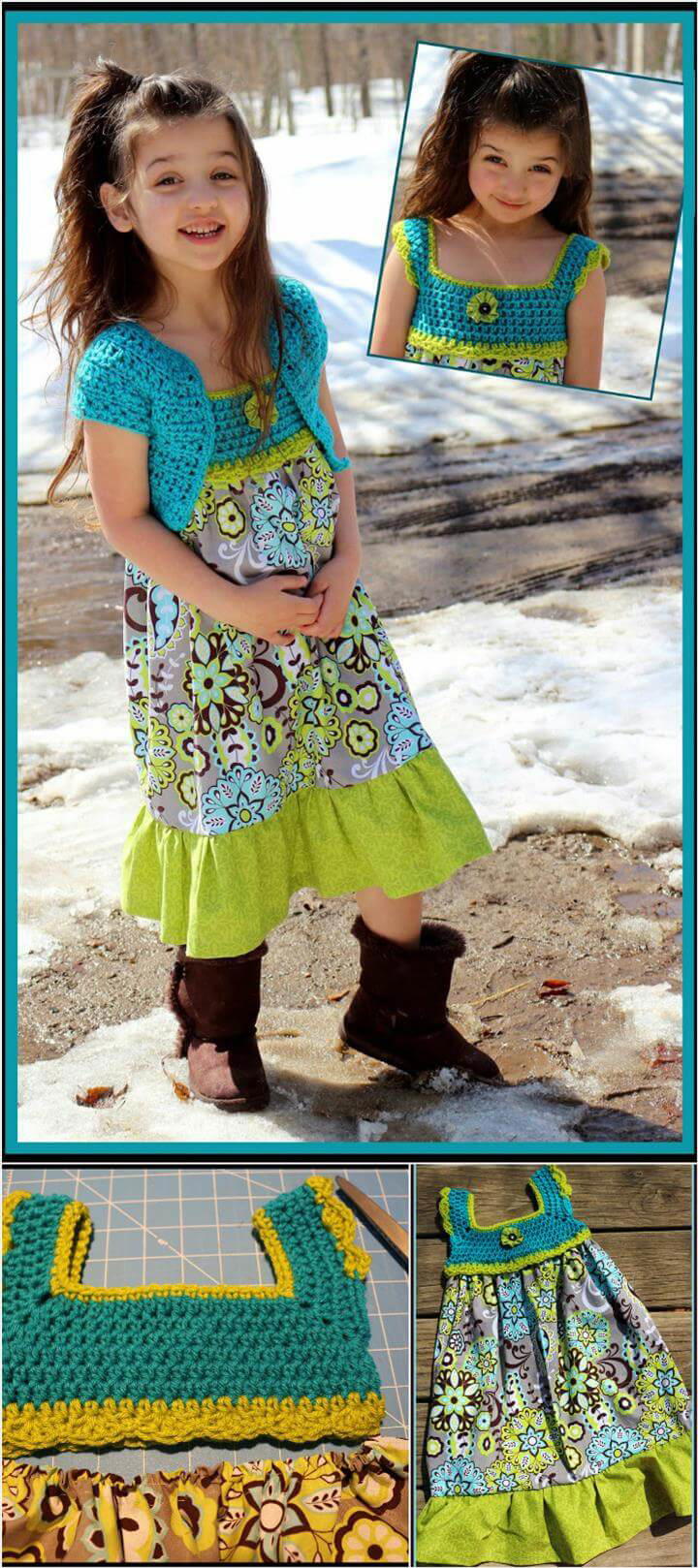 Looking for an eye-catching Friday dress? Here is a great inspiration using yarn and fabric! Use a yard of fabric to crochet the skirt and crochet the bodice with your favorite hook using colorful yarn strands! it would also be an ever budget-friendly idea for a tutu dress! Picture tutorial and free pattern here thishousewifelife
Crochet Granny Square Yoke Dress: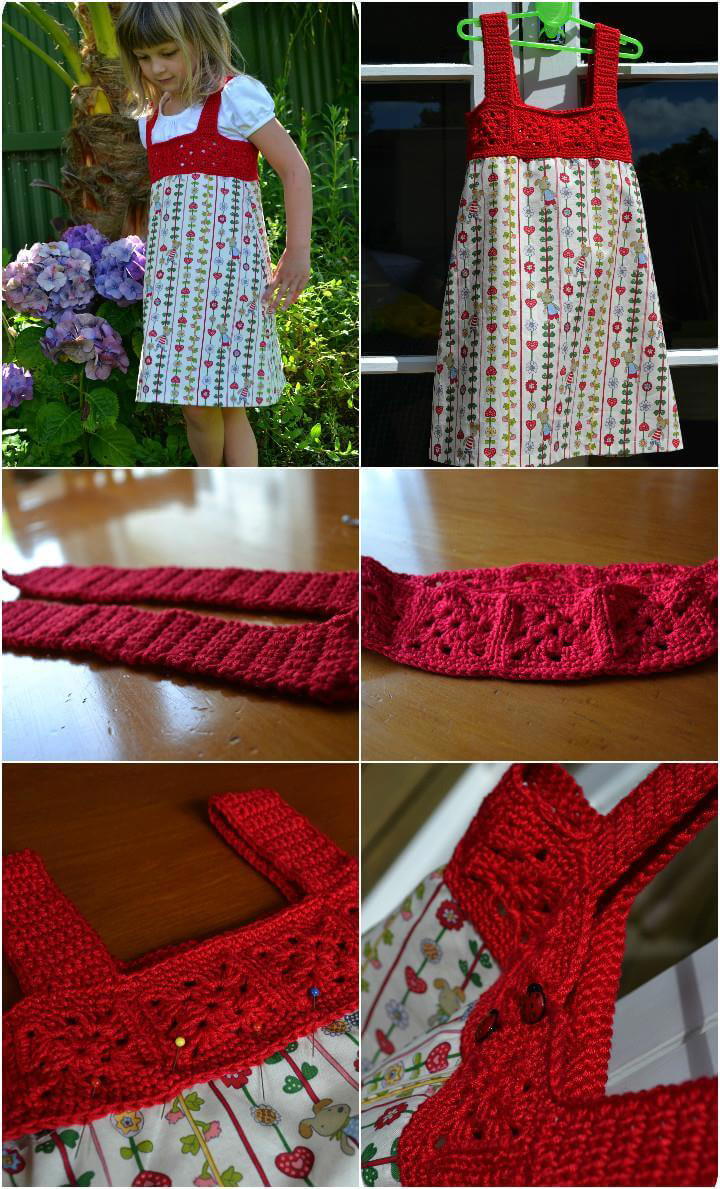 Time to go with your sewing and crocheting experience to design ever beautiful dresses for a baby girl! Get inspired of this yarn and fabric yoke dress! Comes with the bodice made of crocheted granny squares! The skirt is all made of fabric and is well attached to bodice! Full guide and free pattern here thegreendragonfly
Crochet Gumdrop Tutu Dress: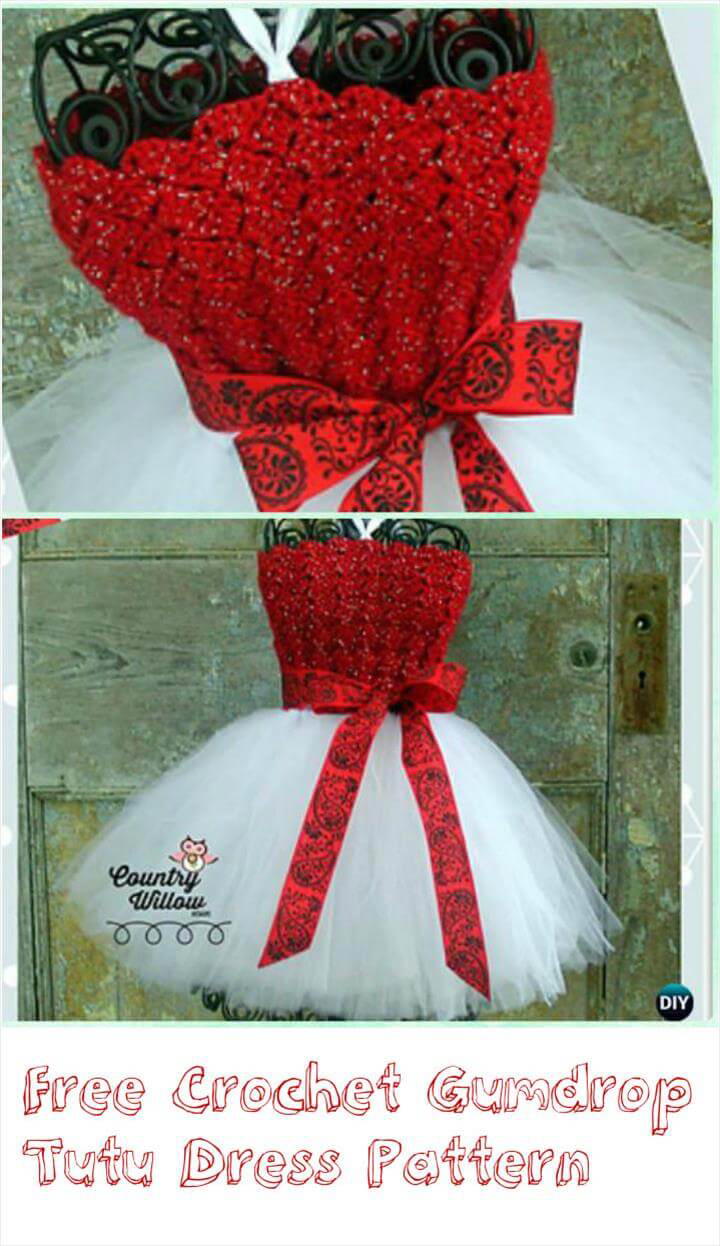 Here the super stylish crochet tutu dress which is going to be above all! Comes with a white tulle skirt and with a dark red bodice! It would just be a perfect dress to wear on a event like on a baby shower or on a new year party! White and red always look great and here you see a practical visual demonstration of it in shape of this tutu dress! Get full free pattern and tutorial here Sheri Weber on Ravelry