If the season is really chilly at outside then how will you protect your toes from getting cold? If you really want something soft, light weight and luxurious for your feet along with protection against deadly blast of cold-weather then explore these 10 DIY free patterns for crochet slipper boots which are really guy-friendly and gift-worthy in designs. Just look at them to broad your vision about crocheting and to get some fashionable crochet statements. You can just wear them as socks and their funky looks and comfy boot interiors will force you to not take them off all the day long.
Give your skills a try to check out these DIY crochet patterns at home. We have crocheted the slipper boot patterns, kids crochet slippers, crochet slipper with high knees and some really arresting designs with straps. Crochet stuff and patterns are highly customizable you can change the hue preferably and can add desired value thickness to them by using more strands of yarn. These crochet pattern will surely change your thinking about crocheting and your will find some new ways to stitch the yarn here.
You can wear these shows in office and on cold home floors as well, outdoor use is not recommended. Just let your hands and finger tweaked for creative type of crocheting and make these crochet footwear copied with your own lovely styles of crochet stitches. Try these coolest crochet shoe patterns with spring and winter outfits and dresser just to feel and look great.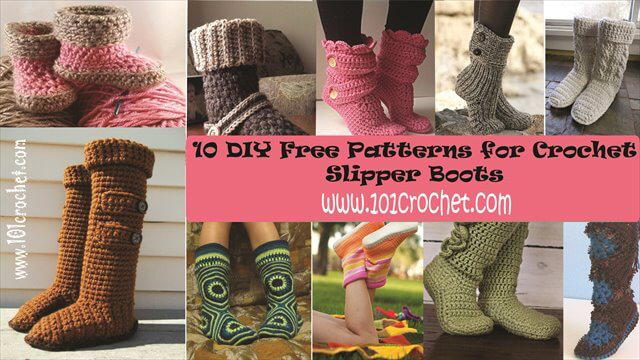 Pink Crochet Slipper Boots Pattern:
If there is high intensity of cold then give toes a great coverage by crocheting some slippers in best fitted size. Crochet patterns are not only useful as a great winter warmer but also go for subtle and fashionable manifestations.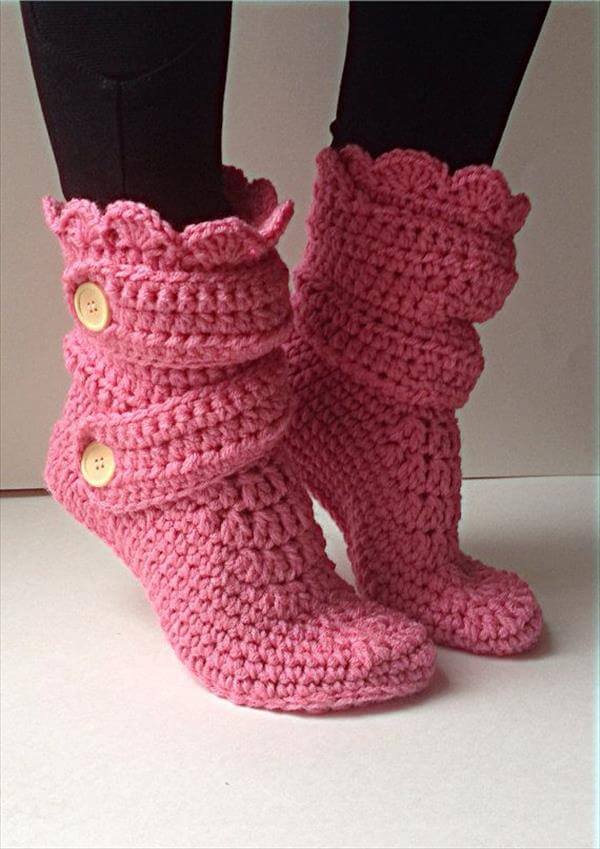 image: source
DIY Easy Crochet Boot Slippers:
Mostly crochet shoes patterns are made without soles and are just confined to interior use only, if you want them as all rounder shoes then add some leather soles to them as given in this crochet inspiration.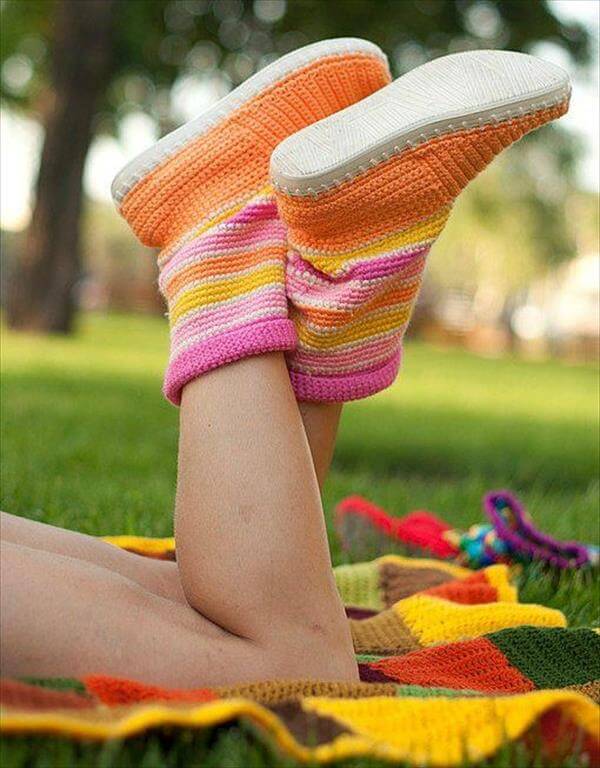 image: source
Kids and Women's Crochet Slipper Patterns:
Heavy bulks of yard can be crocheted for really warm fingerless gloves, afghans and shoes. Try this creative crochet pattern of shows which qualifies all the protective and stylish requirements of popular crochet shoes.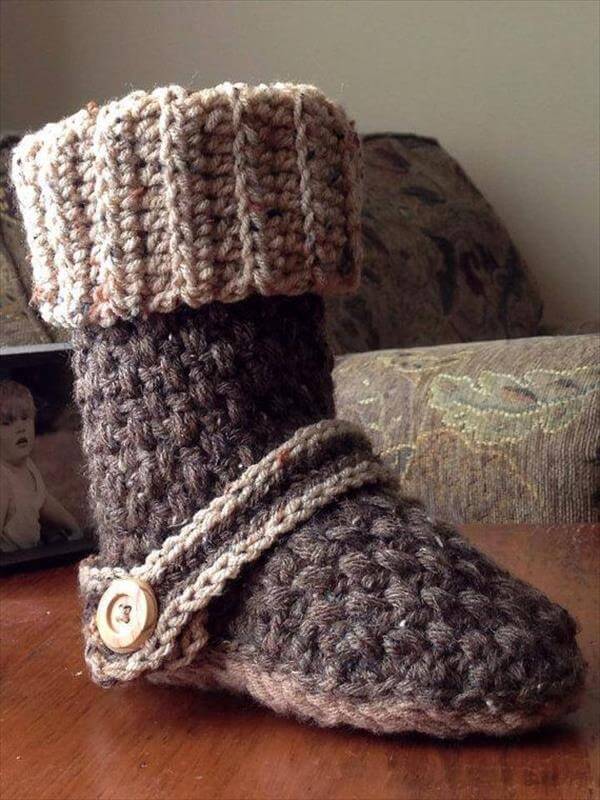 image: source
Multicolored Crochet Boots Pattern:
Kids are mostly become the victim of cold-weather due to their unexpected escapism to outdoor without any weather-protective costume or accessories. Are you looking for a great fashion-worthy winter warmer? then give a try to this high knees kids crochet shoe pattern which your kids will love to wear.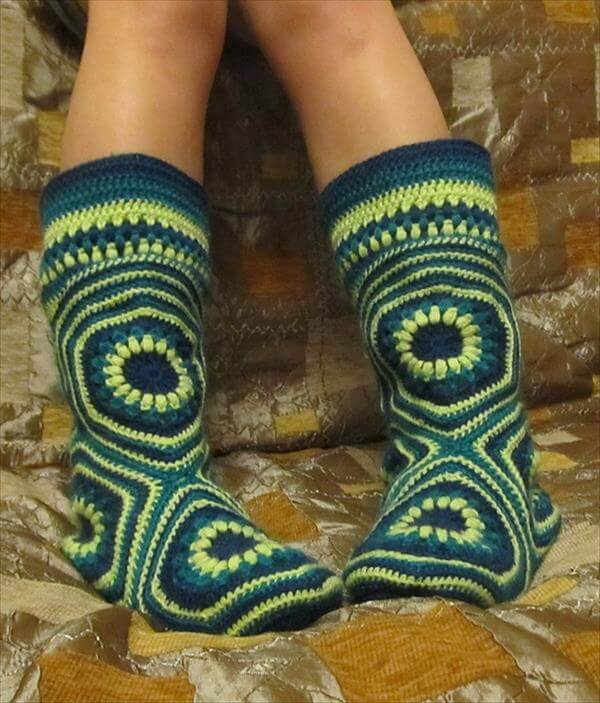 image: source
DIY Free Crochet Shoes Pattern from Muk Luks:
Combine some navy blue and chocolaty strands of yarn through some artful crochet stitches to make this amusing footwear. Crochet shoes pattern are just great for carpeted floors. Try them in chilly winds of springs for really magnetic and bewitching styles of shoes.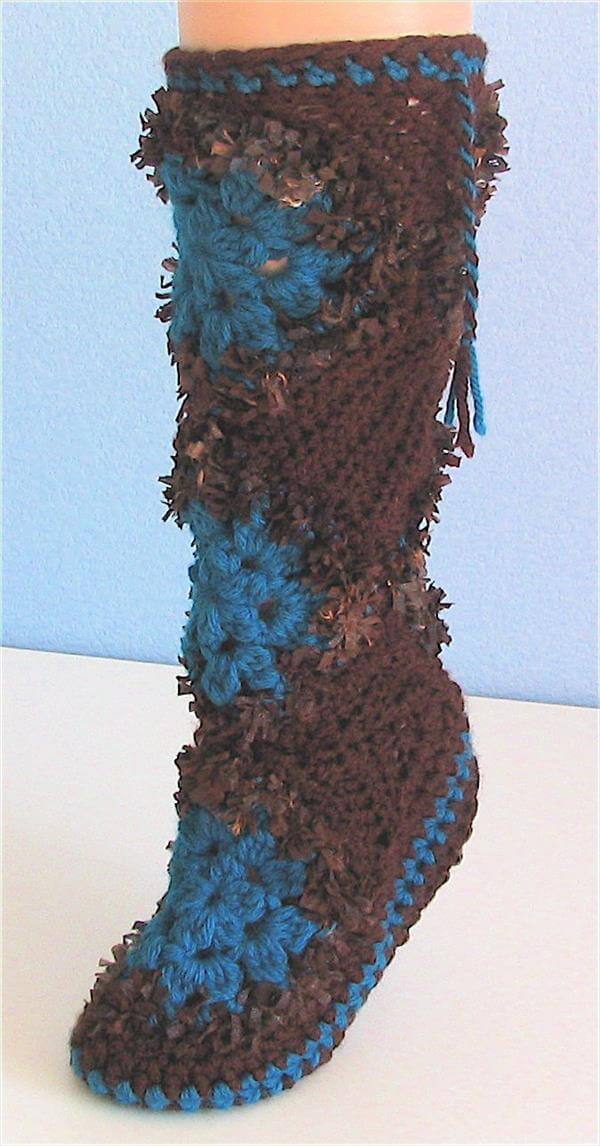 image: source
Green Colored Crochet Boot Patterns:
If you are sorting out some no-brainer and uncomplicated crocheting projects then why not give your skills a tremendous start by crocheting this shoes pattern. Twisted tag really raises it on trends and make the design visually attractive as a whole.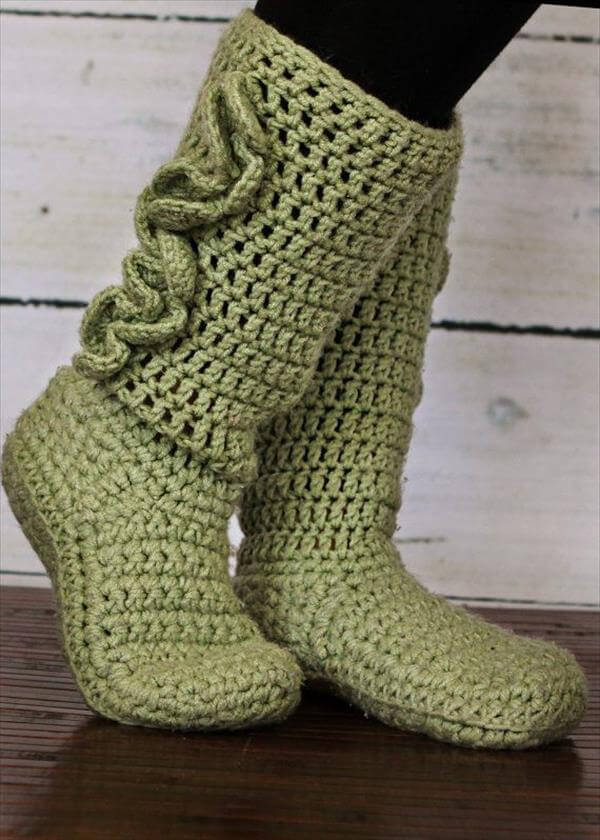 image: source
DIY Dark Gray Crochet Slipper Boots:
Hey crocheting lovers!! are you really want to try something new and useful in winter then pick this stunning pattern of crochet shoes to feel free, great and protected throughout all the winter season. Button have been sewed to make great statements of fashion.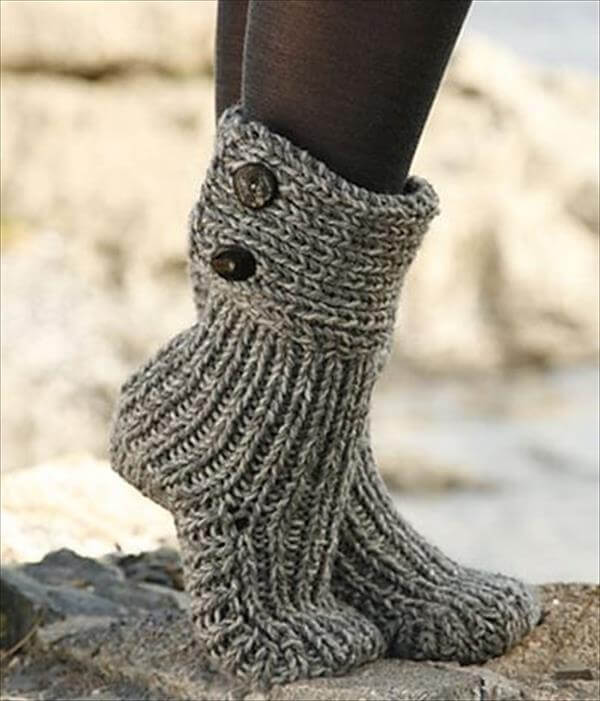 image: source
White Yarn Crocheted Boots Pattern:
White color is always held dearest to all and goes for graceful looks. This pair of shoes has also been crocheted through some bulky weights of white yarn and make a completely lush and elfin statement of footwear. Add soles to them if you want to go to outside by wearing them on feet.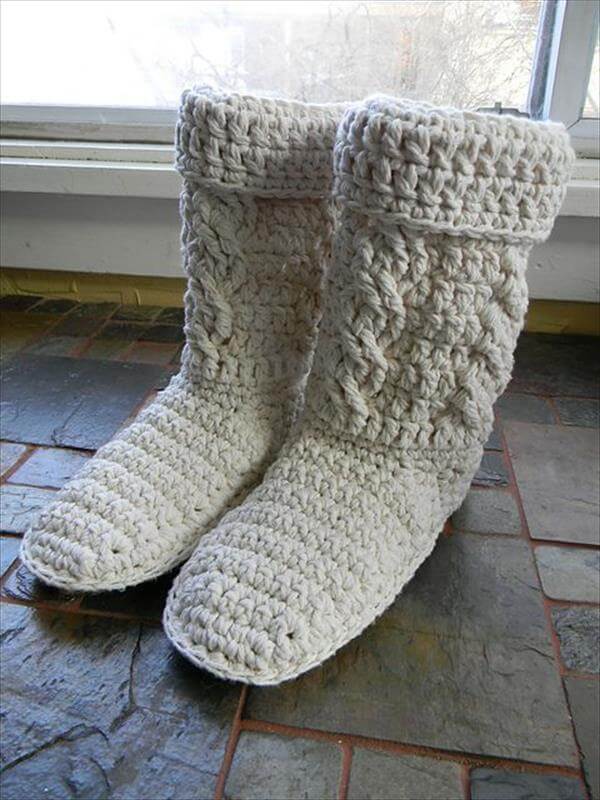 image: source
Little Girls Warm Winter Crochet Boots:
Crocheting is held much helpful for winters as you can you can produce many winter warmer products out of it. If you are a beginner then do try this shoes pattern for your baby girl princess. Crochet products and crafts are really soft and light weight so your kids can run fast by wearing them. Here we also give crochet hat patterns for kids.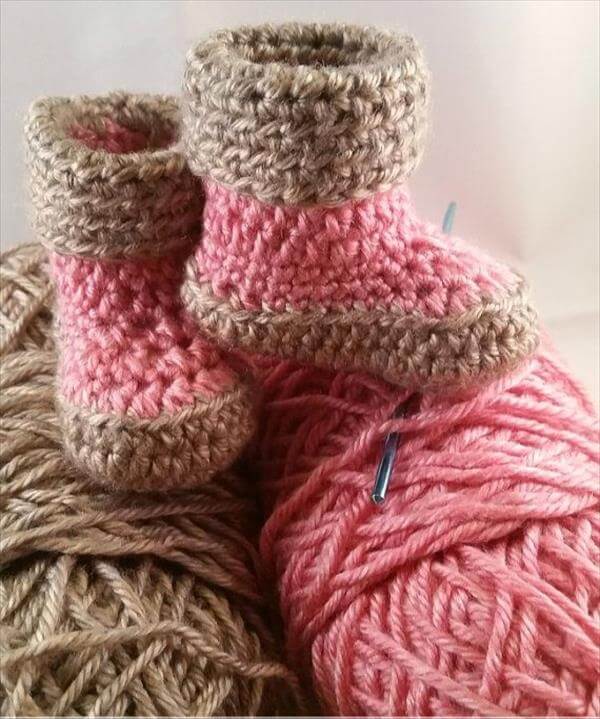 image: source
High Knee Crochet Winter Boots:
How to look great in winter by spending a little? If you are a crocheter a little bit then a perfect solution lies in it. Get these crochet slippers with high knees to make great compliments to winter dresses and outfits and this would also serve as a great warmer to warm your toes.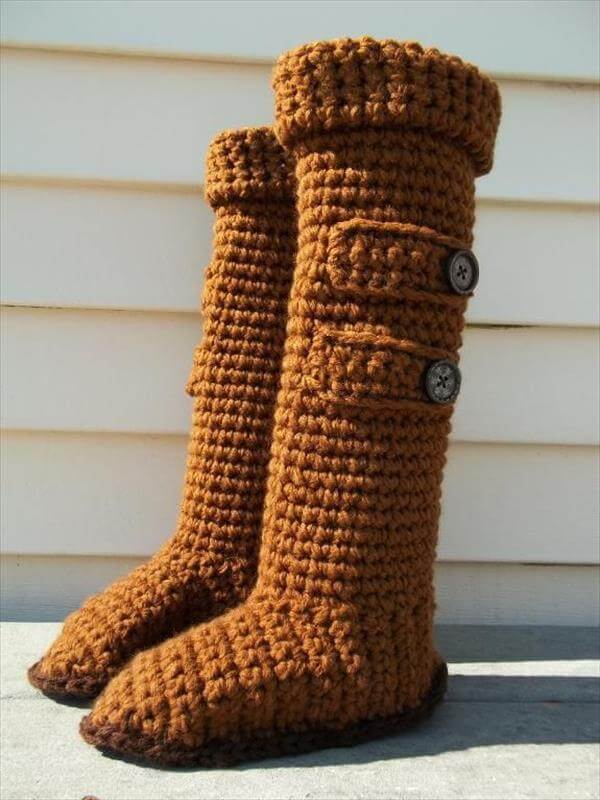 image: source
We have shared such a big collection of crochet slippers with you to just make you inspired in crocheting as you just need to make use of yarn or bulky fabric to create your own pieces of art. decors and fashion accessory.
We have also introduced a great variety of crochet shawls, free crochet scarf pattern and much more. Just stay attached to get some more hidden ideas of crocheting and some free and gorgeous styles of crochet stitches with their hilarious combinations.