Crocheting is the best in winter craft works when there is fall and really intense col-weather at outside. Don't let your leisure time to be wasted make some crochet art patterns using the yarn or fabric. We have brought to you 10 DIY easy crochet scarf patterns which make use of different crochet stitches like in infinity and brick stitches and are super quick to be crocheted. All these scarf patterns have been crocheted with bulky yarn and are much soft and warm for cool winter fashion.
All patterns have a women-friendly nature and given great finish to the underneath winter wear. These crochet scarfs will provide the required amount of warmth when the weather will be more chilly and will also make some bigger impressions of winter fashion to be complement on. These delicate and lacy scarfs can make you nicely dressed up in both winter and summer seasons.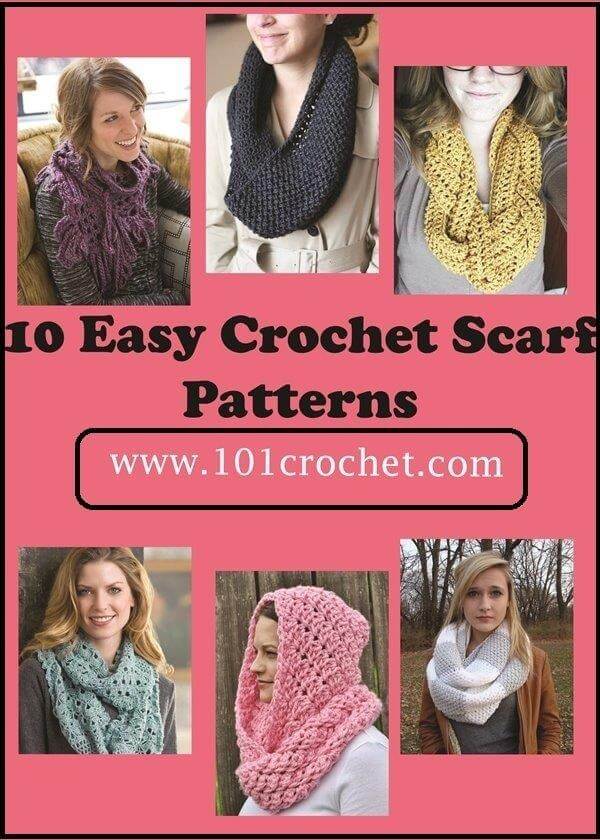 Use the different rows of crochet stitches with appropriate sizes of yarn or fabric to make your own eyeful winter crafts through crocheting. We have also given some great designs about DIY crochet hat patterns and shawl patterns check them out to try out your favorite one at home.
Infinity Scarf Crochet Pattern:
Try this pattern of crochet scarf by using the relevant crochet hook and just tweak your fingers for a hour or more get this winter wear with your own creative hands. You can use some likable vibrant colors of yarn to get raised your scarf in your own favorite pleasing sensation.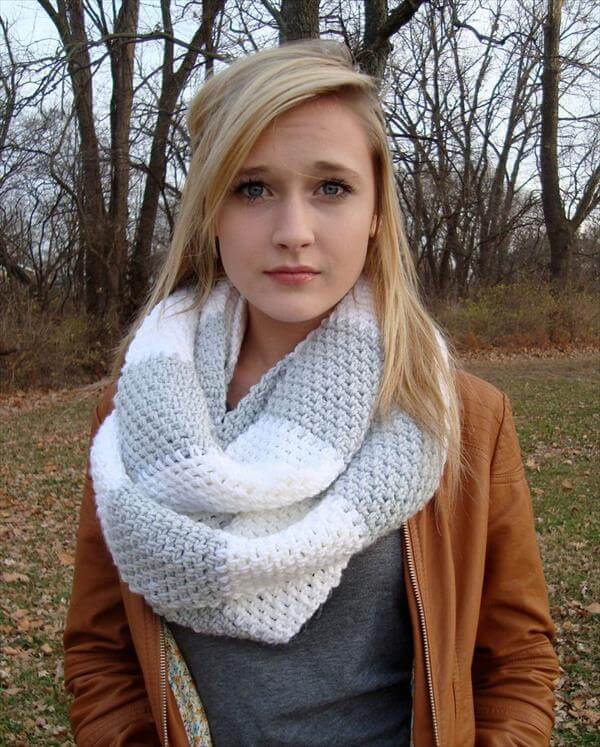 Purple Crochet Scarf Pattern:
This lacy scarf pattern can spice up any t-shirt or other winter outfits and is just great to be try out for beginners. Add grace to your winter dress wear with this artistic scarf pattern by crocheting it with your skillful hands in any leisure time you have.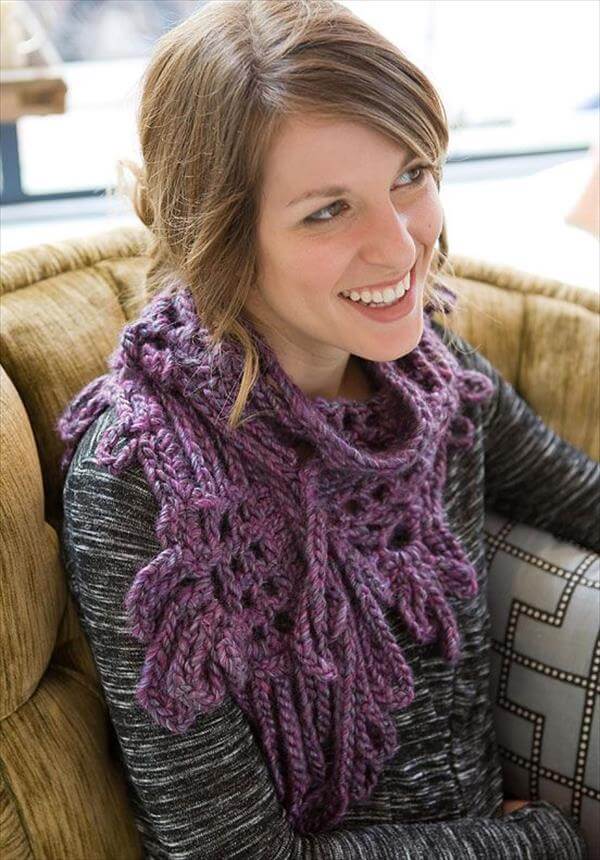 image: source
Ribbon Candy V Scarf Pattern:
This chic scarf is friendly to any of fall or spring season will also make you more jeweled in deadly cold weather. Use some bulky type of yarn and go with narrow V-stitches to make this warm and luxurious pattern of scarf.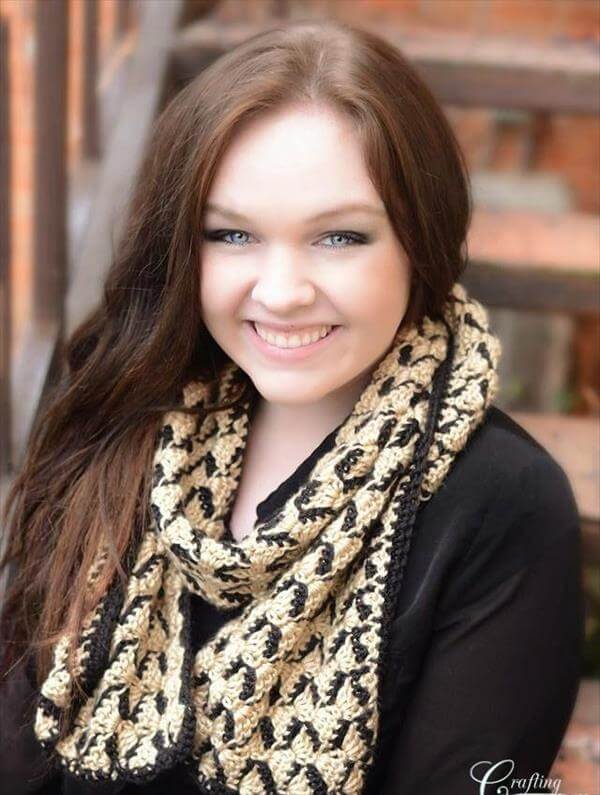 image: source
Knitted Crochet Scarf – Free Pattern:
Looking for a cool winter warmer gift? Then this gift-worthy scarf pattern would be a great choice. Make it wrapped around your neck to get a funky winter fashion look with an appreciated amount of warmth.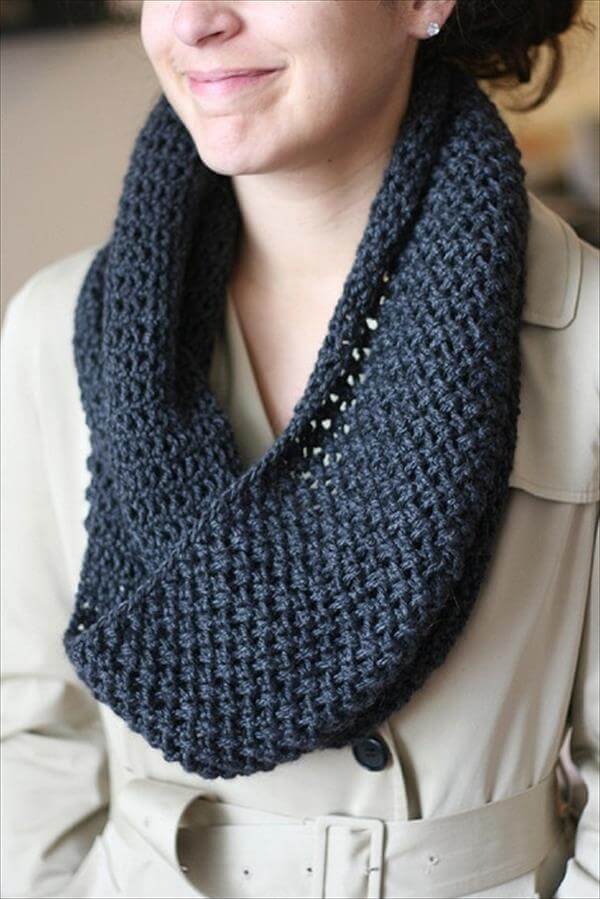 Blanket Style Crochet Scarf:
If you are sorting out a fast, easy and no-brainer winter gift, then here is a perfect scarf pattern which is just a piece of cake to get through crocheting. Make different rows of different crochet stitches for an personalized scarf pattern which can also be used as a weekend shawl gift.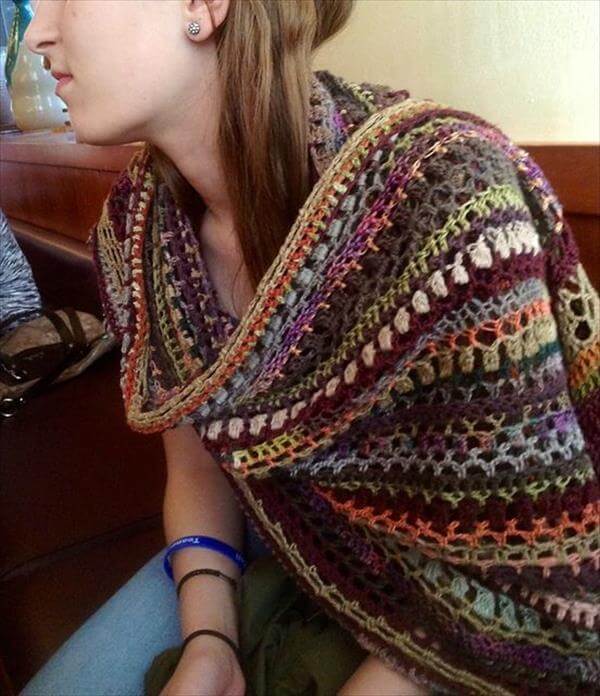 image: source
Crochet Colorful Scarf:
This colorful crochet scarf pattern will provide some arresting and impressive looks to your winter outfits and dressers. Crochet it with your favorite colorful type of yarn and get the way to be looked modern in deadly cold and chilly days.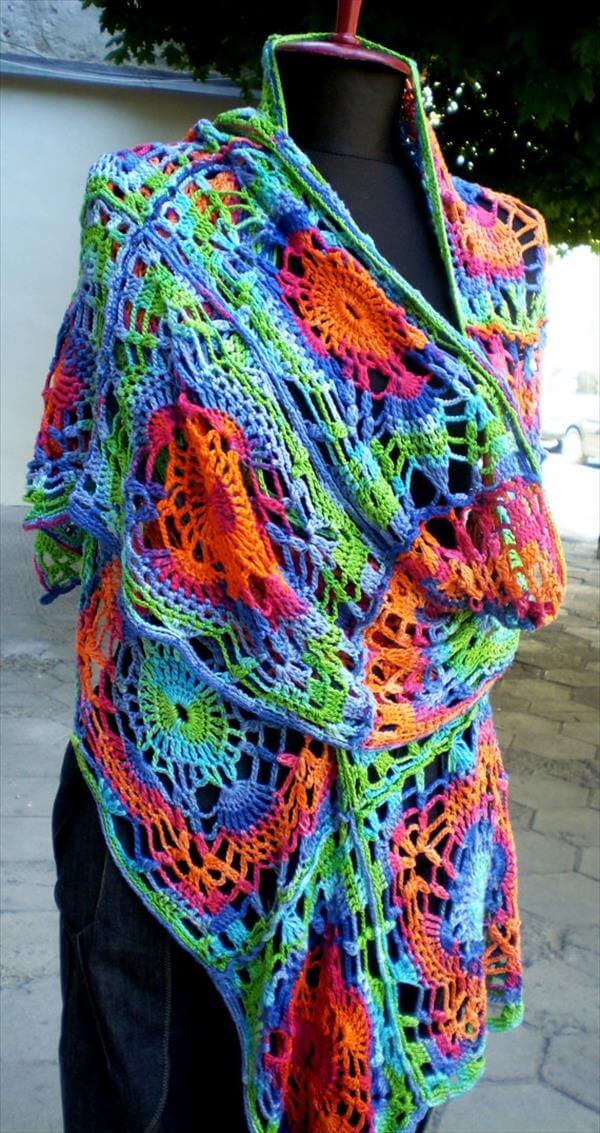 Infinity Scarf Pattern:
If you are are interested in some textured version of crochet scarf then select this infinity scarf pattern to be crocheted. Don't you feel, it is a fancy type of scarf? Make it crocheted for spring fashion through some easy crochet stitches using the proper crochet hook.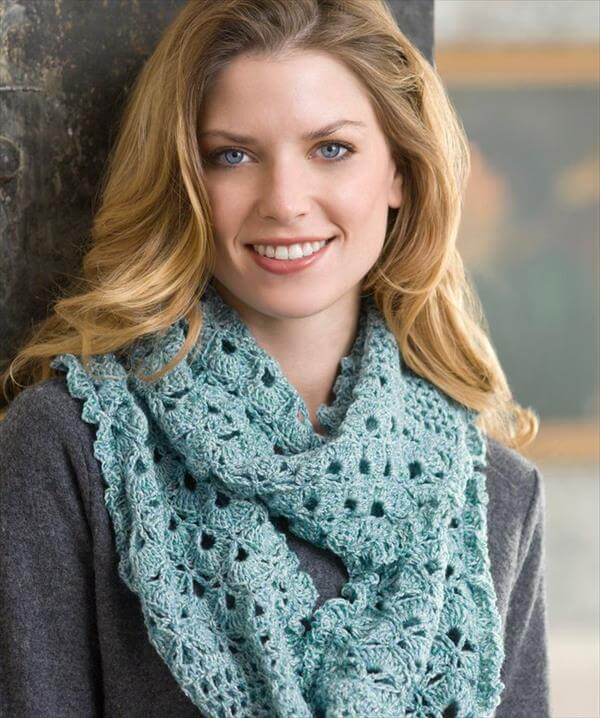 image: source
Infinity Hooded Crochet Scarf:
You can choose this hooded crochet scarf as a pleasing summer gift which has been crocheted with one weight of a little bit bulky yarn. It has been crocheted with infinity crochet stitches which are all responsible to give it a textured look. It is just perfect for cold-weather, fall and spring to gain some warmth.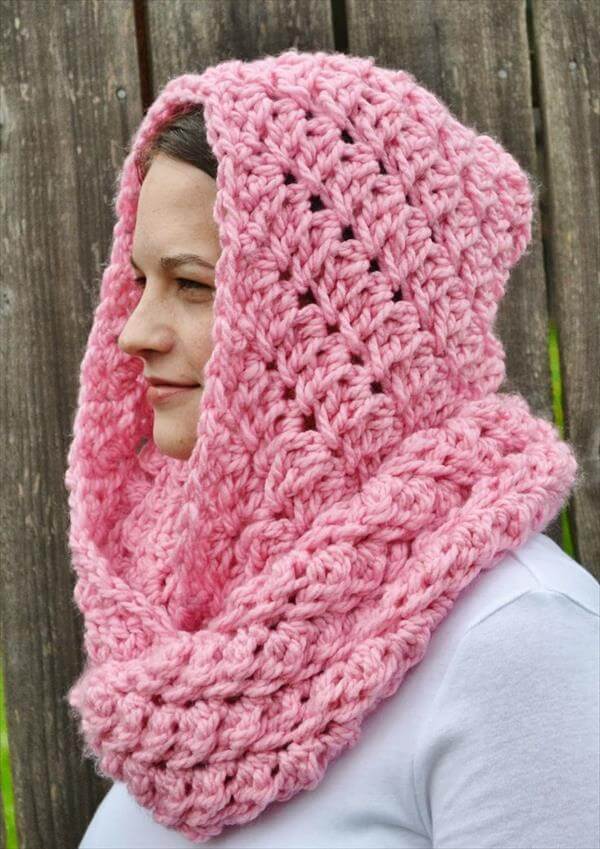 image: source
Artistic Grey Crochet Scarf Pattern:
If you are a skilful crocheter then this crochet scarf pattern is just best sample to try our your skills. Get it in an hour through crocheting and it will stay with you with all the winter long. Flower textured look of this scarf pattern makes it really elegant and unique in its kind.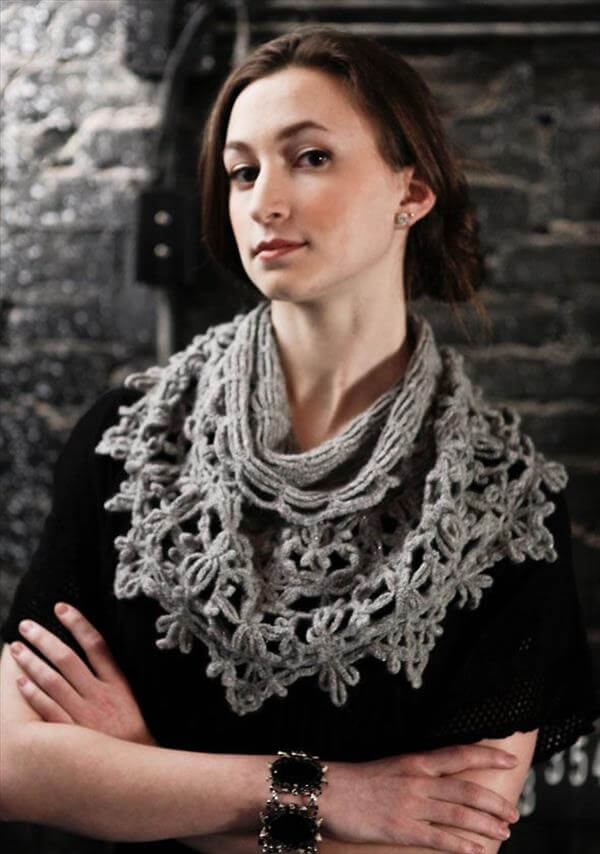 Braided Crocheted Scarf With Rough Pattern:
Just feel free to wear this braided crocheted scarf around your neck to dress up your winter and spring dresses and outfits. Make some rough patterns through crochet stitches for a textured look of your scarf. Try this no-brainer, women-friendly, and gift-worthy crochet scarf pattern to get the perfect ways to look cool in winters.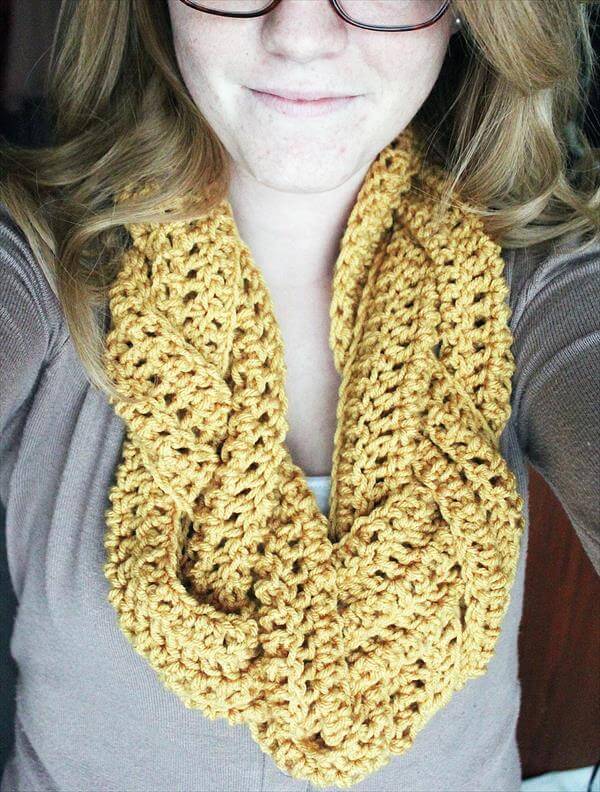 image: source
All these scarf patterns not only provides cold-weather protection but will also held dearest for some Memorial Days like holidays, occasional days and chilly spring days. The most appreciated reason of crocheting art is that is done by human beings and not with industrial machines and each person has its original and exclusive style of crochet stitches.
More attractive aspect of crocheting crafts is that they are all not only visually attractive delights but also very friendly to your budget and go very light your wallet.